Poker & Pop Culture: Gabe Kaplan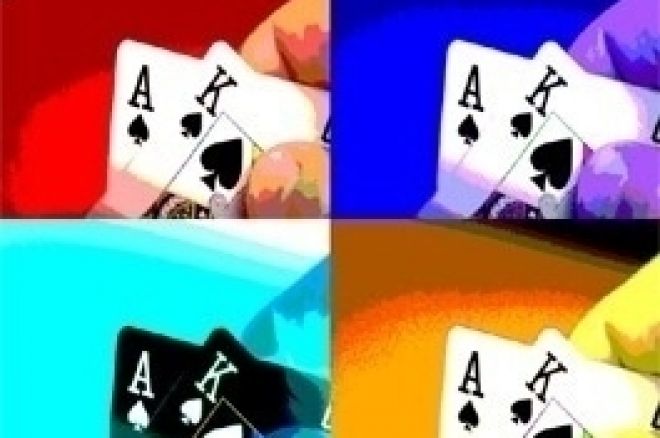 In the final chapter of The Biggest Game in Town, Al Alvarez' lyrical chronicle of the 1981 World Series of Poker, the Main Event has come down to the final six-handed table. Referring to hold'em's Texas origins, Alvarez reports how Doyle Brunson "had made a large, patriotic bet with Gabe Kaplan that the Texans would beat the Jews," and now, with six players left "the forces were equally matched," as each side had three representatives remaining. (Kaplan would eventually win the bet when Stu Ungar prevailed to win his second straight WSOP title.)
For many readers, Kaplan's late cameo in The Biggest Game in Town might come as a surprise. Some of us are old enough to remember Kaplan starring in the comedy "Welcome Back, Kotter" during the 1970s, though perhaps were unaware he'd have been there at Binion's placing bets with Texas Dolly in 1981. Other, younger readers perhaps know Kaplan as the wise-cracking commentator on "High Stakes Poker," yet may not have realized his presence on the professional poker scene extended back three decades.
Especially in recent years, we've witnessed many examples of individuals who have achieved fame and fortune in other areas of popular culture –- film, television, sports, music — try their hand at poker. One might well argue, however, that none have been as successful or contributed as significantly to the game as Gabe Kaplan.
We Tease Him a Lot 'Cause We Got Him on the Spot
Kaplan was born in Brooklyn, New York in 1944. A successful career as a high school baseball player led to aspirations to play pro ball, though after a couple of years struggling to make a minor league team, Kaplan abandoned his plan, eventually segueing into a career as a stand-up comedian. Eight well-received appearances on "The Tonight Show" from 1973-75 eventually led to Kaplan getting his own show, a situation comedy partly based on his own experiences attending high school in Bensonhurst (located in south-central Brooklyn).
Kaplan co-created "Welcome Back, Kotter" with TV producer Alan Sacks, another Brooklyn native who also drew upon his own schooldays to help come up with the show's concept and characters. The show starred Kaplan as Gabe Kotter, a high school teacher who returns to his alma mater, James Buchanan High School in Brooklyn, in order to teach a group of insubordinate remedial students dubbed the "Sweathogs."
The show debuted on ABC in September 1975 and quickly became a major ratings success. The show partially allowed for Kaplan to incorporate some of his stand-up routine, for example, in the form of Kotter's frequent outrageous stories about various eccentric relatives, all begun with the familiar "Did I ever tell you about...?" opening line. However, the four primary Sweathogs proved as popular or even more so. A young John Travolta, about to achieve mega-stardom with Saturday Night Fever and Grease, played the group's leader, the simple-minded but hunky Vinnie Barbarino, with Lawrence Hilton-Jacobs (Freddie "Boom Boom" Washington), Ron Palillo (Arnold Horshack), and Robert Hegyes (Juan Epstein) rounding out the group.
It was a successful formula, kind of a riotous cross between Blackboard Jungle and the Marx Brothers (the latter a primary influence on Kaplan's humor). The characters' many catch-phrases, like Barbarino's favorite put-down, "Up your nose with a rubber hose," entered the pop culture lexicon, and John Sebastian's catchy theme song became a #1 hit in May 1977. That year Kaplan was invited to visit the White House, at which then-president Jimmy Carter told him on his return to California to "Say hello to the groundhogs" (just missing on the group's name). The predominance of various other tie-ins such as lunch boxes, comic books, and board games further attested to the show's huge popularity.
Ratings eventually began to slide, and then creative differences with a new team of writers led Kaplan to leave the show halfway through the 1978-79 season, after which the show was finally cancelled. Kaplan continued his acting career, starring in a few modestly successful feature films, portraying Groucho Marx in a well-regarded one-man stage show (filmed as an HBO special in 1982), and doing guest spots on various shows into the early '80s. However, by then Kaplan had begun to pursue other interests.
Gabe Kaplan — Superstar of Poker
Kaplan parlayed the financial reward of starring on a blockbuster television sitcom into an especially lucrative investing career, so much so that his investment strategies became the subject of articles in economic magazines, including a few written by Kaplan himself. Meanwhile, a trip to the 1978 World Series of Poker at Binion's led to Kaplan entering the $10,000 buy-in Main Event, despite his relative inexperience at poker. Kaplan was among the first of that year's 42 entrants to be eliminated, but that early stumble did not deter the actor from developing his game further.
The following February, Kaplan entered another $10,000 buy-in no-limit hold'em event at the first ever Amarillo Slim's Poker Classic, also known as the Super Bowl of Poker, where he finished 11th. He'd try his hand again at the 1979 WSOP, though once more found himself a first-day casualty. By then, his knowledge of the game had grown to the point where he was comfortably taking a seat in the high-stakes side games at the Horseshoe. According to Benny Binion, Kaplan was there holding his own alongside Brunson, Johnny Moss, and others, contesting for pots that in some cases reached $200,000.
Kaplan's big breakthrough in professional tournament poker would come the following February at the second running of Amarillo Slim's Super Bowl. By this time, the tournament had evolved into a full-fledged tournament series much like the WSOP, and for a time there in the early 80s, it consistently attracted the toughest poker players in the world. The 1980 Main Event saw 38 entrants, among them several legendary figures including Brunson, Moss, Bobby Hoff, Stu Ungar, Sailor Roberts, David Sklansky, Dewey Tomko, Bobby Baldwin, and Puggy Pearson.
At the end of the first day, Kaplan was the chip leader with 24 players remaining. At the end of Day 2, he was still there in third place among the final seven players. On the third and final day of play, Kaplan would soon retake the chip lead after eliminating Pat Callahan in sixth and Jay Heimowitz in fifth. He'd then cripple Sailor Roberts when a rivered spade flush bested Roberts' pocket jacks, and Roberts was soon out in fourth.
With three players remaining, Kaplan had two-thirds of the chips in play, and it wouldn't take long for Kaplan to bust Tommy Hufnagle in third. A short-stacked Jesse Alto then got the rest of his chips in the middle with
against Kaplan's
, and Kaplan's hand held up to earn him the $190,000 first prize.
The poker world took notice of Kaplan's win, particularly as it had come on the heels of Hal Fowler's 1979 WSOP Main Event victory. A trend of sorts appeared to be developing, with amateur players suddenly starting to assume the spotlight previously exclusively enjoyed by the pros. Kaplan was featured on the April 1980 cover of Gambling Times sporting a pair of jeans and a yellow t-shirt advertising Tulips, a feature film in which Kaplan starred with Bernadette Peters. Smiling and holding up his winning hand, the cover excitedly dubbed him as "Gabe Kaplan — Superstar of Poker."
That summer Kaplan returned to the WSOP, and this time made it all of the way to the final table of the Main Event, busting out in sixth place. Unfortunately for Kaplan, that made him the cash bubble boy, as only the top five spots paid. His acting career on hiatus, Kaplan would continue to play high buy-in events regularly over the next few years, winning two preliminary lowball events in Amarillo Slim's Super Bowl as well as final-tabling another Super Bowl Main Event. The successes weren't coming frequently enough, however. As he'd tell People magazine sometime afterward, Kaplan was becoming "concerned that he was spending too much time and money" playing poker, and decided to stop altogether during the mid-'80s to concentrate on his financial portfolio.
Welcome Back
Kaplan would be back at the tables by the end of the decade, though, scoring six more cashes in deep runs at WSOP preliminary events during the '80s and '90s, including a couple of third-place finishes in stud events. During the early '90s, Kaplan also hosted a sports talk show, developing skills that would serve him well later that decade when he began contributing color commentary on ESPN's WSOP telecasts.
Kaplan would continue to play, and succeed, in tournaments, proving himself a formidable foe in a variety of games. To date, Kaplan has a total of 10 WSOP cashes, including no less than seven final tables. He just missed the final table of the 2007 $50,000 H.O.R.S.E. event, where he netted $131,424 for his ninth-place finish. His best-ever WSOP finish was runner-up in the $5,000 limit hold'em event in 2005, earning him $222,515. And his biggest tournament payday was $256,519 for finishing third at the 2004 WPT Mirage Poker Showdown. To date, Kaplan has amassed over $1.3 million in tournament winnings.
In addition to his winnings, Kaplan has earned a lot of respect in the poker world both as a player and a commentator on several WSOP broadcasts, NBC's "National Heads-Up Poker Championship," "High Stakes Poker," among other poker shows. The hiatus from acting beginning in the '80s became essentially permanent, although Kaplan did turn up in a scene-stealing role as Seth Schwartzman in 2007's poker-themed mock-documentary The Grand.
Comparing Kaplan to other celebrities-turned-poker players is probably unfair. For most others, poker never manages to eclipse whatever other pursuit first gained them fame. However, for Kaplan, even though he may have come to the game late, it certainly appears he is a poker player first.