Poker Room Review: Lakeside Inn and Casino, Stateline, NV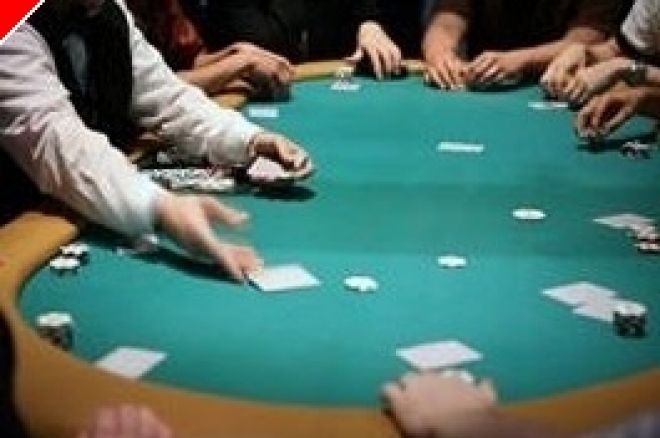 I sometimes fantasize about redoing my house and building an elegant club room in which to play poker with my friends. I'd put in a beautiful high-end table and nice chairs for a cash game, and then add a couple more for good measure in case I felt like having a tournament. I'd put up wood paneling on the walls and mount a few high-quality televisions. Ah, if I were a rich man, that's what I'd do.
The poker room at the Lakeside Inn and Casino reminds me of that imaginary room. It's like a rich guys club room, done up for poker with the gents.
Though this room is not for everyone, it's certainly worth a visit if you're in the Reno-Lake Tahoe area. There are only three tables, which become a little crowded when they're full with tournament players. The room never spreads high limits of any kind, usually nothing more adventurous than a $2-6 spread limit hold'em game, though I was told that they sometimes get a $1/2 no limit game upon request. And, to be sure, this isn't a hot spot of young poker players looking for wild action and fast living. If you like a nice, comfortable room and a sedate, friendly environment in which to practice your favorite hobby, this is just the spot.
The room opens with a tournament every day at 6:30pm, with an extra matinee tournament on Sunday at 1:30pm. The types of tournaments differ every day: Sundays 1:30pm tournament is a $30 buy-in for 2,000 chips and the 6:30pm event is a re-buy tournament with an add-on, Mondays is a $30 buy-in with unlimited $20 rebuys for the first forty-five minutes, Tuesday and Thursdays are "big stack" tournaments which have a $40 buy-in for 3,000 chips, Wednesday is a "deep stack" event where players pay $60 for 6,000 chips, Fridays tourney is $40 for 4,000 chips, and Saturday sees a bounty tournament for $45 for 2,000 chips with a $5 bounty for every player.
The house cuts $10 from each of the buy-ins, $5 of which goes to the dealers and the remaining $5 going to the house. The rake on their cash games is the fairly standard 10% with a $4 maximum.
Lakeside also has one of the most generous promotions I have seen. They offer $25 in free slot play (called "Cool Credits") for every $1,000 in buy-ins for the cash game. In November, in fact, they were offering this for players who bought in for only $500 during the month. The buy-in is cumulative, and they keep track for as long as it takes for players to reach $1,000 in total buy-ins. There's no rule that says you can't buy in for the full $1,000 right away, and there is no limit on how many times a player may qualify for this. But, they don't let players just buy in and cash out. Players must play after they buy-in, though there's no official rule on how long they must sit for.
When I visited the poker room on a Thursday night, for example, I bought in for the $2-6 game for $1,000. After I was given my $25 in free slot play, I ran it through a slot machine, hit a small jackpot for $300, and then returned to play in the cash game. I played for a few hours and left. If I lived in the area, I imagine I would do this at least a few times a week as it is such a deal!
The cash game had seven players when I sat down at about 10pm. There were mostly locals in the game, whose style was relatively loose and passive. Most folks called the $2 blind pre-flop and there seemed to be little raising. There were a couple of tourists in the game, who were clueless beginners at the table and were made to feel completely welcome by the locals. There were no professionals, table captains, or bullies. There was no belittling, insulting, or otherwise ungentlemanly behavior. Everyone was friendly and warm, which allowed the new players to fit right in; they even seemed to enjoy going through a few $60 buy-ins each.
The poker room offers up a few other promotions, of the self-funded variety though. One dollar comes out of every pot to pay for a progressive jackpot, with fifty percent going to a royal flush and fifty percent going to a straight flush. Only one card in the hole needs to play, and the jackpot was up over $1,500 when I checked late this week. They also have a $50 bonus that they pay to the high hand of the night, which is awarded at 3am if there's a game going.
The casino is a reasonably priced place in all respects. The main restaurant, Timber House, offers a delicious prime rib dinner that I ate when I was there: $10.50 for a full dinner. There's a new restaurant, Latin Soul, downstairs from the poker room that has, what was described by the poker room manager Pam Wheeler as a "great sirloin steak," for only $11.95. The hotel overlooks Lake Tahoe and has 124 guest rooms. Midweek rates this time of year are about $79; weekends are around $129.
Overall, this is a very tasteful, somewhat laid back, very welcoming poker room inside a similarly inviting hotel and casino. It's just the type of place to come for a relaxing week in Lake Tahoe, especially if you have someone with you who is just learning how to play hold'em and wants a game where they will quickly feel at home.
Lakeside Inn and Casino
168 Highway 50
Stateline, NV
775-586-7788