2008 WSOP 'November Nine' Profile: David 'Chino' Rheem
Shari Geller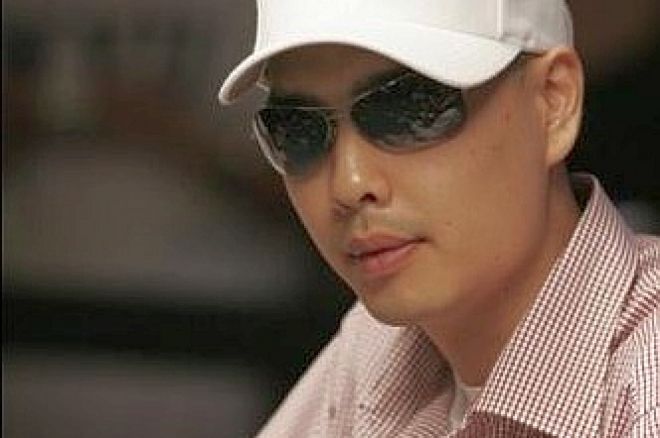 David "Chino" Rheem may be the most visible member of the upcoming 2008 World Series of Poker's "November Nine," having amassed an already impressive poker career in just three years of major tournament play. The 28-year-old professional poker player has won over $700,000 in tournaments since he burst onto the scene in 2005. Even before the Main Event, Rheem had an impressive WSOP record with five previous cashes, two prior final tables, and a second-place finish in the 2006 $1,000 No-Limit Texas Hold'em w/ Re-Buys event. But, of course, nothing equals making the Main Event final table.
Chino was born in Los Angeles but moved to Florida in the late 90's. While living there, he took advantage of the state's 18-year-old minimum age to play casino poker. He cut his poker teeth at the Seminole Hollywood Casino, where he had the opportunity to play against, and learn from, former dealers Robert and Michael "The Grinder" Mizrachi. Rheem quickly developed a reputation as a dedicated, yet very polite, player.
Chino returned to Los Angeles after a couple of youthful indescretions resulted in a brief stint in a Florida jail, and by all accounts, the move was very good for a maturing Rheem. He turned his attention to tournament poker in 2005 and had a great start. He played in a no-limit hold'em preliminary event at the European Poker Tour Grand Final in Monte Carlo where he made his first final table, finishing in third place, for almost $10,000. That summer, he notched his first WSOP cash in the Main Event, over $39,000, and a 19th-place finish at an earlier $1,500 Limit Hold'em event. That same year, he finished fourth in a $1,000 buy-in at the Ultimate Poker Challenge, while the WSOP was still going on, and the capped the year off nicely with a first place finish at a $1,000 buy-in event at the Bellagio where he took down over $33,000.
Rheem continued his impressive tournament results in 2006, cashing in three WPT events to start out the year. His biggest cash that year, and his best payday before this year's Main Event, was his runner-up finish behind Allen Cunningham in the $1,000 No Limit Hold'em with Rebuys event which was worth $327,981. In 2007, he earned three more major cashes, one in the $2,500 H.O.R.S.E. event at the World Series and third- and fourth-place finishes in two WPT events.
Rheem finished in fifth place at the 2008 WSOP $5,000 Mixed Hold'em event, at a televised final table that boasted a Who's Who of the poker world, including Erick Lindgren, David Williams, Howard Lederer, Roland de Wolfe and Justin Bonomo. Rheem started the final table in the chip lead with over 900,000, but lost his footing and was dispatched midway through the final table. After a failed bluff against Erick Lindgren, he was seen on camera talking to his friend, German poker pro Markus Lehmann, about having had only one hand to that point at that final table. Another failed bluff against Lindgren, and then being on the wrong end of a semi-bluff from Roland de Wolfe, and Rheem was out in fifth place, with $93,624, a good payday, but no bracelet.
Since making the final table, Rheem has not been taking it easy during the 117-day break, but has continued to hit the tournament circuit. He has played at several major tournaments, including APT Macau, EPT Barcelona, the PokerStars.Net LAPT Punta del Este, Partouche Poker Tour — Cannes, and the WPT Borgata Poker Open. While he failed to cash in any of those events, he is still getting a lot of practice on the felt.
Rheem's run in the Main Event is obviously his greatest poker achievement to date. His Day 1a climb was televised in part after Rheem was moved to the featured table where the inimitable Scotty Nguyen held court. Rheem came to the table with an already impressive stack of 73,900 chips, then earned the boos of the onlookers by raising the popular Nguyen out of a hand early on. He finished that first day with a hefty 111,375 stack, tripled on Day 2a to 353,000, for seventh in chips. He doubled up on the consolidated Day 3 to 707,500 and had another great day on Day 4, finishing with 1,851,000 chips for sixth place among the 189 remaining players. By the end of Day 5, he was on 2,586,000 chips but had been passed for the first time by some of the players who would eventually end up at the final table with him, Dennis Phillips and Peter Eastgate. Rheem went into the last day with 8,280,000, sitting in sixth place with 27 players left. He had the ultimate rollercoaster ride that last day, his chips plunging to below two million at one point, then hitting the dizzying heights of over 16 million, only to come back to earth. But, after being involved in several different unlikely hands, he survived.
Rheem enters the Main Event final table seventh with 10,230,000 chips. Rheem has bounced back before, in his personal life and his poker life, so don't count him out. His MySpace page has a quote, from an unidentified source, "True talent lies inside those who make greatness happen from within...." Time will soon tell us if Rheem will reach the pinnacle of poker greatness.