2008 WSOP 'November Nine' Focus: Scott Montgomery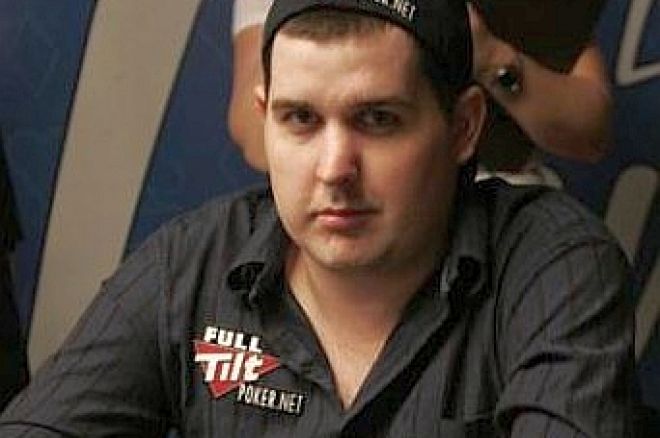 Scott Montgomery, the 26-year-old Perth, Ontario native, may not have been a household name before his WSOP Main Event appearance, but this isn't his first time at center stage. Montgomery had a memorable TV final-table appearance at the 2008 WPT LA Poker Classic where he went from massive chip leader to fifth-place finisher. It was a monster table with the likes of Phil Hellmuth, Quinn Do, Nam Le and the ultimate winner, Phil Ivey. Montgomery finds himself again at a televised final table, but this time it is at the biggest event in all of poker. Is Montgomery worried? As he is quoted as saying in his profile on Full Tilt Poker, "I'm going to win."
Montgomery studied mathematics at the University of Waterloo in Ontario, but after college went to Japan to teach English. While living there, he started playing poker. As one might expect of a teacher, he studied up on the game, reading "every poker book that he could get his hands on." He started playing online, losing his first four $50 deposits. He then won a six-handed $30 tournament, earning about $900. According to Montgomery, he has never had to make another deposit.
After sharpening his skills online, Montgomery bought into the $10,000 LAPC, making the final table in his first major live tournament and taking home almost $300,000. A self-described "insanely psychotically aggressive" player, Montgomery is used to huge chip swings, but his style seems to be working for him. During this year's WSOP, he had a 16th-place finish in the $10,000 Heads-Up World Championship and cashed in two other WSOP events, for total winnings of $73,000. During an off day, Montgomery played in the $3,000 No-Limit Hold'em tournament in the Bellagio Cup IV and placed fourth, taking down an additional $36,000.
Since the series went on its-four month hiatus, Montgomery has continued playing in tournaments around the world. He finished in ninth place in a preliminary NLHE event at the Legends of Poker, and then headed off to Europe where he has played in a number of major tournaments but has yet to cash. He made it to day two of the EPT Barcelona Main Event, busted out the first day of the EPT Main Event in London, and was knocked out late in the second day in the WSOP-Europe Main Event also held in London.
Montgomery probably hopes he used up all his bad luck up in that last event. Going into Day 2 of the WSOPE, he was fourth in chips, just ahead of fellow final-table player and ultimate third-place finisher, Ivan Demidov. But Montgomery put his money in twice with the best hand on the turn, only to be beaten both times when his opponents ended up spiking runner-runner flushes, leading to his early exit.
When it came to the Main Event, Montgomery has said he set a goal for each day and phase one was to end the first day with 100,000. He nearly hit that on the head, ending Day 1a with 98,525. His goal for the second day was 200,000 and he surpassed that, ending with 249,700. He hit a setback on Day 3, ending with 162,500 but was back on target Day 4, finishing with over one million. On Day 5 he built his stack up to about 2,600,000 chips only to take some late hits which brought his stack down to 1,669,000.
On Day 6 his stack plunged after a string of losses, but two successful all-ins – one that he took without a showdown, and one where he doubled up after his jacks held up against big slick – moved him over two million. By the end of the day, he had 4,320,000, just slightly below the middle of the pack.
He started the final day by taking one million off of Tiffany Michelle only to put it all on the line against Paul Snead. On a flop of
, Montgomery reraised all in over Snead's three-million-chip raise, a move he later admitted was a bluff. Snead called, and found out he was well ahead
to Montgomery's
. The
took away one of Montgomery's three outs, and he was down to a non-heart ace or he'd be eliminated. When the miracle
fell on the river, Montgomery picked up a pot worth over 11 million chips. Another big hand for Montgomery came late in the day against chip leader Dennis Phillips when he made the nut flush to take down a pot of over 15 million, bringing his stack to nearly 21 million. By the time the final table was set, Montgomery was in third place with 19.7 million in chips.
Scott Montgomery burst on the major tournament scene earlier this year and now finds himself at the biggest final table of his life. No matter how he finishes, 2008 will be a year he will never forget. But there is no question Montgomery is not satisfied with just the top nine finish. In his own words, "I planned on winning from day one." That was the last of his goals for the Main Event and, come November 11th, he'll see if he can reach it.
Here's Scott in a recent interview with PokerNews:
Ed note: Download Full Tilt using the PokerNews special Full Tilt bonus code PKRNEWS and gain access to our exclusive freerolls and promotions as well as the amazing 100% up to $600 sign up bonus.