2008 WSOP 'November Nine' Focus: Ylon Schwartz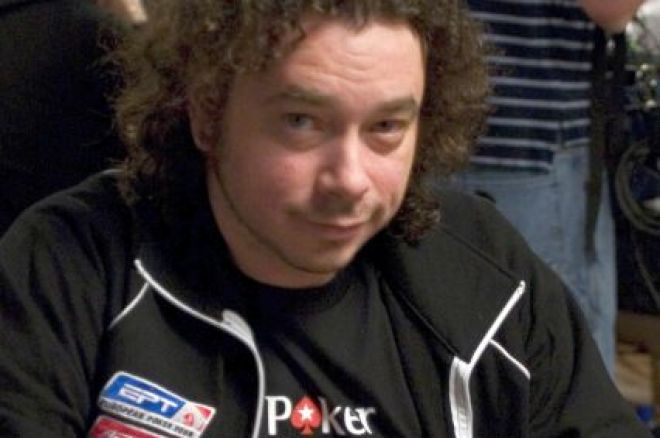 Ylon Schwartz, a 38-year-old from Brooklyn, NY, is a man who likes games. Known now as a member of the November Nine, this gamer from Brooklyn, New York, is also a ranked chess master and former backgammon player. Like previous Main Event winner and chess master Dan Harrington, and former backgammon pros Erik Seidel and Gus Hansen, Schwartz has found that success in these other games has helped his poker game. "You get used to competing," he told the New York Post earlier this year. "You're constantly analyzing problems in other games." Going into the final table of the WSOP, Schwartz will be competing for the biggest prize of his life and the biggest title in all of poker.
Ylon Schwartz started playing chess at just 13, playing for money on the famed streets of Washington Square Park in Manhattan, earning up to $100 a day. In three years, he was making a living playing chess and backgammon in the East Village of New York. He attended the Borough of Manhattan Community College but dropped out after a year to focus on chess as well as backgammon. By age 23 had become a chess master. He also added pool, golf, and darts to his repertoire of games.
In the early 1990s, Ylon turned his attention to poker. His first major tournament finish was third place in the 1998 US Poker Championship and by 2000 he was playing poker for a living. He began playing the live tournaments on the east coast, primarily at Foxwoods and various casinos in Atlantic City; by 2004 he was regularly cashing in big tournaments.
Schwartz has had twelve prior cashes in WSOP events, with his biggest prior to this year being his 17th-place finish in Event #13 in 2006, $2,500 NLHE, where he took home $28,187. He had one cash in this year's WSOP, prior to the Main Event, a 15t- place finish in the $2,000 Limit Hold'em event, for $10,046. He has had seven cashes in WPT events, including a third-place finish in the World Poker Finals in 2005 for $49,960. In all, he has had 30 prior cashes and over $300,000 in live tournament winnings in his poker career.
In addition to his live tournament experience, Ylon is a noted multi-table online tournament player, using the name "TenthPlanet" on FullTilt and PokerStars, where he has done well in various major events, including winning the Stars Sunday Second Chance in April 2007, for $50,654. In preparation for November he's played in other live tournaments including the WPT Borgata Open and the World Championship of Online Poker.
Ylon Schwartz did not have an easy ride to the final table. He finished Day 1b in the bottom half of finishers with 41,500 chips and had an up-and-down Day 2a (flopping a set of sixes to best an opponent's flopped top two, only to give the chips back when he was out-kicked by Chris Reslock when they both held top pair) and ended with a relatively paltry 91,000. Day 3 was a much better day, with his stack shooting up to 554,000. On Day 4, he was up over a million at one point, after having eliminated Edward Roger with pocket queens versus pocket eights, only to drop almost a fourth of his stack just before the end of the day.
Day 5 was another rough one for Schwartz. Starting with 870,000, he was down to just 240,000 by the dinner break only to claw his way back up to just about his starting stack for the day, 816,000. Schwartz started Day 6 near the bottom in chips, but thrived, quadrupling up as he eliminated a few fellow players on his way to 3,655,000. But Day 7 saw more than its share of swings in his chip stack. When the day started, he was near the bottom in chips – 19th out of the remaining 27 players – and it seemed unlikely that he'd get one of the coveted final nine seats.
One key hand occurred early, when Schwartz took a three-million-chip pot off of Paul Snead, with ace-king versus ace-jack, on an eventful K-J-J-K-7 board. He picked up significant pots from Tiffany Michelle and Scott Montgomery, both without having to show his cards. He picked up more when he eliminate Gert Andersen, his suited A-K holding up over Andersen's suited A-J, and he took a couple million off of Craig Marquis with some preflop aggression.
Unfortunately for Schwartz, he took one big hit as well. Just before Dean Hamrick was eliminated in tenth place, Schwartz ended up losing over four million in chips in a hand against Peter Eastgate's pocket rockets. Still, he goes into the final virtually tied for fifth in chips with Darus Suharto at about 12.5 million, a bit less than half of chip leader Dennis Phillips.
But don't count this avid gamer out. Schwartz practices Bikram yoga, also known as "hot yoga" (because it usually takes place in heated rooms), for its help in developing the ability to control one's mind. He's been using that sharp mind of his since he was a teen supporting himself by playing games of skill. Ylon's favorite poker expression is "Ship the cheese," cheese being the street hustler's term for money. He hopes to have many opportunities next November to utter that phrase.
PokerNews checked in with Ylon for his take on the November Nine and his own path to the final:
PokerNews: Ylon, you come from a background in chess, along the lines of Austrian player and chess master Ivo Donev. What is the most important thing that chess has taught you that you've applied to poker?
Ylon Schwartz: Patience is probably the primary thing – you have to sit there for long hours. You have to sit and make decisions and stay focused for long hours. That's the key thing, and being able to retain [it]. What the players do, memory is very important – memorizing statistics is the same as memorizing chess openings or famous games of the past.
PN: While several of the November Nine have honed their poker chops online, you might have the deepest online background of any player in the final. Do you frequently multi-table when you play, like the famous exploits of Hevad "RaiNKhaN" Khan? And if you fire up multiple tables at once, at what point do you reach the area of diminishing returns?
Schwartz: I've multi-tabled tons of tables. I tried the 20-table thing but that was just insane. I couldn't play very well under those circumstances but it was a lot of fun to try. I usuallly would play – back in the old days – eight, and that was about it.
PN: While several of the November Nine players were among the chip leaders early on, it seemed you fought hard just to stay alive for the first couple of days before surging into contention. When did you feel like you had a real chance to make the final?
Schwartz: Actually I had chips throughout the tournament – I just didn't have the humongous stack. I was in jeopardy, I suppose, on Day 6, when I got short. Then I won a few critical all-ins, and I never really felt one hundred percent sure that I was going to make the final, but I was comfortable when we had hit somewhere in the middle of Day 6 after I doubled up. I've played a lot of super-satellites in my days, and when we got down to 100 people, I felt pretty good about my chances because I have a lot of experience in blending down to ten percent. When they said we had 90 players to get through to get to the November Nine, you just had to whittle through this field – take little jabs and potshots. I was pretty comfortable when we got to the end of Day 6.
PN: How has your life changed since becoming a member of the November Nine?
Schwartz: The media, obviously, infiltrated the circle. (*laughs*) It's been kind of strange being signed by PokerStars; it's been a very good thing. A lot of my friends are very happy about it. I feel pretty good about making the final of a major tournament. I think it's been a vindication for me, and it confirms that my knowledge and beliefs weren't all lies after all.
PN: The concept of coaching regarding the November Nine players has been frequently discussed. What are your thoughts on retaining coaches to prepare for the final?
Schwartz: I think it's pretty bogus, actually. I don't like the idea that the break gave people the chance to improve on their knowledge. I think it sort of loses its purity after taking the break. It's like running a marathon and stopping somewhere around the 25th mile, and going to a nice spot somewhere, chilling out, and running a sprint three months later. It detracts from the aspect of the marathon – the longevity, all the skills you need, your psychological state so you don't go nuts. That's part of what the World Series is supposed to be, but I suppose it will make for a more savvy final table, with everybody coming in with fresh knowledge.
PN: If you should win, what would you like to do?
Schwartz: I'm definitely going to get a nice case of Palmerol, and maybe head down to France and hang out with the Palmerol and just drive around in a nice car and just relax. With cheese. I'd take a few friends away. Nothing spectacular. Part of this thing is all about having a certain amount of freedom, but I don't need a big yacht or anything. I'd just enjoy the moment, the freedom. I like playing low-stakes poker and hanging out with people, more than I really love the hard competition these days because I've been competing for so long. I'd much prefer to just hang out and play some games around the States – just go to casinos and play $2/4 limit hold'em and have a drink with the nice people.
PN: How about your new relationship with Habitat for Humanity?
Schwartz: I'm from New York City. There's a lot of homeless people. When I was a kid you couldn't go two blocks without seeing a homeless person. I grew up across the street from Straus Park [in Manhattan]; I guess there were 50 homeless people who slept there every day. That's kind of disconcerting. Also, Ian's Friends Foundation is a foundation for kids with brain tumors, and I'm trying to raise awareness and get that taken care of. For me personally, I'm involved with the Breast Cancer Foundation, which is mainly dealing with research and is very important to me because my mother passed away from cancer. Twelve years she fought. I'm very happy that PokerStars ran this Million Dollar Men tournament, and all proceeds are going to charity.
Ylon has also been featured in a double-length video appearance with PokerNews. Here's a close-up (in two parts) with the November Nine finalist:
Ed note: PokerStars code stars600 is the best way to start your poker career at the world's largest online poker room. Use it when registering at PokerStars and receive our exclusive 100% up to $600 first deposit bonus.