The PokerNews Profile: Katja Thater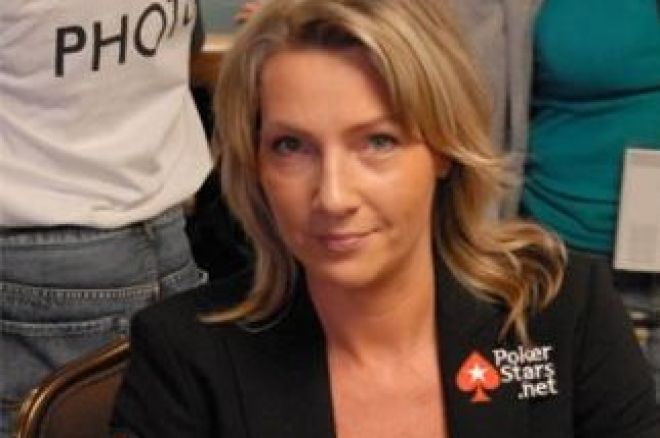 When asked to name the greatest "poker faces" of all time, one might immediately conjure up names like Phil Ivey, Doyle Brunson or Howard Lederer. However, after watching Katja Thater at the table, one could make a serious case to include her name at the top of that list. A statuesque beauty with regal posture and an implacable stare, Thater is an imposing figure at a poker table, her patient, calculated style paying huge dividends at the high-stakes cash games and leading her to over $300,000 in career tournament earnings. Long-known as one of the top players in her native Germany, Thater has leapt onto the global poker stage in a major way over the last year. Just check out her PokerStars commercial and that WSOP bracelet on her wrist.
Katja Thater was born in Hamburg, Germany and still calls the city home. Long before she ever picked up two cards, Thater was (and still is) a successful horse breeder. She honed her competitive spirit by competing in dressage tournaments—those are the ones where a rider navigates a horse through a complex course of jumps and turns designed to highlight the animal's physical ability. Thater also worked a day job as the director of a marketing firm. In the evenings, her husband Jan Von Halle frequented the cash games at their local casino and Thater would often sit behind him as he played. As the legend goes, one night Von Halle asked Thater to play his stack for him while he took a trip to the restroom. The game was stud and to her delight, Thater ended up winning the hand, having absorbed some strategy by watching her husband for so long. After that, she decided her time would be better spent sitting at the poker table, rather than behind it.
Thater turned to poker full-time and developed into an excellent stud player. Patience was her virtue and she handled her often cranky, often older and almost always male opponents with aplomb. After several years of success in the cash games, in 2006 Thater was invited to play in the 888.com Poker Nations Cup, a made-for TV tournament that was aired throughout Europe. Along with Christoph Haller, Andreas Krause, Michael Keiner, Roland Specht and Sebastian Zentgraft, Thater played for Team Germany, with the sextet finishing second to Team Great Britain. Thater was firmly on the radar following her television debut and decided to head west that summer with Von Halle, to play in her first World Series of Poker.
Thater cashed twice at the 2006 WSOP, with deep finishes in the $1,500 Seven-Card Stud event and the $2,000 Pot-Limit Hold'em event. She also caught the eye of the brass at PokerStars, where she was signed as a member of Team PokerStars Pro. Sponsorship afforded Thater the freedom to travel more widely and play larger buy-in tournaments. Upon her return to Europe at the WSOP, she made a final table at the Irish Masters and began hitting up most stops on the European Poker Tour.
Thater didn't waste any time getting to her first EPT final table. In March 2007 she finished fifth at the EPT Polish Open in Warsaw, for an $85,000 take. With that momentum behind her, she got on another Vegas-bound plane, ready to take on another summer in the desert at the WSOP. She cashed in one of the first events she played, finishing 62nd of 781 in the $1,500 Pot-Limit Hold'em event, but after a glimpse of what was to come of her in the month that followed, this accomplishment would seem like nothing but a gentle warm-up.
Patience paid off again for Thater as she waded through the 1,286-strong minefield in the $1,000 World Championship Ladies' No-Limit Hold'em event. Thater made the final table and after she eliminated fellow professional Vanessa Selbst in eighth place, she was hands-down the most aggressive player remaining. Were it not for a couple of unfortunate hands, Thater could have taken down her first bracelet that day, but was instead eliminated in fifth place.
One week later, Thater found herself at her second WSOP final table. The game was razz, firmly in her comfort zone after years spent in stud cash games. Arguably the most maddening and stomach-churning poker form in existence, the twists and turns and bricks that fell never rattled Thater as she overcame Men "The Master" Nguyen, Mark Vos, Eskimo Clark and O'Neil Longson to win her first WSOP bracelet and over $132,000. Thater's victory marked the first time a woman had won an open event at the WSOP since 2004, when Annie Duke, Cyndy Violette, and Kathy Liebert all won their first bracelets. From Thater there was no victory dance, no loud celebration—just a small smile and the pride in knowing she'd played her best.
When she's not living in hotels on the tournament circuit, Katja Thater resides in Hamburg, Germany with her husband and her beloved horses.