The PokerNews Profile: Roland de Wolfe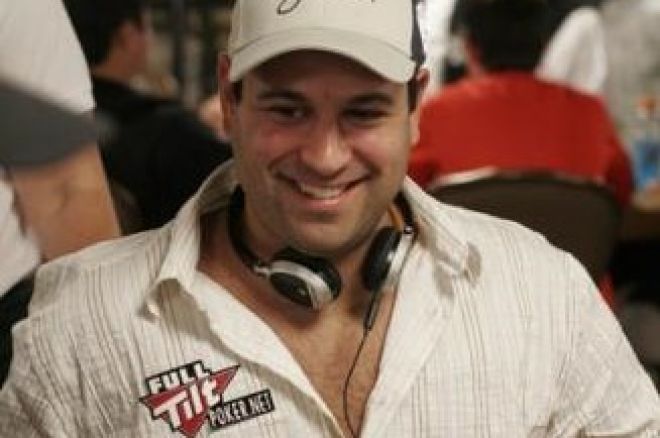 Roland de Wolfe is living (nearly) every poker writer's dream. After being educated in the written word and landing a reporting job at a gaming magazine, he successfully transitioned from a life spent behind the ropes scribbling on a notepad to one spent on the felt, traveling around the world and winning millions in the process. An affable gent with a keen sense of humor, de Wolfe has emerged as one of Europe's most successful players in recent years, amassing over $4 million in live tournament winnings, and enjoying fantastic success in online cash games. Gambling was ingrained in him since an early age, and the mental challenge tournament poker provides proved to be a perfect fit for the Englishman who in his younger years, would often exchange his seat in a classroom for a juicy game in the back room of a pub.
Roland de Wolfe came into the world in 1979 and calls London home. He played his first card games at age 12 with his schoolmates and graduated to wagering on pool and snooker in his teens. There was often a poker game running at the back of the pool hall and De Wolfe wasn't one to shy away from the action. Bored with school, he'd often cut class to place sports wagers, hustle pool, and then retire to the "wild card" games where he first developed his skills at cards. After secondary school, De Wolfe completed a journalism course at Brighton and after a stint at Esquire, he began writing for the UK publication Inside Edge as the poker correspondent. De Wolfe's affection for gambling made the job a perfect fit and soon he was traveling the world, covering tournaments.
Though De Wolfe was primarily a journalist in those days, he continued to play poker on the side at the Victoria Casino and the Gutshot Club in London. The more he travelled the circuit, the more he got the itch to play. De Wolfe scored his first tournament win in a £150 pot-limit hold'em event at the Gutshot Poker Festival, earning £4,372. Only a few days later, he finished runner-up in another event at the same festival, banking another £1,500. After booking those wins, De Wolfe stepped up his online play, at one point earning over £15,000 in the space of three days. He admits that his excellent run was primarily due to good luck, but it inspired him to work even harder at his game.
As his results improved, De Wolfe began focusing more on playing poker instead of writing about it. Though he had risen through the editorial ranks to become the editor of Inside Edge, he soon left his day job behind to focus on his new passion. He continued to move up in levels at the online no-limit hold'em cash games and built his bankroll to a level where he could take a shot at some larger buy-in tournaments.
De Wolfe made his first sojourn to the World Series of Poker in the summer of 2005. He won a seat into the Main Event at the Gutshot Club, but unfortunately did not finish in the money in that event. He did pick up some cash from his 43rd-place finish in the $1,000 No-Limit Hold'em with Rebuys event and padded his bankroll with some good results in the side games. Upon returning to Europe after the WSOP, De Wolfe entered the $10,000 buy-in WPT Grand Prix de Paris and firmly made his mark on the tournament poker world, defeating Juha Helppi heads-up to finish first, for a $574,419 payday. De Wolfe's win cemented his new status as a professional poker player and, newly armed with the means to compete at the highest levels, he began travelling the circuit full-time.
De Wolfe's win in Paris came with a $25,000 seat at the 2006 WPT World Championships at Bellagio. De Wolfe turned that entry into over $1,000,000 in winnings, finishing in third place behind Davidson Matthew and eventual winner Joe Bartholdi. From there it was on to the 2006 WSOP, where he finished 16th in the $10,000 Pot-Limit Omaha World Championship and made the final table of the $2,000 No-Limit Hold'em event, finishing third for over $65,000.
His greatest achievement, more than winning the million dollars at Bellagio, came when he took down the 2006 EPT Irish Masters in Dublin. De Wolfe won nearly $700,000 for his victory and became the first player in history to hold both a WPT and an EPT title. His continued success led to a sponsorship with Full Tilt Poker and, playing under their banner, he made another five cashes at the 2007 WSOP. De Wolfe is also a frequent presence on televised poker tournaments, having appeared on the Full Tilt Poker.net Championship, the Party Poker World Open, the 888.com UK Open, "Late Night Poker," and the Party Poker Nations Cup. Most recently, de Wolfe finished fourth at the 2008 WSOP $5,000 Mixed Hold'em event and 13th at the 2008 PokerStars.net EPT Warsaw.
At the tables, De Wolfe is infamous for his lengthy massages (often clocked at six-plus hours) and away from them, he enjoys sports betting and hitting the gym.