PokerStars.net APPT Manila, Day 2: Nam, Marcus, Nelson Headline Final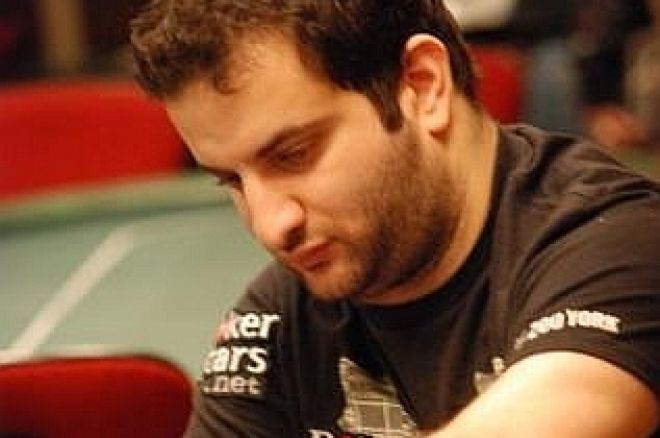 Seventy-seven players returned to the Hyatt Hotel & Casino in Manila yesterday to continue their quest for the PokerStars.net Asia Pacific Poker Tour Manila championship, including 2007 champion Brett Parise, chip leaders Michael Shell and Chang Tong Suk, and internet wunderkind James Obst. Also in the field were Lee "Final Table" Nelson, Celina Lin, David Saab and PokerNews Cup champion Nali "Iraqi Nick" Kaselias, but when action concluded, Hyoungjin Nam led the nine survivors into Sunday's final.
Van Marcus started Day 2 strong, moving up in two huge hands to capture the chip lead early in the day. In the first, he found himself on the wrong end of a set-over-set hand against Daniel Nordstrom when his
was no good to Nordstrom's
on a board of
. David Saab, watching from his seat at the same table, said to Saab, "Just hit the one-outer, it's that easy." As requested, the
came on the river, giving Marcus the one-outer he needed and sending Nordstrom home early. Only moments later, Marcus sent Saab packing with
to Saab's
on a board of
. Marcus moved into the chip lead and finished Day 2 with one of the biggest stacks.
Michael Chrisanthopoulos, who made the final table of the Aussie Millions this January, fell to Jeppe Drivsholm early on Day 2. Drivsholm flopped a set with pocket threes, and called Chrisanthopoulos' all-in move on a board of
. Chrisanthopoulos tabled
and needed help to stay alive. The turn and river ran out
and he was done. Other early eliminations included Wally "The Dream" Sombero, James Obst and Miss Earth 2004, Priscilla Meirelles.
The money bubble burst on simultaneous eliminations on two tables, saving the remaining players from hand-for-hand play. Celina Lin busted from the feature table with two pair against a set at the same time that Xiaogang Lin ran
into Josh Pang Ang's
. Lin picked up a flush draw on the
board, but the turn and river bricked out, sending both Lins home just outside the money and assuring money for the remaining 32 players.
After the bubble burst, Van Marcus continued his big-stack play when he busted two players in another big come-from-behind win. James Broom raised preflop and found two callers before Takashi Ogura moved all in for a little more than Broom's opening raise. Marcus moved over the top with a big raise, and Broom quickly called all in. The callers in the middle got out of the way, and Ogura tabled
, only to find himself facing two pocket pairs. Marcus tabled
, but was looking for help when Broom showed
. He got all the help he needed when he flopped a set on the
board, but Broom still had the nut flush draw. The
turn was no help to anyone, and the
river sent Ogura and Broom to the payout line, while Marcus moved closer to his spot at the final table.
Lee Nelson sent Nang Quang Nguyen home in 28th place ($3,257), as Nelson worked at living up to his nickname once again. Nelson called Nguyen's all-in with pocket queens and flopped a set on a board of
to send Nguyen packing. As the field continued to thin, more notable players busted on Day 2, including Nali "Iraqi Nick" Kaselias, Melvin "The Miracle" Matibag and 2007 champ Brett Parise.
Another late casualty on the march to the final table was Day 1b chip leader Tasha Ellis, who never got much going on Day 2 and busted in 12th place ($6,514). Facing one all-in and a re-raise from her big blind, Ellis moved all in with
and found a caller in Hyoungjin Nam with
. Dimitrios Pappis was already all in for the main pot with
as Ellis and Nam battled for the larger side pot. Pappis hit an ace on the
flop to triple up, and the turn and river ran out
to send Ellis to the rail just off the final table.
Just moments later, Josh Pang Ang was the final-table bubble boy when he tangled with Noh Tae Jun. Jun raised preflop with
, and Ang called. Ang checked the
flop and Jun fired out a bet. Ang check-raised all in with
, and Jun snap-called with his flush. The
on the turn left Ang drawing dead, and the
river locked up the final table as Ang collected $6,514 for his 10th-place finish.
As the players bagged their chips, Hyoungjin Nam held the chip lead, with dangerous pros Lee Nelson and Van Marcus joining him at the final table. The seating assignments and chip stacks looked like this once the final table was set:
Seat 1: Noh Tae Jun - 466,000
Seat 2: Lee Nelson - 238,000
Seat 3: Van Marcus - 438,000
Seat 4: Benjamin Lim - 115,000
Seat 5: Rainier Aquino - 40,000
Seat 6: Hyoungjin Nam - 561,000
Seat 7: Manish Sansi - 192,000
Seat 8: Chang Yong Suk - 539,000
Seat 9: Ramil Tandoc - 184,000
Join PokerNews at 12:30 PM local time on Sunday (late Saturday night in the Americas) for all the live updates from Manila.