PokerStars.net EPT Warsaw Day 1a: Lellouche Leads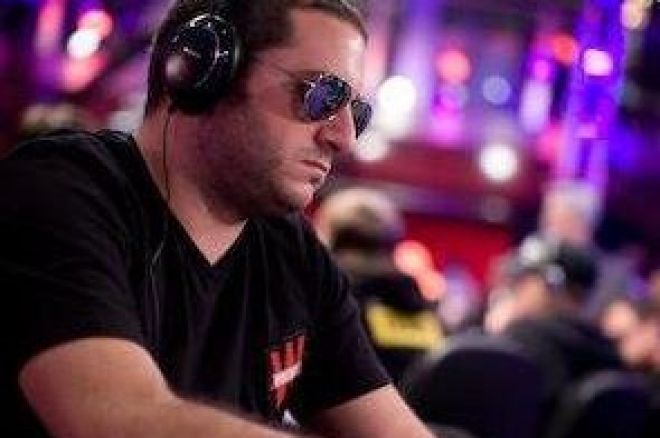 The field on Day 1a of the PokerStars.net European Poker Tour Warsaw Main Event was small, with only 99 players taking the field, but stacked, with big-name internet pros, EPT champs and other familiar faces filling the tables at the Casino Poland. Among the contestants were EPT Budapest winner Will Fry, EPT Prague champ Arnaud Mattern, EPT hostess Kara Scott and Gavin Griffin, winner of poker's triple crown — a WSOP bracelet, EPT championship and WPT title. Also in the field were EPT founder John Duthie, Johnny Lodden and Michal Wisniewski, one of Poland's biggest pop music stars.
EPT hostess ran afoul of EPT champion when Kara Scott and Arnaud Mattern tangled, with Scott getting the worst of it to end her tournament. She raised preflop with
, and three opponents called. Scott led out on the
flop, and found a raiser in middle position. Mattern moved all in over the top, Scott called, and the middle-position player got out of the way. Scott's overpair was in need of help when Mattern tabled
for bottom set, and when the rest of the board ran out
, Mattern stacked up a big pot as Scott headed to the rail. Other notable eliminations on Day 1a included Will Fry, who saw his dreams of back-to-back EPT titles go down in flames, Joseph "bigegypt" Elpayaa and Ilari "Ziigmund" Sahamies, who ran A-Q into A-K and couldn't improve to see Day 2.
The word of the day was "rollercoaster" for the big stacks, as Mattern, Ludovic Lacay, Gavin Griffin and Johnny Lodden all saw big chip leads evaporate at some point during the day, only to finish with healthy chip counts at the end of the day. Lodden in particular saw huge swings in his stack size before ending the day among the chip leaders. Shortly after dinner, he dropped two sizable pots to Michal Zaremba, the first when his
made second pair on a
board, but it wasn't good enough to best Zaremba's top pair as he tabled
. Next, Zaremba's pocket eights held up against Lodden's flush draw on a board of
. Lodden's
improved slightly on the turn, but it wasn't enough to drag the pot as his stack took another hit.
As the night wore on and Lodden seemed nearer and nearer to falling asleep at the table, his play held steady and his cards improved as he caught fire in the last levels of the day. First he flopped a flush with
on a
board and faded the remaining hearts when his opponent moved all in with
. No more hearts on the board and Lodden sent one to the rail. He sent another victim home soon after that when his A-K held up against an opponent's A-Q.
Lodden finished the day near the top of the leader board, behind only Ludovic Lacay and Antony Lellouche. Lacay made a comeback of his own late in the day to claim second place, while Lellouche wielded pocket kings well on two big occasions on Day 1a to build a big stack early and keep it throughout the day. In one of the first hands of the day, Lellouche picked up pocket kings and got all his money in preflop, only to find himself against the one hand that he was behind – pocket aces. A king on the turn gave Lellouche the two-outer he needed and the early double-up. Late in the day Lellouche picked up kings again, this time calling an opponent's preflop all-in move. His opponent showed pocket tens, and Lellouche's kings held up to cement his chip lead. Other notable survivors of Day 1a included Gavin Griffin, Arnaud Mattern, Michal Wisniewski and Alan Smurfit.
More top pros are expected to descend upon the Casino Poland on Sunday as Day 1b kicks off at 2PM local time. Join PokerNews then for all the live updates from EPT Warsaw. The top ten chip counts from the opening session:
Antony Lellouche - 57,600
Ludovic Lacay - 49,600
Johnny Lodden - 41,450
Marco Fantini - 41,000
Sergey Shcherbatskiy - 40,950
Serguei Pomerantsev - 39,175
Michael Muheim - 36,875
Atanas Stoyanov Gueorguiev - 31,975
Moises Parrilla Ramos - 30,650
Nico Behling - 28,375