'TherookieQQ9' Wins PokerStars Sunday Million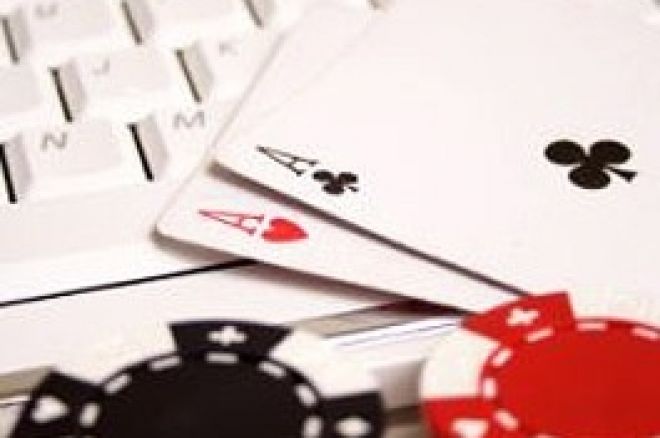 Another busy night for the PokerStars Sunday Million saw a turnout of 7,711 entrants, making the prize pool $1,542,200 with a first-place prize of $188,919.50. Notable finishes include ClaudioReyna in tenth place ($7,711) and Adam "Roothlus" Levy in 53rd place ($2,621.74). The chip counts at the beginning of the final table were:
RunThisTable - 24,525,748
Jonathan "TherookieQQ9" Plens - 15,612,351
1011001011 - 7,561,210
elemonator37 - 6,925,714
Lamberjack12 - 5,252,296
Mazelucky - 4,977,442
rickyhatton - 4,465,083
adamx - 4,128,912
ragsrellum - 3,661,244
Adamx was first to exit the final table. With blinds and antes at 150,000/300,000/30,000, adamx moved all in from middle position for 3,468,912 with
and found action from Jonathan "TherookieQQ9" Plens, who held
. The flop rolled out
, keeping Plens in the lead after pairing his ace. The turn and river were blanks for adamx who finished ninth for $10,795.40. Next to go was ragsrellum at the 200,000/400,000/40,000 level after moving all in for 2,281,244 and finding a caller in the form of RunThisTable. It was
for ragsrellum while RunThisTable showed
. The board came
making a straight, but giving a higher straight to RunThisTable. The eighth-place finish gave ragsrellum $17,735.30. Soon after that, Jonathan "TherookieQQ9" Plens raised 1,000,500 under the gun and from the small blind Lamberjack12 moved all in for 3,332,296 with
. Plens called with
and collected the chips when the board came
. Lamberjack12 earned $26,998.50 for seventh.
At the 250,000/500,000/50,000 level of play, a coin flip occurred between elemonator37, who held
, and 1011001011, who held
. The board came
, eliminating elemonator37 in sixth for $39,326.10. The next bust did not happen until the 400,000/800,000/80,000 level. Jonathan "TherookieQQ9" Plens opened to 2,200,500 under the gun and 1011001011 moved all in for 7,124,826 from the small blind Plens called with
and was racing against
. The board ran out
, good enough to send 1011001011 home in fifth for $54,748.10. At 500,000/1,000,000/100,000, Mazelucky moved all in from the cutoff for 9,985,182 with
and was called by RunThisTable in the big blind with
. No six would find the table and Mazelucky was out in fourth for $70,170.10. With three left, RunThisTable made it 2,225,625 to go from the button and rickyhatton shoved from the big blind for 19,705,664 with
. RunThisTable called with
and won the race as the board delivered
. Third place awarded rickyhatton $86,363.20.
Heads-up play began with these chip counts:
TherookieQQ9 - 36,093,818
RunThisTable - 41,016,182
Jonathan "TherookieQQ9" Plens emerged as the victor at the 850,000/1,700,000/170,000 level. The final hand saw Plens limp on the button and RunThisTable shove for 30,519,556. Plens called and flipped over
to RunThisTable's
. The flop came
and put RunThisTable in the lead. The
turn left only three outs for Plens, but the
river card was one of them. RunThisTable finished runner-up for $127,385.72, as Jonathan "TherookieQQ9" Plens rivered the win in the PokerStars Sunday Million, collecting $188,919.50.
Final Results:
1. Jonathan "TherookieQQ9" Plens - $188,919.50
2. RunThisTable - $127,385.72
3. rickyhatton - $86,363.20
4. Mazelucky - $70,170.10
5. 1011001011 - $54,748.10
6. elemonator37 - $39,326.10
7. Lamberjack12 - $26,998.50
8. ragsrellum - $17,735.30
9. adamx - $10,795.40
Other Notable Sunday Online Events:
Full Tilt Sunday Mulligan
1. iloseflips2424 - $50,760
2. mendieta19 - $32,148
3. payems - $23,800.80
4. gboro780 - $18,612
5. Jon "PearlJammed" Turner - $14,100
6. therookieqq9 - $10,152
7. SPIRITSLAYER - $6,768
8. switzzle - $5,076
9. noble_work - $3,609.60
Buyin: $200+16
Prize Pool: $225,600
Entrants: 1,128
Other Notables: Matt "All In At 420" Stout (18th, $1,037.76), GulahPapyrus (19th, $823.44), Amanda "Mandy B" Baker (30th, $721.92), Brandon "BrandonPL" Leeds (39th, $631.68), Brian "Sn8wman" Hawkins (45th, $631.68)
PokerStars Sunday Warm-Up ($750,000 guaranteed)
1. Snookerfun - $98,930
2. dave_steven9 - $68,490
3. luluxxx - $45,660
4. VBOOS - $38,050
5. groggy - $30,440
6. Schmufix - $22,830
7. Polyhymnia - $15,220
8. Top-Hand - $9,512.50
9. RoadV - $6,544.60
Buyin: $200+15
Prize Pool: $761,000
Entrants: 3,805
Other Notables: Adam "Roothlus" Levy (34th, $1,445.90)
PokerStars Sunday $500,000 Guaranteed
1. thorladen - $91,250
2. Smitty1581 - $66,450
3. mlagoo - $50,000
4. Body Man D - $37,500
5. lilien00 - $26,250
6. driftdc5 - $21,250
7. bfineman - $16,250
8. holdplz - $11,250
9. jakoon1985 - $7,000
Buyin: $500+30
Prize Pool: $500,000 (included $2,500 overlay)
Entrants: 995
Other Notables: Tristan "Cre8ive" Wade (14th, $4,000), Mark "The Omaholic" Roland (15th, $4,000), Carter "ckingusc" King (19th, $2,150), Keven "Stammdogg" Stammen (21st, $2,150), Bryn Kenney (23rd, $2,150), Danny "The__D__Ry" Ryan (30th, $1,600)
Bodog $100,000 Guaranteed
1. maberle - $23,600
2. improved - $13,600
3. sprink 669 - $9,100
4. nash07 - $7,000
5. twelver1232 - $5,700
6. stberry27901 - $4,500
7. velocity2007 - $3,300
8. EScrote_ - $2,200
9. CohibaSiglo - $1,300
Buyin: $100+9
Prize Pool: $100,000 (included $28,000 overlay)
Entrants: 720