PokerStars EPT Budapest, Final Table: Will Fry Hoists Trophy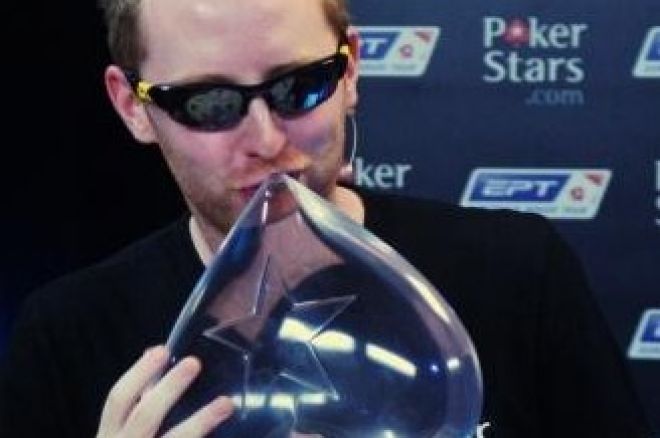 After four grueling days of poker at the Las Vegas Casino in Budapest, England's Will Fry outlasted 531 opponents to claim victory in the PokerStars.com European Poker Tour Hungary Main Event. Fry took down €595,839 for winning the biggest poker tournament in Hungarian history, concluding a very quick final table.
Local favorite Zoltan Toth took the chip lead into the final table, but ran into trouble early as he and Johnny Lodden got all their chips in the middle in a huge three-way hand with Martin Jacobson. Lodden raised preflop with
, and Toth and Jacobson both called. The flop came down
, and Lodden bet out. Toth called and Jacobson moved all in over the top with
with Lodden and Toth both calling. Toth showed
for the nut flush draw, and the
on the turn provided no significant help. The
on the river filled Jacobson's straight draw, cracked Lodden's kings, and sent him packing in eighth place (€53,200).
Toth was left crippled, and got the last of his chips in a few hands later in a three-way pot with Gino Alacqua and Albert Iversen. Toth moved all in over the top of Alacqua's preflop raise, and Iversen and Alacqua both called. The board ran out
, and Alacqua and Iversen checked it down. Toth showed 6-2, no good against Iversen's
, and the lone Hungarian at the final table was eliminated in seventh place (€78,736).
Alacqua was next to fall when he ran afoul of Ciprian Hrisca and Iversen in another big three-way pot. Hrisca opened for a raise preflop and Alacqua moved all in over the top. Iversen smooth-called the raise, and Hrisca called as well. The flop came down
, and Iversen bet out. Hrisca called, and both players checked the
turn. The
on the river brought checks from Iversen and Hrisca, and Iversen showed pocket aces for the overpair. Alacqua tabled
for a pair of tens, and Hrisca dragged a monster pot with A-Q for the rivered straight. Alacqua picked up €100,016 for his sixth-place finish as Hrisca vaulted into the chip lead.
Next, Mario Serenelli stuck out a raise from the small blind, only to find a re-raise from Will Fry in the big blind. Serenelli called, and the flop came down
. Serenelli checked it over to Fry, who bet out. Serenelli called again, and the turn brought the
. Fry moved all in with
, and Serenelli called with
for the straight draw. The
came on the river, and Fry's two pair was good enough to send Serenelli home in fifth place (€127,680).
Just a few minutes later, Fry claimed another victim when he eliminated Albert Iversen in fourth (€153,216). The short-stacked Iversen moved all in preflop with
, but Fry woke up with
and called. The board ran out
, and Iversen's pair of sevens wasn't enough to keep him alive as he headed to the rail and Fry took the chip lead into three-handed play.
Martin Jacobson was busted in third place (€197,904) by Ciprian Hrisca in a blind-versus-blind confrontation. Hrisca limped in from the small blind with
, and Jacobson checked his big blind. The flop came down
, and both players checked. Hrisca bet out when the
came on the turn, and Jacobson called. Hrisca moved all in when the
landed on the river, and Jacobson went into the tank before finally calling with
for two pair. Hrisca's flush wasn't very high, but it was enough to send Jacobson packing and give Hrisca a sizable chip lead going into heads-up play.
It only took about half an hour of heads-up play for the tables to turn and Fry to take down the championship. The fireworks kicked off preflop in the final hand, with raises and re-raises flying until all the chips ended up in the middle. Hrisca tabled
, while Fry was ahead with
. The board ran out
, and Fry's bigger two pair was enough to send Hrisca home in second place (€342,608).
In his first major tournament outing, Will Fry claimed the first-ever EPT Budapest title and its €595,839 top prize. Promising to give a significant portion of his winnings to charity, Fry said, "I'm going to pay my mortgage. Help out my family and friends. And look into some good charities to help stop third-world hunger. I'm going to try to do my bit to help and hopefully others will get involved." Congratulations to Will Fry, the new PokerStars.com EPT Budapest champion.