Women's Poker Spotlight: Lisa Tenner
Amy Zupko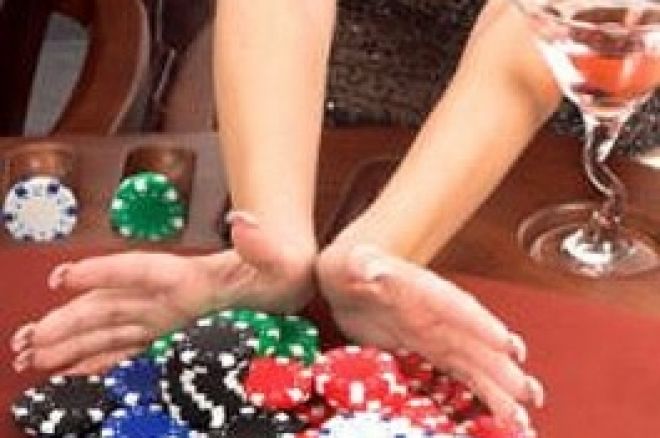 "I learned from every failure that I have had. And believe me I have had many. You don't learn from success in life, you learn to overcome the failure and try something different that will work" — Lisa Tenner
When Lisa Tenner was a young ballerina, dancing in the New York City ballet, never did she imagine that her life would take the twists and turns that it did and bring her into a life of music, celebrities, business and poker.
Lisa is best known in poker for her roles behind the scenes, marketing and managing top players and creating the ultimate poker experiences mixing celebrities, poker and atmosphere. Her marketing experience has led her to awards such as "Event Pro of the Year" in 2007 and a position on the board of advisors for the Ladies Poker Association.
Lisa Tenner does not get the chance to play poker much but her style and focus is felt all over the poker industry. Lisa is the founder and co-captain of the Queen of Hearts Team. The team consists of women celebrities, professional players and business executives who play for charity at the World Series of Poker Ladies event. The team has included players such as Jennifer Tilly, Vanessa Rousso, Maureen Feduniak and many other well-known female players. The team, through winnings and sponsorships, has donated over $50,000 to the American Heart Association and the Nevada Cancer Institute.
"When I told Mark that I wanted to play in the ladies event at the World Series of Poker, he told me 'no'," said Lisa. "He said he would give me money for shoes, clothes or anything else I wanted. But he would not give me money to play poker." Not to be deterred so easily, Lisa approached Jeffery Pollack, Commissioner of the World Series of Poker and Vice President of Sports and Entertainment Marketing for Harrah's Entertainment and Harrah's with the team charity idea. "I don't take no for an answer. Ever. I will try every avenue I can think of until I get the answer that I want," Lisa adds. "If I run into a steel wall, I find a way around it." With the blessings of Pollack and Harrah's, Lisa's baby has taken off into its fourth season and looks to add more to the poker table than just some pretty faces.
Lisa's persistence has opened many doors for her personally as well as for women as a whole. Early in her career, she worked for a stock broker as a receptionist. Not happy in a traditional role for women, Lisa tested for and became one of the first female securities traders in the United States. Her tenacity served her well as she became one of the top earners in her firm. Her success, however, was not met with enthusiasm by everyone; it was met with criticism and harassment by some of her male peers who perceived Lisa as more of a threat than an asset to the firm. During that time brokerage firms were merging together and as companies merged and new firms were established, Lisa's prospects for advancement grew. She moved up the ladder quickly but despite her accomplishments the harassment, cajoling and bullying did not stop. That didn't stop Lisa; she continued to work until she became not only one of the first women traders but one of the best, building up an extensive and impressive list of clients who laid their financial futures in her hands.
Anticipating a down trend in the market, Lisa was scooped up into the world of radio and television, accepting a position as business manager to several top Los Angeles radio stations. That position lead to another career, managing the business end of large entertainment corporations such as Dallas-based Lorimar Group. From there, Lisa headed a team of bookkeepers that managed celebrities' assets. Lisa then stepped full-fledged into the music industry and began a business management firm representing headline bands such as Korn, Warrant and Jane's Addiction, and worked producers and music executives behind the scenes.
The creation of EAT'M (Emerging Artists and Technology in Music) gave rise to new musical talents such as Papa Roach, Justincase and others, and also gave Lisa the experience she needed to take her talent for marketing and branding to new heights in creating top-scale publicity events mixing poker, tourism and celebrities. Her company, Tenner and Associates, has had many successes in poker including (but certainly not limited to) the VH1 Celebrity Poker Tournament, Hard Rock Hotel & Casino's Celebrity Poker Pro-Am Tournament and The PartyPoker Million, staged aboard a cruise ship, an event that has become the world's largest limit hold'em poker tournament. She has marketed professional poker players such as Phil Helmuth. Lisa's drive and determination no longer give rise to sneers and abuse from her peers in a traditionally male domain. Instead Lisa is now met with honors and accreditation for what she has achieved in the past and what she will achieve in the future.
Lisa remains hard at work, bringing new experiences to poker. Her upcoming star-studded second annual Sunflower Children Poker fundraiser will be held at Gotham Hall in New York City, on Friday, November 21, 2008. Women in particular have something to look forward to in the spring with the test run of "Pump and Boot Camp." The campout will be held in casinos around the United States, allowing women to learn all aspects of gaming in the casinos. The events will cover everything from poker to craps to blackjack, giving women a skill set to be competitive and comfortable in the casino surroundings.
Lisa Tenner's story has a lesson to teach all women who are trying to reach their goals and attain their dreams, whether on or off the felt. She never gives up even when others tell her it will never happen. When a door is closed, she finds another to knock on. "I think to be successful in business and in life you need the same skills that you need in poker," she says. "Of course you need the knowledge but you also need the resolve to just do it and work hard to get the job done." I guess that makes it only fitting that when I asked her to give me one word to describe herself she replied "Teacher."