WSOP Circuit Event Championship, Lake Tahoe, Day 1, Chris Dombrowski Leads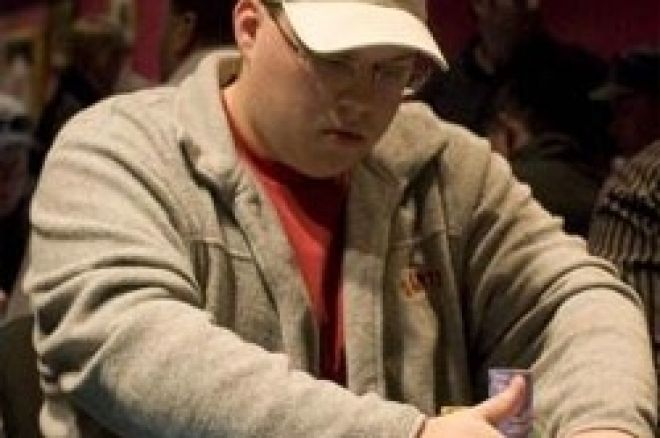 2007 WSOP Champion Jerry Yang said, "Shuffle up and deal," then quickly sat down to join the 132 players assembled for the fifth annual World Series of Poker Circuit Championship at Harvey's in Lake Tahoe. The winner of this year's event will take home $181,379 from the total prize pool of $640,200.
Jerry Yang was not the only former World Champion to take a seat at this year's Harvey's Lake Tahoe event. Former champions Johnny Chan (1987, 1988) and Chris Ferguson (2000) were also on hand, as were former ME final-table players Aaron Kanter (2005) and Michael Binger (2006). Other gold bracelet winners in attendance included Robert Cheung, Scott Clements, Dan Heimiller, Kathy Liebert, Jeff Madsen, and Max Pescatori.
At the end of Day 1, Chris Dombrowski led the remaining pack of 55 players with 104,100 in chips. Dombrowski may only be 21 years old, but he's having a stellar "debut" year. He cashed four times at the 2008 WSOP and won the Heartland Poker Tour's New York Fall Classic last month. Chris Ferguson won this event last year, and is still in position to defend his title, ending the day 13th in chips with 51,800.
Johnny Chan failed to survive Day 1 after he called off all his chips holding
on a flop of
-3. His opponent, James "Drew" Marks, held pocket threes for a flopped set. The turn delivered the
for Chan's flush, but the river
paired the board, giving Marks a boat and eliminating Chan.
Jeff Madsen was another Day 1 casualty after his two red queens went up against
. The pain came quickly for Madsen with an ace falling on the flop. Former NBA player Ken Norman was on a nice run for the better part of the day. Norman has three tournament cashes, including a 14th-place finish in the WSOP Circuit Championship in Hammond Indiana two weeks ago. But not long after the dinner break, Norman went down with the exact same hand as Madsen did; Norman's red queens against an
. Unlike Madsen, Norman safely navigated the flop, but the turn brought an ace, sending Norman to the rail.
Sabyl Cohen-Landrum was another late day departure after Scott Roberds' A-9 won a coin flip against her pocket sevens. When it came to moves, Neal Cooke's were actually slow and deliberate. Cooke took his time as he debated calling 75% of his stack with
on the turn with the board showing
. After apologizing for the length of his decision process, Cooke pushed in his entire stack. His top pair and open-ended straight draw were up against an opponent wielding
for the same open-ended straight draw and a nut flush draw. The river was a
and Cooke prevailed with top two pair.
In one of the last hands of the night, Tom Masinter stacked an opponent to close out the night in third place. All the chips went in on a flop of
. Mastiner held
against his opponents pocket fours. A
fell on the turn, counterfeiting his opponent's two pair and giving Masinter the lead. A
fell on the river, giving Masinter the flush for good measure.
The Day 1 top ten chip leaders, listed below, will be joined by Chris Ferguson, Kathy Liebert, Allen Kessler, Robert Cheung, Aaron Kanter, Tim Vance, Yosh Nakano when Day 2 action resumes today at noon local time. Check back with the PokerNews Live Reporting Team as the remaining 55 players battle down to the final table.
1. Chris Dombrowski — 104,100
2. Ty Stewart — 95,000
3. Tom Masinter — 75,800
4. Tay Nguyen — 71,700
5. Travis Erdman — 71,300
6. Marty Wong — 67,700
7. Scott Clements — 65,200
8. Neal Cooke — 60,300
9. Michael Binger — 59,800
10. Carol Hampton — 59,000