WSOP Circuit Lake Tahoe: Michael Binger Wins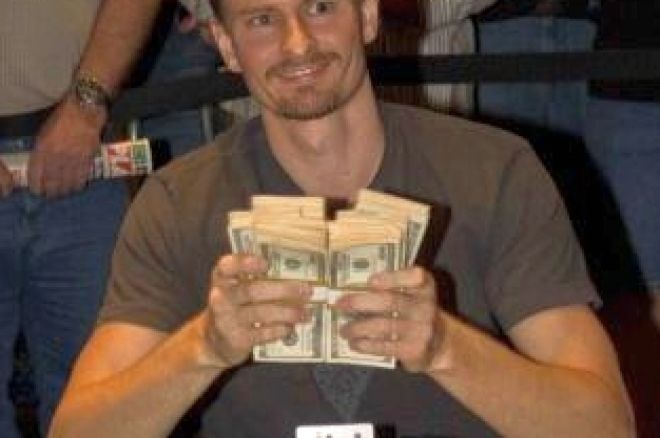 Michael Binger led going into the final table of the WSOP Circuit Event Championship at Lake Tahoe, but he would lose that lead before surging back to claim his victory. And at one point in heads-up play, Binger found himself at a distinct disadvantage. But after winning the $181,379 first-place prize he said, "I visualized this victory coming. It was a sort of mind over matter thing. The power of positive thinking. I was down at one point (when heads-up) and told myself to stick with it. I played well, and the cards finally turned around for me. This is a very meaningful win for me."
Final Table Chip Counts and Seat Assignments:
Seat 1: Allen Kessler - 196,500
Seat 2: Scott Clements - 66,500
Seat 3: Michael Binger - 403,500
Seat 4: Bill Bostick - 100,500
Seat 5: Tay Nguyen - 132,000
Seat 6: Mike McClain - 283,000
Seat 7: Jake Solis -302,000
Seat 8: Ty Stewart - 275,500
Seat 9: Travis Erdman 224,500
Ty Stewart charged out of the gate, winning three early hands in the final, including the hand that would put Scott Clements out in ninth place. On a three-way limped hand between Stewart, Clements and Allen Kessler, Stewart bet out on the A-K-10 flop. Kessler folded and Clements called. Both players checked when a four fell on the turn. Stewart led out on the five river to put the short-stacked Clements all in. Stewart turned over Q-J for the flopped Broadway straight and Clements only word was, "Wow." Clements exited with $13,444.
Twenty minutes later, Bill Bostick would finish in eighth place when his pocket sevens couldn't hold against Michael Binger's A-5. Bostick had the advantage when all the money went in on the 6-3-2 flop, but the turn brought an ace and Bostick collected $18,566
Travis Erdman is only the second player in WSOP Circuit history to have made the final table of a championship event at the same location three years straight. While Erdman was hoping the third time would be the charm, Ty Stewart had other ideas. Stewart opened and Erdman re-raised pre-flop. Stewart checked the flop of
but then raised all in after Erdman bet. Erdman called and flipped over pocket kings only to see Stewarts made flush with
. The turn and river bricked and Travis Erdman finished in seventh place for $14,986.
Allen Kessler took a sick beat to finish in sixth place when his pocket aces faced off against Ty Stewart's pocket sevens. After the board of J-Q-2-K, Stewart could only win the hand with one of the two remaining sevens in the deck. A seven hit the river and Kessler hit the rail to collect his $31,370. The next attempt at cracking aces met with less success, however. Mike McClain's rockets were enough to topple Tay Nguyen's K-10 and Nguyen finished in fifth place for $40,653.
Mike McClain is best known for the "agony of defeat" sequence on ESPN's WSOP coverage. His 2003 WSOP bad beat has been aired literally hundreds of time. And in his last hand of the final table, McClain faired no better when his pocket queens fell to Ty Stewart's 8-9 when the board delivered a jack-high straight for Stewart. Mike McClain took fourth place and $53,777.
Three handed, Jake Solis found himself short-stacked and pushed all in, getting both Binger and Stewart to call. Solis tabled pocket eights, Stewart had pocket sevens and Binger had K-Q. Binger ended up with the pot when the board delivered A-Q-10-9-5. Solis finished in third place for $77,464, leaving Stewart and Binger to fight it out for the title.
Ty Stewart had the chip advantage when heads-up play began; it was his 1,156,000 to Binger's 824,000. Binger pulled close to even on a hand where his pocket fours found a set on the turn. But only a few hands later, Binger was down to 200,000 after Stewart showed A-Q on a board of 5-3-Q-A-9. Binger mucked his hand saying "That ace saved me from going broke, actually," as Stewart raked the pot. In the next few hands, Binger almost literally ground back to even. Binger took a slight lead on a hand by calling a large bet by Stewart when a jack fell on the turn. Binger's Q-7 proved to be good with the final board of 7-5-4-J-K.
In the final hand of play, all the money went in on the flop of 9-8-4. Ty Stewart tabled A-8 for middle pair, while Binger showed Q-9 for top pair. A ten and queen were next to come, and Michael Binger had won. Ty Stewart finished in second place for $112,675.
"I told (a friend) that the next time I see him I would be wearing WSOP Circuit ring. And that's exactly what happened here," Binger said. This was Michael Binger's first final table at a WSOP Circuit event. But Binger has made four final tables at the WSOP, including a third-place finish in the 2006 WSOP Championship. When asked what his next goal was, he said quickly, "A gold bracelet."