The Year in Poker: January, 2008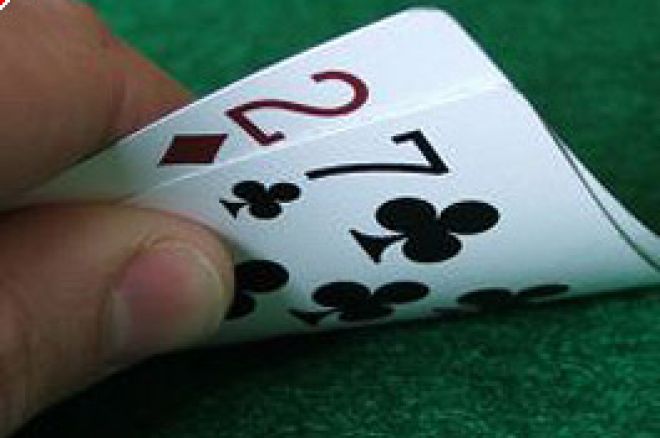 From a big score down under to business deals and international trade battles, January of 2008 was a fair harbinger for what the year would bring. Alexander Kostritsyn captured the year's first million-dollar title by besting Erik Seidel at the Aussie Millions, while the massive Harrah's buyout was finalized, heading several important business and legal matters affecting poker. Here are some of the most important stories from the first month of 2008:
Alexander Kostritsyn Captures 2008 Aussie Millions Main Event
The Aussie Millions is annually the largest poker gathering in the southern hemisphere, with the winner of the AUD $10,000+500 main event instantly joining poker's upper echelon of players. In 2008 that honor went to Russia's Alexander Kostritsyn, who broke into an ear-splitting grin after besting American star Erik Seidel for the title. Kostritsyn's triumph over a tough final table was worth AUD $1,650,000. Seidel collected $1,000,000 as the runner-up, while Michael Chrisanthopoulos, Antonio Casale and Nico Behling also logged final-table runs.
Harrah's Sale Completed
Among the business deals affecting the poker world, few could be judged more important than the leveraged buy-out of Harrah's Entertainment, Inc. Harrah's, a mammoth presence in America's brick-and-mortar casino and entertainment industry, was taken private in the deal orchestrated by private-equity firms Apollo Management, L.P. and TPG Capital, L.P. Harrah's owns the World Series of Poker, for decades the world's largest poker series. The buyout, which was negotiated in December of 2006, wasn't finalized until January 28th, 2008 due to regulatory requirements. The deal called for the private firms to pay $17.1 billion and assume another $10.7 billion in existing Harrah's debt. The structure of the buyout, it would later develop, became difficult to manage when 2008 brought a financial-markets crisis, an economic downturn, and a softening of consumer demand in the casino industry.
Antigua, Costa Rica File for WTO Arbitration
The ongoing World Trade Organization dispute between the United States and much of the rest of the world regarding online gambling seemed to have reached a point of clarity when the WTO issued a final ruling in favor of Antigua & Barbuda, granting an annual $21 million trade judgment in the process. But America's intransigence and refusal to deal with other affected nations in the matter – a circumstance in place to this day – soon led Antigua and its Caribbean neighbor in the online-gambling world, Costa Rica, to file for arbitration with the WTO. At issue was America's announced intent to unilaterally withdraw from its WTO-monitored GATS (General Agreement on Trade in Services) without compensation to other countries. The arbitration filing is one of several WTO/online gambling matters still to be resolved when a new US Trade Office administration begins work in the Barack Obama presidency.
Kahnawake Releases Final Audit on Absolute Poker Scandal
The uncovering of an insider-cheating scandal in 2007 at Absolute Poker by affected players fascinated a segment of the poker world, with reverberations still being felt to this day. Early in 2008, the Kahnawake Gaming Commission, based near Montreal, issued its formal final audit on the Absolute Poker situation. Without naming the principle cheater involved, the report did identify the seven different accounts used in the cheating, and announced a $500,000 fine placed on Absolute. Cash-game players were refunded about $1.6 million after the thefts were uncovered.
Bart Tichelman Wins WSOP-Circuit Tunica Ring
World Series of Poker Circuit series final tables run the gamut from being loaded with unknowns to offering several stars. January's stop in Tunica, MS, was among the latter, with a final that offered reigning WSOP Player of the Year Tom "Donkey Bomber" Schneider, plus such noted tourney-circuit veterans as Ryan Young, Jordan Rich and Mark Garner. Despite the star power present, it was Atlanta's Bart Tichelman who overcame an early short stack and surged to the win, worth $482,210. Donald Nicholson finished second, worth 236,163, and Giovanni Marcacci claimed third for $129,760.
European Union Investigates Germany, Sweden
Battles over online gambling stretch far beyond the World Trade Organization struggle between the United States and Antigua. Similar disagreements over national rights marked the European Union block of countries, and in late January, the EU's judicial wing, the European Commission, issued formal notices against member countries Germany and Sweden over national bans against other EU-based online gambling services. In both cases, the countries had sought to protect lucrative state-run gambling monopolies by effectively barring private competition, a practice not allowed under EU trade rules. Germany and Sweden are among the dozen or so EU member countries to run afoul of the trading bloc's guidelines in regards to online gambling. Negotiations continue, with the industry waiting to see how and when Europe will deal with its future.