The Year in Poker: November, 2008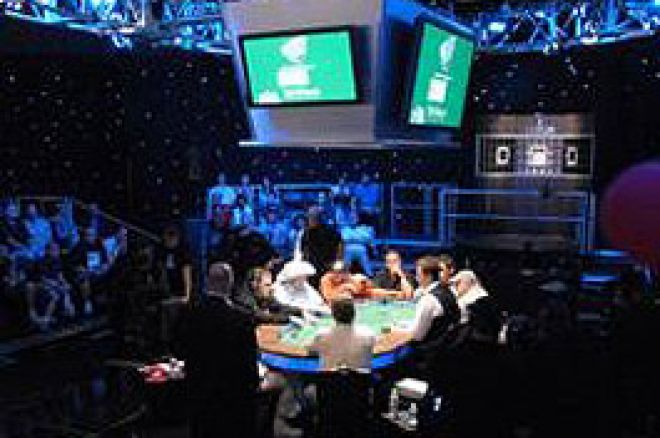 November capped an incredible fall run of poker news with perhaps the biggest story of the entire year, when Denmark's Peter Eastgate returned to the Rio to capture the WSOP's Main Event. It was one of several huge tournaments conducted during the month, and business and legislative happenings made November one of the busiest stretches of 2008. Big stories were everywhere, but these were among the most important:
Peter Eastgate Becomes Youngest-ever WSOP Main Event Winner
Score one for the kids. After an unprecedented 117-delay in the World Series of Poker Main Event's final table, designed to build mainstream anticipation and media buzz, the "November Nine" returned to the Penn and Teller Theater at the Rio in Las Vegas to decide who would be crowned 2008's poker world champion. Dennis Phillips led the nine in chips when play began, but took hits early before recovering to finish third, while the finale wound down to a duel between two young European players, Denmark's Peter Eastgate and Russia's Ivan Demidov, who had finished third at the WSOP-Europe Main Event several weeks again. Eastgate secured the win here, in the process erasing Phil Hellmuth, Jr., from the record books as the youngest US Main Event winner ever. Eastgate's win was worth $9,152,416, the second biggest poker prize ever. Demidov collected $5,809,595 for second, with Phillips pocketing $4,517,773 for third.
Va Shon Watkins Takes FTOPS X Main Event
The third and final Full Tilt Online Poker Series of the year (FTOPS X, overall) wrapped up its two-week run in mid-November following another record-setting series. As always, the FTOPS Main Event drew the greatest attention, and Va Shon "Julian Verse" Watkins started the final table in second spot and surged to victory. Watkins' triumph was worth $450,708.50, and became official when he finished off "sckilla" for the title. Sckilla's runner-up showing was worth $273,006.25, while "Hummelhintern" took third for $175,560.
US Treasury Publishes UIGEA Regulations
In the middle of November the US treasury, at the behest of the Bush administration, published the regulations called for under the 2006 Unlawful Internet Gambling and Enforcement Act (UIGEA). The law's controversial and vague language continued to be a sticking point for many legislators, including a call from Rep, Barney Frank and others to suspend publishing the rules until noted holes in the law as passed could be resolved. Instead, the US Treasury instituted a "midnight drop" of the rules, making them effective on Jan. 19, 2009, the day before incoming President Barack Obama takes office. The rules themselves require compliance by December of 2009, though their efficacy – and legality – remains an ongoing debate.
60 Minutes Airs Online Poker Cheating Segment
The online poker world waited and speculated for weeks as mainstream pieces covering the Absolute Poker and UltimateBet online cheating scandals were scheduled for broadcast and publication on "60 Minutes" and in the Washington Post. After several weeks' delay, when the pieces finally appeared they left many people scratching their heads. While the pieces covered the basics of how the scandals were uncovered, they glossed over many aspects and left just as many important questions not only unanswered, but unexplored. Major poker stars interviewed for the "60 Minutes" piece were cut from that show's episode as aired, in favor of online players who had more to do with the player-based investigation but carried much less mainstream cachet with viewers.
World Poker Tour, Full Tilt Reach Sponsorship Deal
The struggling World Poker Tour secured its immediate future in November by agreeing to a deal with major online site Full Tilt Poker, making Full Tilt the title sponsor for WPT events. The deal accompanied the WPT's move to FOX Sports Net for its seventh season with a slightly pared-down schedule. Full Tilt also received exclusive rights to in-show educational gaming brand integration for all 26 episodes of the latest season.
Fry, Barbosa Capture EPT Hardware
Two more stops on the PokerStars.com European Poker Tour were held in November, and Will Fry and Joao Barbosa walked away the winners. Fry captured the €595,839 first-place prize at Budapest, Hungary early in the month, while Barbosa's turn came at the Polish Open two weeks later. Englishman Fry outlasted Ciprian Hrisca for his win, while the 26-year-old Barbosa pocketed €367,141 after besting Nico Behling for the Warsaw title.
WSOP-C Hammond Goes to Billirakis
Tremendous player attendance marked the World Series of Poker Circuit series debut in the Chicago area, with an extensive schedule of events held at Horseshoe Hammond, just over the border into Indiana. The $5,150 main event at Hammond drew a star-peppered field of 165 runners, and a noted online star captured the title. Steve "MrSmokey1" Billirakis, who remains the youngest-ever winner of a US-based WSOP bracelet, added a Circuit ring and $208,885 to his resume by finishing off Thomas Koral for the win. Koral claimed $126,120 as the runner-up.
JC Tran Tops Tony G for PartyPoker Premier League III Title
The third edition of the PartyPoker Premier League drew an invitation-only field to London in late November. The elite 12-player field included former winners Juha Helppi and Andy Black, plus Phil Hellmuth, Peter Eastgate, David Ulliott, Vicky Coren, JC Tran, Tom Dwan, Roland de Wolfe, Annette Obrestad, Nenad Medic and PokerNews own Tony G. The 12 were trimmed to six for a final after nearly a week of preliminary heats, and the final wound up as a duel between newcomer Tran and Tony G. Tran finally topped Tony for the win, collecting $300,000, while Tony G pocketed $300,000 for the second-place showing.
Fry, Marcus Take Major Overseas Events
PokerStars' world tours also included an Asia Pacific Poker Tour stop in Manila and a Latin American Poker Tour visit to Costa Rica in November. Both stops featured strong international fields and plenty of online Stars qualifiers. 20-year-old Ryan Fee, a Philadelphian still too young to play in US land-based events, ventured to Costa Rica and emerged as the winner, hauling in $285,773. A rather more experienced player triumphed in the Phillipines, as Van Marcus broke through to his first APPT title, worth $162,856.
Michaal Binger Victorious at WSOP-C Lake Tahoe
After a great Chicagoland debut, the WSOP Circuit series moved on to Lake Tahoe, and again a big name took top honors. This time it was former WSOP Main Event final-table player Michael Binger, who topped a tough field to win $181,379 and the Circuit ring. Binger led entering the final, but fell back before overtaking and finishing off Ty Stewart ($112,675) for the win. The final table was among the toughest of the year, as it also featured Allen Kessler, Scott Clements and Mike McClain.