The Year in Poker: September, 2008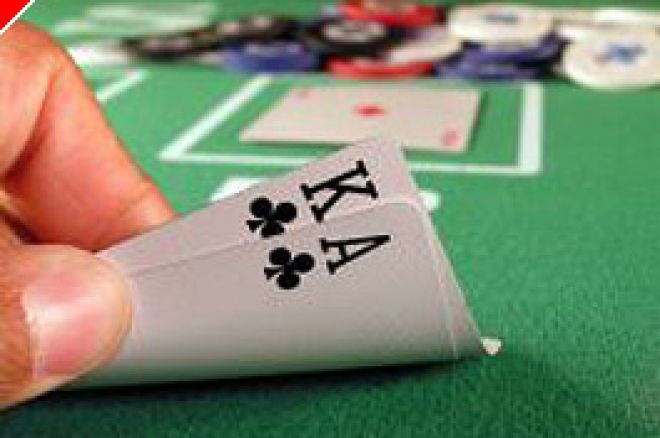 September was a huge month for poker, with significant events running around the globe. The annual World Championship of Online Poker at PokerStars ran for much of the month and set attendance and payout marks, while the World Series of Poker Europe drew the largest names in the game to London as the month drew to a close. On a different front, a pair of significant American legislative and legal happenings demonstrated with certainty the importance of online gaming in the world's political views. Major stories broke almost every day, but these were among the most important of all:
Carter 'ckingusc' Takes 2008 WCOOP Main Event
The largest prize pool ever for an online poker tournament occurred on the weekend of September 21-22. The occasion was the Main Event of PokerStars' seventh World Championship of Online Poker (WCOOP), and 2,185 players chipped in $5,000+200 each to build an incredible $10,925,000 purse. The two-day event wound down to a final table at which a five-way deal assured at least $780,000 for five different players — Carter "ckingusc" King, "liberace", Alex "AJKHoosier1" Kamberis, "Markush13" and "ShoesRDurrty". King wound up taking the title and the remaining $200,000 after the chop, giving him the title and a total payday of $1,265,432. Interestingly, King's payday was still less than that of eventual runner-up Liberace, who had the lead at the time of the chop and walked away with $1,375,249.
Kentucky Domain Name Seizure Threatens Online Gambling World
Officials for 141 domain names connected to Internet gambling awoke to a nasty surprise on September 23rd, when news emerged that a seizure order orchestrated by Kentucky Governor Steven Beshear attempted to gain control over those sites in an attempt to remove the sites – and/or access to their services – from Kentucky. The uproar was immediate, and quickly drew opposition from far more than the sites themselves. Internet business and freedom organizations quickly sided with representatives of the online sites, even as the Commonwealth of Kentucky attempted to assert its will over the rest of the online world. A stay of the order was granted within days, and the legal battle escalated through the latter part of 2008.
EPT Barcelona Title Goes to Ruthenberg
The PokerStars.com European Poker Tour's Spanish event is among its most prestigious offerings, and German star Sebastian Ruthenberg claimed his first EPT title in Barcelona. Ruthenberg's victory brought him a €1,361,000 payday, with Fintan Gavin finishing second for €792,000. The EPT Barcelona stop was loaded with talent, including Jason Mercier and Davidi Kitai, who both also made the final table.
Theo Jorgensen Captures WSOPE PLO Bracelet
It might be named for an American Midwestern city, but pot-limit Omaha has become widely popular in Europe. No surprise, then, that Event #3 at the World Series of Poker Europe, £5,000 Pot-Limit Omaha, drew such a deep and talented international field. Denmark's Theo Jorgensen became the second Dane to claim a bracelet by winning here, joining Jesper Hougaard, who captured the WSOPE's Event #1. Jorgensen collected £218,626 by besting Canadian online star Sorel Mizzi at the end of a fast-paced, seven-hour final. Mizzi claimed £132,000 as the runner-up, with 78-year-old Eric Dalby's attempt at becoming the second-oldest bracelet winner ever falling short; Dalby finished third for £84,562.
Frank Reintroduces Payment Systems Protection Act, Menendez Offers Skill-Games Bill
Stung by the defeat of his original bill earlier in the year, Rep. Barney Frank reintroduced modified Payment Systems Protection Act in September. The bill was designed to force clarification of the United States' 2006 Unlawful Internet Gambling Enforcement Act (UIGEA), whose unfunded mandate upon the banking industry was a major impetus behind the bill's introduction. Frank's bill quickly passed his House Financial Services Committee but did not come to a vote as Congress ended for the year. As the month drew to a close, Sen. Robert Menendez (D-NJ) introduced his Skill Games Licensing and Control Act, S. 3616, which was drafted with the assistance of the Poker Players Alliance and sought to bestow a "skill games" legal status upon poker and a handful of other games, with the eye of creating a regulatory and licensing framework to govern them.
Eddie Sabat Wins APPT Macau
2008's breakthrough poker names surely included American Edward Sabat, who traveled across the Pacific in early September to claim victory at the PokerStars.com Asia Pacific Poker Tour stop in Macau. A truly international field of 538 players were on hand for one of the first major poker events in China, and online qualifier Sabat conquered them all, heading back to the U.S. with $453,851, which tripled his live-tournament career earnings. Sabat's final foe was Malaysia's Charles Chua, whose second-place finish was worth $291,871.
KGC Announces UltimateBet Sanctions, Names Hamilton
Stung by the second major online-poker scandal in two months involving sites housed on the Kahnawake reserve, the Kahnawake Gaming Commission, responsible for sites' licensing and regulation, announced major sanctions against UltimateBet Poker in late October. The fraudulent play uncovered spanned nearly four years, and in its report, the KGC also cited "clear and convincing evidence" against UB official Russ Hamilton. The KGC also assessed penalties against UltimateBet, including a $1.5 million fine and the removal of any and all persons deemed "unsuitable" in remaining part of the site's operations. The site was also ordered to resume paying refunds to affected players, which totaled more than $16 million when a second round of payments was completed.
Jacobs Tops 'ElkY' in WCOOP Heads-Up Final
Among the marquee events in the 2008 World Championship of Online Poker at PokerStars was Event #19, the $25,000+500 Heads-Up NLHE tourney. The event featured a 64-player bracket format, and the finals pitted Steve "stevesbets" Jacobs against Team PokerStars Pro Bertrand "ElkY" Grospellier, who compiled a phenomenal 2008 WCOOP by going deep in event after event. This title went to Jacobs, however, who cruised past Grospellier to win $560,000. Grospellier won $320,000 as the runner-up, with Gavin Griffin, Victor Ramdin and Vanessa Rousso each making the final table.