Online Poker Weekend: Three-way Chop in Sunday Million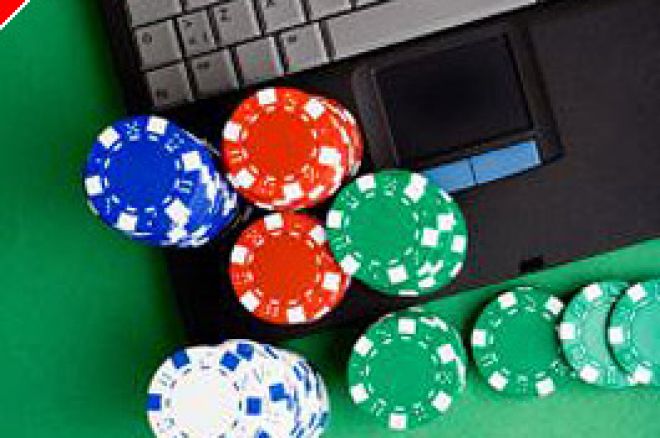 A busy winter Sunday found plenty of action in the major tournaments across the major online sites, including PokerStars, where an unusual three-way chop for even money occurred. Stars' event rules dictate that a share is reserved for the actual winner and that the tournament be played to its conclusion, and "opis/sp" went on to collect the title and the extra $30,000 that went with it. Over at Full Tilt, "dudetronic" captured the weekly $750,000 Guarantee, collecting well over $132,000. Here's how the action played out:
PokerStars Sunday Million
The PokerStars Sunday Million's 7,549 entrants created a total prize pool of $1,509,800, with 1,080 players cashing and $185,705.40 initially on the line for first. Notable showings included Martin "AABenjaminAA" Hruby in 27th place ($3,019.60), TJ "WhatArunAA" Slifka in 34th ($2,718), BadcardsAA in 40th ($2,567), johnnyv5000 in 46th ($2,416), Steven "PiKappRaider" Burkholder in 56th ($2,265), Taylor "ElMastermind" McFarland in 68th ($2,264.70), horryclutch in 78th ($2,113.72), and Josh Prager in 84th ($2,113.72). The chip counts starting the final table were as follows:
TommyE79 - 14,622,073
opis/sp - 12,767,804
CHI01 - 10,390,449
Eeedz - 10,212,455
jdballer40 - 8,197,282
drpossjr25 - 6,631,726
AvelonSalheb - 5,001,841
5fish - 4,125,097
Mighty Horse - 3,541,273
AvelonSalheb departed first from the final table at the 200,000/400,000/40,000 level. Mike "CHI01" Chiappetta opened to 1,200,000 from the cutoff and AvelonSalheb shoved from the big blind for 5,461,281 with
. Chiappetta called with
and was victorious after the board ran out
for the nut straight. AvelonSalheb finished in ninth place for $10,568.80. Mighty Horse was knocked off the high horse next, after moving all in for 1,841,273 from middle position with
and receiving action from TommyE79, who in the small blind called with
. The board improved neither player's hand and Mighty Horse was eliminated in eighth place for $17,362.70. With the blinds and antes up to 250,000/500,000/50,000, 5fish shoved from the small blind for 1,475,205 with
and was called by opis/sp in the big blind with
. The hand made famous by Doyle Brunson came through for opis/sp as the board ran out
. The seventh-place finish paid 5fish $26,421.50.
The next two bustouts came at 300,000/600,000/60,000. TommyE79 shoved under the gun for 4,072,829 with
and Mike "CHI01" Chiappetta called out of the small blind with
. The board came
as the river gave Chiappetta the winning straight. TommyE79 won $39,254.80 for sixth place. Eeedz hit the road as well after moving all in for 3,474,932 under the gun with
and running into Thomas "drpossjr25" Poss'
. No ace found the table and Eeedz finished in fifth place for $54,352.80. Poss, though, would be the next player eliminated in the following level. An open raise to 2,400,000 by jdballer60 was met with a reraise to 8,800,000 by Poss. The blinds folded and jdballer40 reraised all in with the bigger stack, and Poss called all in with
. This time Poss' kings ran into jdballer40's
. The board came
and Thomas "drpossjr25" Poss was the fourth-place finisher for $69,450.80.
The remaining three players talked about a deal, did not agree, then spoke again after a short-stack double up and agreed to an even three-way chop leaving $30,000 for the winner. Each was guaranteed $122,006.84.
At 500,000/1,000,000/100,000, the tournament ended. First, with the board reading
and nearly 20,000,000 in the pot, jdballer40 shoved for 9,010,321 with
and opis/sp called with
. No straight or flush cards came for jdballer40, who finished in third place for $122,006.84. With over a 3:1 chip lead, opis/sp soon took it down. A series of pre-flop raises brought out a
flop, and a check from opis/sp led to an all-in shove from Mike "CHI01" Chiappetta. Opis/sp eventually called and revealed
for middle pair, as Chiappetta was caught bluffing with
. The turn and river came the
and
, ending the tournament. Mike "CHI01" Chiappetta finished as the runner-up, taking home $122,006.84, while opis/sp collected $152,006.84 for winning the PokerStars Sunday Million was.
Final Results:
*1. opis/sp - $152,006.84
*2. Mike "CHI01" Chiappetta - $122,006.84
*3. jdballer40 - $122,006.84
4. Thomas "drpossjr25" Poss - $69,450.80
5. Eeedz - $54,352.80
6. TommyE79 - $39,254.80
7. 5fish - $26,421.50
8. Mighty Horse - $17,362.70
9. AvelonSalheb - $10,568.60
* three-way deal for remaining prize money; $30,000 to eventual winner
<center>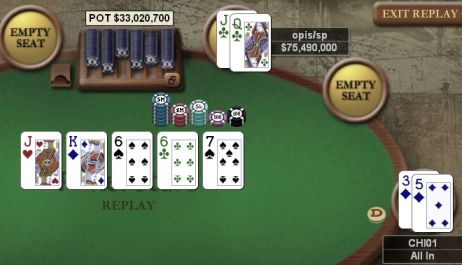 </center>
Full Tilt $750,000 Guarantee
The Full Tilt $750,000 Guarantee drew 3,485 entrants, falling a bit short of its guarantee and offering over $50,000 in overlay. Notable finishers outside the final table included TJ "LivesWithMommy" Slifka in 18th place ($3,750) and Gary "GB2005" Bogdanski in 53rd ($1,388). Eliminated first from the final table was Bbuddy4brkfst at the 25,000/50,000/6,000 level. Short-stacked and all in against shAAAArk's
, the board came
as Broadway did in Bbuddy4brkfst for a ninth-place finish worth $10,050. The chip counts after the first elimination were approximately as follows:
oldist - 3,508,702
rusostreet - 1,913,430
shAAAArk - 1,249,526
dudetronic - 865,373
skullkicker - 850,976
czares - 779,777
smfit29 - 750,528
David "The Yid" Chicotsky - 545,688
David "The Yid" Chicotsky and smfit29 were sent to the rail in the 30,000/60,000/7,500 level. Both players were eliminated when, after a flop of
, Chicotsky's
and smfit29's
were in dire straits against oldist's
for the flopped nut straight. The turn and river changed nothing and Chicotsky was out in eighth for $13,500, while smfit29 took seventh place for $17,250. Later in the level shAAAArk's tournament ended as well. On a short stack of 160,000, shAAAArk shoved with
and found action from dudetronic in the big blind, priced in to a call with
. The board came
and shAAAArk was out in sixth place for $23,025. The 40,000/80,000/10,000 round of play was when the event ended for czares. Under the gun, skullkicker shipped it in for nearly 960,000 with
and czares called all in from the big blind for 208,000 with
. The board rolled out
and czares was sent packing in fifth place for $31,040.
Rusostreet was the sole victim during the 50,000/100,000/10,000 level of play. With the board reading
, rusostreet got it all in good with
against oldist's
. However, the turn and river came
and
to make a straight for oldist. The fourth-place finish paid rusostreet $41,400. When the 60,000/120,000/15,000 level came around, dudetronic had moved into the lead and proceeded to bust oldist. After dudetronic three-bet preflop, oldist pushed with
. A call from dudetronic revealed
and when the board ran out
, oldist was out in third place for $52,500.
Heads-up play began with dudetronic holding a 4:1 edge in chips and the tourney ended at 80,000/160,000/20,000. On a queen-high flop, skullkicker was the one all in with top pair while dudetronic held the nut flush draw. A diamond on the turn sealed the deal and skullkicker finished as runner-up for $80,250. The winner of the Full Tilt $750,000 Guarantee was dudetronic for $132,787.50.
Final Results:
1. dudetronic - $132,787.50
2. skullkicker - $80,250
3. oldist - $52,500
4. rusostreet - $41,400
5. czares - $31,040
6. shAAAArk - $23,025
7. smfit29 - $17,250
8. David "The Yid" Chicotsky - $13,500
9. Bbuddy4brkfst - $10,050
Other Sunday Results
Full Tilt Sunday Brawl
1. Tojabei - $80,092.80
2. Sumpas - $52,876.80
3. ChokerFold - $39,268.80
4. f1rebetman - $30,175.20
5. KingFish83 - $22,939.20
6. Scary_Tiger - $15,940.80
7. oh i win yay - $9,720
8. The Lab Rat - $6,609.60
9. stockbrokerr - $4,665.60
Buy-in: $240+16
Prize Pool: $383,880
Entrants: 1,944
Other Notables: Halfrek (24th, $1,244.16), PureCash25 (26th, $1,244.16), Isaac Baron (64th, $660.96), Breeth (97th, $544.32)
Full Tilt Sunday Mulligan
1. H n F R Mangos - $48,780
2. cwm1981 - $31,436
3. jAbAthenuts - $23,306
4. cuzitsdelicious - $17,866
5. rsxpunk - $13,550
6. IBetANickel - $9,756
7. Margin of Error - $6,540
8. cmdnst - $4,878
9. pojai - $3,468.80
Buy-in: $200+16
Prize Pool: $216,800
Entrants: 1,084
Other Notables: Matt "MattSuspect" Molinari (24th, $823.84), Frank "gator93" Hernandez (31st, $715.44), Matt "ma44th3gr34t" Page (32nd, $715.44), Stian "JohnnyBelow" Stable (35th, $714.44), horryclutch (50th, $563.68), Matt "Claw1980" Holtzclaw (51st, $563.68)
PokerStars Sunday Warmup ($750,000 guaranteed)
1. mmmbillski - $101,374
2. suckedoutagn - $70,182
3. D1rtyR1v3r - $46,788
4. riddup - $38,990
5. Milla.TiMe - $31,192
6. mortens22 - $23,394
7. yokerface - $15,596
8. DenyoDeluxXe - $9,747.50
9. hidalgo18 - $6,706.28
Buy-in: $200+15
Prize Pool: $779,800
Entrants: 3,899
Other Notables: Jeremy "JBurleson" (15th, $3,119.20), PeachyMer (33rd, $1,481.62)
PokerStars Sunday 500 ($500,000 guaranteed)
1. troster16 - $91,500
2. TiltHappens- $66,500
3. Traumatize - $50,000
4. SiVTEC - $37,500
5. W.A.Rebel - $26,250
6. firas71 - $21,250
7. PlzBelieveMe - $16,250
8. Mr Zahmat - $11,250
9. Pimoss87 - $7,000
Buy-in: $500+30
Prize Pool: $500,000 (included $27,500 overlay)
Entrants: 945
Other Notables: Tom "SBrounder" West (14th, $4,000), Carl "colson10" Olson (35th, $1,750), Jon "apestyles" Van Fleet (51st, $1,250)
Bodog $100,000 Guaranteed
1. links1136 - $23,600
2. quietwinner - $13,600
3. Buffettwanab - $9,100
4. ImTheJackal - $7,000
5. rstewart13aggie - $5,700
6. YoungBuck25 - $4,500
7. lost cause - $3,300
8. No Mans Land - $2,200
9. NOBITCHASSNESS - $1,300
Buy-in: $100+9
Prize Pool: $69,300 (included $30,700 overlay)
Entrants: 693