PokerStars.com APPT Tournament of Champions: Rousso Tops Rowe in Charity Event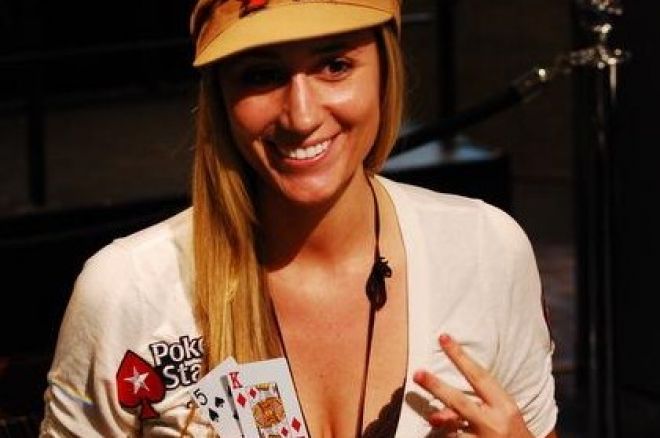 After a week of sitting across a table trying their hardest to take money from each other, ten of the biggest stars of the APPT gathered for one last opportunity to give a little back in the PokerStars.com Asia Pacific Poker Tour Tournament of Champions. The invitation-only single-table tournament featured winners from the APPT and some of the biggest names in poker. At the end of it all, Vanessa Rousso bested APPT Sydney champion Martin Rowe heads-up to earn a huge donation for her charity, the No Limit No Profit Initiative.
Instead of playing for their own well being, the ten participants in the Tournament of Champions were playing to help their favorite charities. AU$50,000 was up for grabs for the chosen charities, with AU$5,000 going to the runner-up and a whopping AU$45,000 to the winner's charity.
2007 APPT Macau High Rollers champion Eric Assadourian and 2007 APPT Sydney champion both played for the Samuel Morris Foundation. The Samuel Morris Foundation is an Australian charity supporting those disabled by near drowning or other hypoxic brain injuries and targets child drowning prevention. Their website can be found at www.samuelmorrisfoundation.org/au.
2005 WSOP Main Event champion and Team PokerStars Pro Joe Hachem, playing for the Shane Warne Foundation. Created by cricket star and poker player Shane Warne, the foundation was created to help underprivileged and seriously ill teens and children in Australia. More information on the Shane Warne Foundation can be found at their website www.tswf.com/au. Others playing for children's charities included 2008 APPT Manila champ Van Marcus (Child Fun), newly-crowned APPT Sydney champion Martin Rowe (Save the Children) and Lee Nelson (CanTeen of New Zealand).
2008 APPT Auckland winner Daniel Craker also took part in the event, playing for the Te Omanga Hospice, while 2008 APPT Macau champ Eddy Sabat pledged any winnings he generated to The Hemophilia Foundation of Southern California. The first couple of Team PokerStars, Chad Brown and Vanessa Rousso, were raising money for their new charity, the No Limit No Profit Initiative, a conduit by which poker players can give back to their communities. The initiative is planning an upcoming charity event to raise money for cancer research and to send medical supplies to underdeveloped areas of Africa.
As with most charity events, the levels were short, the action fast, and the atmosphere congenial. The players weren't there playing their normal cutthroat game, so there was plenty of joking and plenty of light calls and bets. At one point as the blinds were going up, Grant "Grunter" Levy said "I'm promising to get it in light and get it in often."
Daniel Craker was the first to fall, calling an all in move on the river from Vanessa Rousso on a board of
. After a moment's thought, Craker called for all his chips. Rousso tabled
for the rivered straight, and Craker was done. Rousso jumped out to an early chip lead, prompting boyfriend Chad Brown to jokingly remark, "Why couldn't you do this in the couples tournament?"
Levy lived up to his promise about getting it in often, busting in ninth place when his
couldn't hold up against Martin Rowe's
on a board of
. They got all the chips in on the turn, and Levy needed a four, ace or six on the river to stick around. It was not to be, and he was done. Australia's most famous poker son, Joe Hachem, was next to fall when he was busted by Martin Rowe in eighth place. Hachem took a huge hit to his stack early in the event at the hands of Vanessa Rousso, and got the last of his chips in preflop with
. Martin Rowe woke up with
and made the call. Hachem was dominated, and his hand never improved on the
board.
After letting Martin Rowe eliminate two consecutive opponents, Vanessa Rousso obviously decided it was her turn again, as she sent Lee Nelson to the rail in seventh place. Nelson moved all in from the button after an Eddy Sabat raise, and Rousso shoved over the top from the small blind. Sabat got out of the way, and Nelson tabled
. Rousso turned over
, and Nelson was in a bad way. His fortunes slid even further on the
flop, and the turn and river came down
to send Nelson packing.
Rowe returned for another shift on the elimination line when he busted Chad Brown in sixth place. On a board of
, Rowe stuck out a bet, only to watch Brown move all in over the top. Rowe quickly called with
for top pair and the straight draw, as Brown tabled
for the better straight draw but no pair. The river brought the
, and Brown missed his draw as he headed to the rail to sweat Rousso from afar.
In a stunning turn of events, Eric Assadourian busted in fifth place, and it wasn't done by Martin Rowe or Vanessa Rousso. Assadourian took a three-way limped flop with Eddy Sabat and Van Marcus to see
land. Nobody liked the flop well enough to bet at it, and the
came on the turn. Sabat put out a small bet on the turn, which brought an all in from Assadourian and a quick call from Marcus. Sabat, wondering what he had started, got out of the way. Assadourian tabled
for top pair, no kicker, as Marcus showed his
for trips. The
on the river was it for Assadourian, and he was gone in fifth.
Rousso then returned to action when she eliminated Eddy Sabat in fourth place. Rousso raised preflop, Sabat moved all in over the top with
, and Rousso called instantly with
. "How do you snap with fours?" Martin Rowe asked her.
"He has no chips," Rousso replied. Her response proved prescient as the board ran out
, and her two pair sent Sabat packing.
With three players remaining, the blinds were high and most of the action boiled down to a preflop move. Van Marcus made his preflop shove with
, and was called by Martin Rowe. Rowe tabled
, and Marcus needed a little help to stick around. He got a little help on the
flop, as he picked up a flush draw, but the turn and river blanked out as Rowe's top pair held up to send Marcus home in third place.
Martin Rowe took almost a 2:1 chip lead into heads-up play, but the match went back and forth for quite a while before Rousso gained an advantage and pressed it to victory. Eventually, Rousso finally took over the chip lead and pressed her advantage. When Rousso open-shoved with
, Rowe called with
. Both Rowe's cards were live, but nothing came on the
board to help, and Rousso took it down with her king-high. Rowe's chosen charity, Save the Children, picked up a AU$5,000 donation thanks to his efforts, while Rousso's charity, the No Limit No Profit Initiative, earned a AU$45,000 donation.