Poker Room Review: Terrible's Sands Regency Casino Hotel, Reno, NV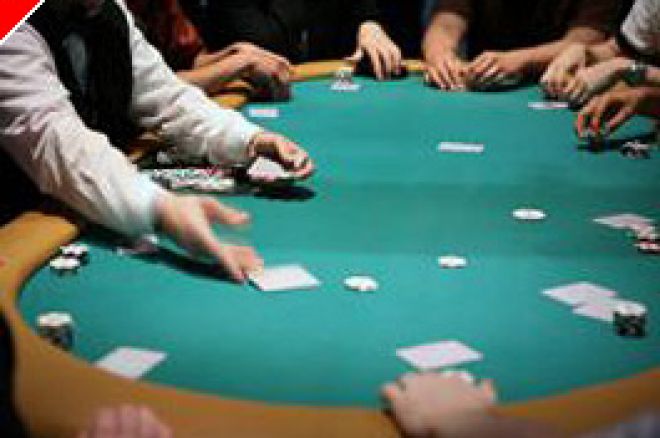 The poker room at the Sands Regency Casino Hotel is named "Mom's Poker Room". It's a misnomer. It should be called, "Grandpa's Poker Room" – filled as it often is with older local guys. Even so, it's a lively and noisy place, located in what may be the casino with the best bargain rooms in Reno.
The Sands is trying hard to keep its small, three-table room vibrant. It's open seven days a week, going until the last game breaks at 1:00 AM or so. They spread two $25 no-limit tournaments every day, at 10:00 AM and 7:00 PM. Players get a great deal. Just $1 of the buy-in goes to the house. These are bounty tournaments as well, with $5 of the buy-in awarded for every player knocked out. They tend to last about two hours.
The standard game that gets going once the morning tournament ends is $3/6 limit hold'em. Other games are spread at the customer's request. But the once-weekly Omaha-8 game, that used to be spread on Tuesday evenings, has been discontinued for lack of interest. No-limit hold'em is sometimes spread on Fridays and Saturdays, with $1/2 blinds and a $300 maximum buy-in.
The house rakes 10% with a modest $3.50 maximum per pot. There's an additional $1 drop that funds a progressive bonus hand promotion for players who hit quads or straight flushes. Players earn $.80/hour with their player's cards, and get free drinks while playing.
The room is unenclosed – more a squared-off space without complete walls. It is somewhat depressing, with low ceilings (with mirrors on them), cheap looking tables, older, somewhat dirty chips, and smoking. The casino, in fact, promotes the room as a smoking room. Not surprisingly, it attracts many smokers – shut out as they are from all of the non-smoking rooms these days.
I visited on a weekday evening and played some $3/6. I was the only "non-regular" player, and the only player without gray hair. I was literally called "Sonny" when I sat down – and I'm 51! Though the room itself was depressing, the players and staff were anything but. They were friendly, warm, and welcoming. And they all seemed to know each other. I felt like I was stopping in on an inviting home game for a bunch of retirees.
The play of these guys was, for the most part, moderately tight and extraordinarily passive. Were it not for me, I don't think the hand would have been raised pre-flop more than 10% of the time. Typically, three or four players saw the flop for $3. The flop was often checked around. It was not a tough game to beat.
Reno is going through a tough time right now, with the slowed economy. Even so, the Sands is trying its best to attract tourists. The casino is now offering an $18/night rate. Though I didn't stay in one of the casino's rooms, other players told me that they were the largest in downtown Reno. The food, at any of four restaurants, is also very reasonably priced. There are 99-cent shrimp cocktails from the Pipeline Lounge. And the steak buffet, at the restaurant eponymously named "The Steak Buffet", is only $12.99. Not a bad deal.
As a non-smoker, I can't say I'd return to the poker room, though I surely would feel welcome and at ease if I did come back. Without question though, if you're a smoker and like small no-limit tournaments or easy low-limit hold'em action, this is a great spot to play.
Terrible's Sands Regency Casino Hotel
345 North Arlington Ave.
Reno, Nevada
775-348-2200