The PokerNews Profile: Antonio Esfandiari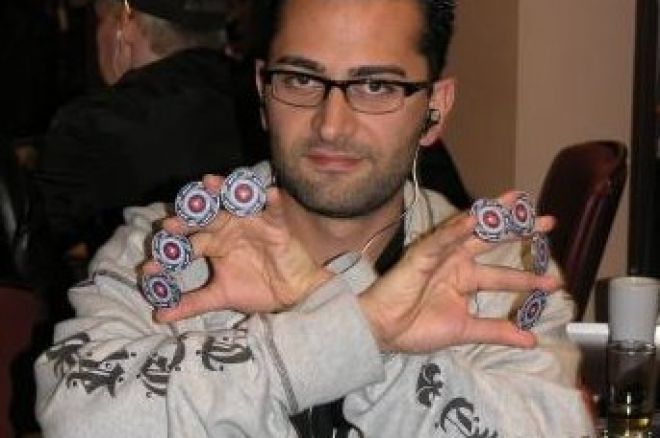 As Antonio Esfandiari acquired a massive stack early in the 2008 EPT Grand Final in Monte Carlo, a buzz started traveling through the room. With a win in this event, Esfandiari would become only the second player in history to win poker's "Triple Crown" with a World Series of Poker bracelet, adding to victories on the World Poker Tour and the European Poker Tour. Something was different about Esfandiari as he made his way toward the final table; he was hungry again. After enjoying such phenomenal success early in the poker boom, perhaps Esfandiari had grown complacent. He already had money, fame and success. Sponsorships. Even his own TV show. As he bounced to his iPod and zoned in on his opponents while the Mediterranean lapped on the shores of Monaco only a few yards out the window of the Salle d'Etoiles, his renewed determination was impossible to go unnoticed.
Antonio Esfandiari was born Amir Esfandiari on December 8, 1978 in Tehran, Iran. His family moved to the United States when he was nine and settled in San Jose, CA. Esfandiari could hardly speak a word of English when he arrived in California, but he picked up the language quickly and succeeded in school. His classmates called him Anthony instead of Amir, since they were both "A" names. As he reached the end of high school, however, partying began to take precedent over his studies. He moved out of his parents' house and into an apartment in a Mexican neighborhood where he worked as a waiter. It was there that Anthony finally became Antonio.
One night while he was waiting tables, Esfandiari witnessed the restaurant's bartender perform a simple magic trick. He was fascinated and hit up a local magic shop to learn how the trick was performed. Esfandiari went to work teaching himself magic tricks by practicing several hours a day and began performing them for his customers. As his abilities grew, so did his tips and he was eventually able to give up waiting tables for working parties as a magician.
While Antonio was performing magic, one of his roommates was earning a living playing poker. One day he invited Antonio to come along with him to the casino where he was going to play a tournament. Though Esfandiari busted out that day, he was fascinated with the game. In addition to earning a living as a magician, he began spending a lot of time playing cash games in casinos around the Bay Area.
In November 2002, Esfandiari made the final table of one of the first events ever played under the World Poker Tour banner—the $3,000 buy-in 49'er Gold Rush Bonanza at San Francisco's Lucky Chances Casino. Esfandiari demonstrated his slick chip tricks at the table and some spicy trash talk when it came to dealing with his opponent, Phil Hellmuth. Esfandiari went on to finish third in the event and appeared on national television in the process. The following summer, he headed back to Las Vegas for the WSOP, where until that point he hadn't found any success. He made the final table of the $2,000 No-Limit Hold'em event, finishing fifth for a $34,060 payday.
In Feburary 2004, Antonio Esfandiari won the L.A. Poker Classic, earning a World Poker Tour title and over $1.4 million. He went on to make another TV final table at the WPT Invitational only a week later, finishing 6th. And that summer, Esfandiari took down his first WSOP bracelet by winning the $2,000 Pot-Limit Hold'em event. His profile was at an all-time high and he was able to parlay it into appearances on a number of televised poker ventures. Esfandiari has appeared on "Poker Royale: Battle of the Sexes," "Poker Superstars Invitational," "William Hill Poker Grand Prix," "Poker Nations Cup," "High Stakes Poker" and "Poker After Dark." He also shot two seasons of his own television series, "I Bet You," on the MOJO network, which featured Esfandiari and his best friend, poker pro Phil "The Unabomber" Laak, performing outrageous prop bets.
In April 2008, Antonio Esfandiari made the final table of the EPT Grand Final in Monte Carlo. Had his Q-Q held up against A-10 the day before, he might have arrived there as the chip leader, but despite taking a bad beat, he still referred to it as his best moment in the tournament. Esfandiari went on to finish eighth, banking $265,835 for his efforts.
Esfandiari lives in Las Vegas, where he can often be found enjoying the city's nightlife. He still actively travels the circuit and will appear on Season 5 of GSN's "High Stakes Poker."
Check out the Titan Poker First Deposit Bonuses on PokerNews.com