Women's Poker Spotlight: Mindy Trinidad (1960-2008)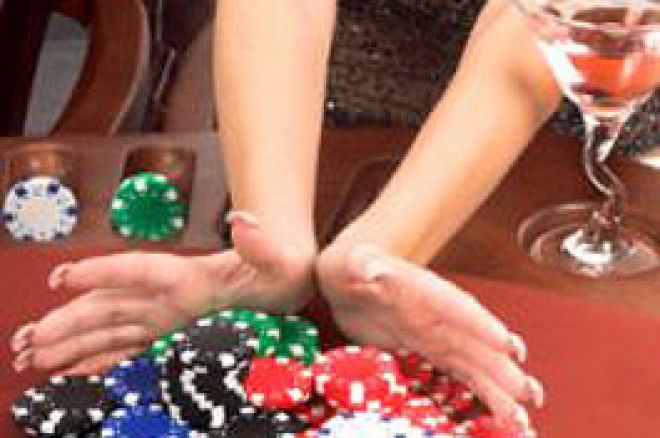 Every now and then the poker world notices someone who lights up a poker room with personality and a contagious love of the game. Such was the case of Mindy Trinidad, who recently lost her short battle against acute myelogenous leukemia (AML). Although she was a fierce competitor, she didn't hesitate to have a good time at the tables. She would constantly chat with her opponents, and often, despite themselves, they would engage with her at the tables.
The former model, wife and mother of two found poker just two years ago but left behind the start of a promising poker career. Her seventh-place finish at the 2007 World Series of Poker Ladies Event caught the eyes of many and won her countless supporters. Her chit-chatty, aggressive style and outgoing personality gave the otherwise slow moving tournament some interesting moments. Though she competed ferociously, she enjoyed talking with the other players and learning more about her opponents. She went on to win the Summer Pot of Gold Ladies No-Limit Hold'em event in July of this year and followed up with a fourth-place finish in Event 14 of the Pot of Gold series. Unfortunately during that same event, Mindy fell ill and could not compete in the Main Event.
The holiday season is a time of reflection, family and honoring beliefs, but it is also a time for giving of the heart. It is in that spirit that Lisa Wheeler stepped in to promote "Poker Jingle," a $200+30 buy in charity tournament in honor of Mindy that will benefit the Leukemia & Lymphoma Society/Southern Nevada. The Mindy Trinidad Memorial event will be held at the Hard Rock Hotel & Casino's new poker lounge in Las Vegas on December 12th at 3pm. The poker "lounge" at the Hard Rock is a bit more than just a poker room. The newly renovated space boasts a full bar, comfortable lounge, private VIP rooms, bottle service, iPod stations and big-screen TVs, and offers free poker lessons for those who are new to poker and looking for instruction.
In true Vegas style, the event, hosted by Tom McEvoy, will not be without its glitz, glamour, surprises and competition. The event will start off with an EFFEN cocktail hour at 2pm, followed by a tribute to Mindy Trinidad presented by friend and professional poker player Kelli Griggs. The tournament is open to the public but attendance is expected by many top players including Phil Hellmuth, JJ Liu, Kristy Gazes and many more. Full Tilt Poker Pro Erick Lindgren added to the prize pool by offering a seat into the 2009 World Series of Poker Main Event. Participants can look forward to surprises through out the tournament including bounty prizes such as a "last woman standing" pearl necklace donated by Tower of Jewels.
For more information on Poker Jingle at the Hard Rock, including "Sponsor A Pro," along with the tournament structure and prize pool, visit www.greasiewheels.com. Registration for the poker tournament opens at noon at the Hard Rock Poker Lounge on the day of the event. Seats are limited. To pre-register for the poker tournament visit www.lls.org/pokerjingle or contact Sylvia Wolf at (702) 436-4220.
The season of giving is certainly not reserved for casinos and live events. To honor Mindy's contributions, Full Tilt held a $5+5 buy in tournament on December 3rd, also benefiting the Leukemia & Lymphoma Society/Southern Nevada (LLS). Close to 1000 players played in honor of the beautiful up-and-coming poker star and to contribute to a meaningful cause. Participants included Full Tilt pros Leandro Brasa, Mike Matusow and Cyndy Violette. Erick Lindgren played host to the event, which kicked off at 7pm and ended with player "jokernord" taking the title, plus a "World" model Curtis & Co. watch.
The true winner, however, is The Leukemia & Lymphoma Society (LLS), who will benefit from the poker world's generosity and sense of community. LLS is the world's largest voluntary health organization. The organization is committed to finding a cure for blood cancer and to better the lives of patients and their families.
I would like to send my condolences to Mindy's family and friends for their loss. I never had the pleasure of meeting Mindy but she has touched the poker world by providing a role model to all women who play. Her vivacious personality reminds us that we don't have to be the quiet minority at the poker tables any longer.
<center>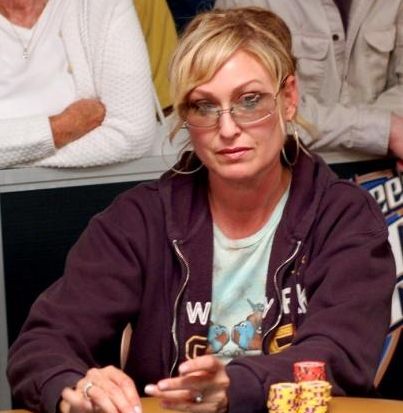 Mindy Trinidad at the 2007 WSOP</center>