2009 Aussie Millions, Event #2 $1,050 PokerPro NLHE: Mitchell Carle Triumphs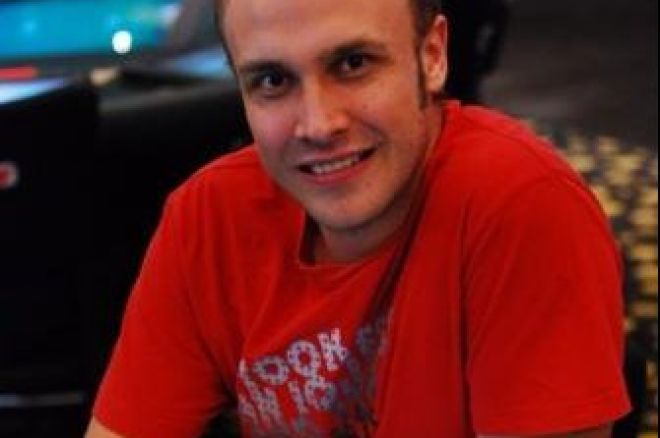 Eighty-three players settled in around ten PokerPro computerized poker tables at the Crown Casino in Melbourne on Sunday for Event #2 at the 2009 Aussie Millions, the $1,050 PokerPro No-Limit Hold'em tournament. The event attracted several stars, including Tony "Bond18" Dunst, Annette Obrestad, Peter Aristidou, Emad Tahtouh and Jamie Pickering.
PokerPro's automated, "dealerless" poker tables seat up to ten players. Each player has a touch screen which controls all their betting actions, tracks their chip stacks and shows only their hole cards. In the center of the table is a large display that shows the community cards, pot size, stack sizes and player actions. PokerPro is a blend of live and online poker, with players playing live at the same table, with no dealer and a shorter time limit on actions than a typical live game.
With the smaller field and the quicker pace of play created by the automated tables, it took the 83 players less than eight hours to play the entire tournament. In the end it was Queensland's Mitchell Carle who took down the final pot of the day, and with it the champion's honors. Carle took third place in the PokerPro event at the 2008 PokerNews Cup, so he was no stranger to the virtual tables.
With the similarities to online play, it came as no surprise that the were a plethora of online stars in the field. Tony "Bond18" Dunst was one of those who unfortunately didn't convert his online success to a win at the PokerPro tables. Dunst missed a flush draw early in the event and busted within the first few levels. Other early eliminations included Michael Chrisanthopoulos and Jamie Pickering.
Annette "Annette_15" Obrestad took some time to learn the ropes early, as this tournament marked the first time she had ever played at a PokerPro table. The online phenom has booked several live wins, including the 2007 WSOP-Europe Main Event. The youngest worldwide WSOP bracelet holder was unable to capture her first Aussie Millions title here, as she busted in the middle of the pack. After losing a big pot to Peter Aristidou, Obrestad moved the last of her chips in the middle from late position with A-10. Her opponent made the call with K-Q, and caught a queen on the turn to send Obrestad to the rail.
Steven Swalling built a huge stack early, but lost it all in two quick hands to shift the momentum firmly to Mitchell Carle and head to the rail. In the first hand Carle doubled through Swalling when his pocket kings held up against Swalling's
on a board of
. In the second hand, Swalling shipped the rest of his chips in on the turn with a board reading
. Carle called with
, and Swalling was drawing thin with
. The
on the river sent Swalling packing as Carle surged towards the top of the leader board.
The fast-paced nature of the automated tables saw the money bubble pass quickly as Wesley Whybrew's pocket deuces lost a race against Daniel Neilson's A-K. A king on the flop sent Whybrew packing and the remaining nine players then redrew for their final-table seats. Before they could even converge to the final table, Joris Jaspers' last hand at two tables played out with him busting in ninth place (AU $2,075). Jaspers raised preflop, and found Mitchell Carle re-raising from the big blind. Jaspers moved all in over the top with
, and Carle quickly called with
. A ten-high board with no eight meant that Jaspers was done and the final table would be eight-handed.
When the final eight met at one table, the seating assignments and chip stacks looked like this:
Seat 1: James Potter - 28,000
Seat 2: Mitchell Carle - 300,000
Seat 3: Michael Russell - 62,000
Seat 4: Nasr Elnasr - 97,000
Seat 5: Haibo Chu - 80,000
Seat 6: Daniel Neilson - 173,000
Seat 7: Daniel Noja - 31,500
Seat 8: Jozef Berec - 58,000
The fast-paced final table saw James Potter quickly bust in eighth place ($2,905) when he and Nasr Elnasr got it all in preflop. Elnasr was behind preflop with his
to Potter's pocket queens, but the flop of
changed all that. The turn and river ran out
and
, and Potter was done.
Mitchell Carle began the final table slowly, coming in as the dominant chip leader but spending the first few orbits unable to pick up any cards. That changed when he snap-called Jozef Berec's preflop all-in with
. Berec needed help with his
, and it failed to materialize on the
board. Berec picked up $3,735 for his seventh-place finish. Carle then eliminated Nasr Elnasr in sixth place ($5,395) when his
held up against Elnasr's
on a board of
.
Daniel Neilson became another party heard from when he knocked out Haibo Chu in fifth place ($7,055). Both players hit the A-J-10 flop hard, but Neilson's A-10 crushed Chu's J-10, no other help appeared, and Chu was finished. Mitchell Carle took over the knockout duties moments later when his A-J caught up to Daniel Noja's A-K by spiking a jack to send Noja home in fourth place with $9,030 as a consolation prize.
Neilson then raised preflop with
, and found Michael Russell moving all in from the big blind with
. Neilson called, and when the board ran out
his deuces improved to a straight to send Russell to the rail in third place ($11,205). Even after busting Russell, Neilson trailed Carle by a 3:1 margin when heads-up play began with these chip counts:
Mitchell Carle - 622,000
Daniel Neilson - 207,000
It took just a few hands for the title to be decided, as Neilson was unable to overcome Carle's huge chip lead. In the final hand, Carle raised preflop with
, and Neilson moved all in over the top with
. Carle called to see a flop of
. Neilson needed runner-runner help to stay alive, and the
on the turn left him drawing dead. Neilson earned $16,600 for his second-place finish while Mitchell Carle picked up the Aussie Millions Event #2 championship ring and its accompanying $25,000 top prize.