2009 Aussie Millions Event #5, $1,100 H.O.R.S.E. Day 2: Solomon Surges to Win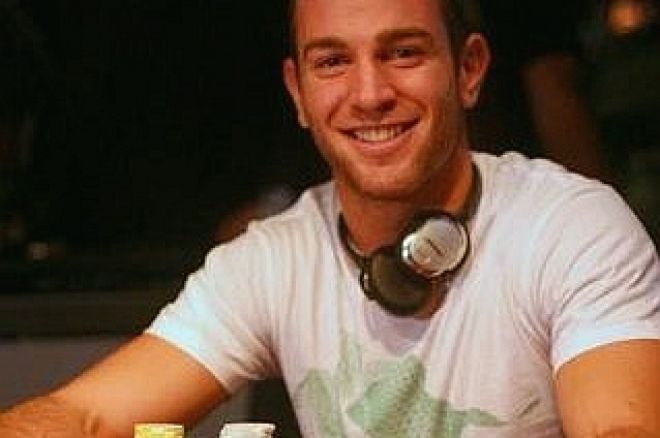 Eight players returned for final-table action in Event #5, $1,100 H.O.R.S.E, of the 2009 Aussie Millions. Van Marcus arrived with the overnight lead, with Leo Boxell his nearest competitor. A mere five hours after the final table kicked off, it was David Solomon who stood alone clutching the AU $30,380 top prize and the gold Aussie Millions championship ring. Solomon started the day in the middle of the pack, as the final table chip stacks and seating assignments looked like this:
Seat 1: Joe Meissner — 43,000
Seat 2: Jarred Solomon — 65,000
Seat 3: Van Marcus — 123,500
Seat 4: Leo Boxell — 104,500
Seat 5: David Morton — 38,500
Seat 6: Michael Guzzardi — 98,000
Seat 7: Kerry Stead — 81,000
Seat 8: Anthony McNamara — 34,500
The tournament staff wound the clock back one level to kick off the final table, which gave the short stacks a little more breathing room. It still didn't take long for the bustouts to start, as David Morton got all his chips in early in one of the first stud hands. His last few chips went in on third street with [
]
, Michael Guzzardi called with [
]
. Morton held a slight lead, but when the boards ran out, Guzzardi made a pair of aces with a board of [
]
[
]. Morton didn't make a pair and he was busted in eighth place ($2,450).
Leo Boxell came into the final table second in chips, but his fortunes quickly turned after losing a big pot in stud to Van Marcus. <a href=https://www.pokernews.com/poker-variants/studpoker.html#StudPoker>Stud hi/lo</a> proved to be no kinder, as Boxell was eliminated in the next orbit. Michael Guzzardi brought in with the
, and Van Marcus completed with the 6s in the door. Boxell called with the
showing, and Guzzardi also called. Boxell picked up the
on fourth street and bet out, as Guzzardi was his lone caller with the
. Boxell bet out all in on fifth street and opened [
]
. Guzzardi tabled a cooler with [
]
, and Boxell could only draw to the high. Guzzardi's aces were ahead for the high and he also had a low draw working. The
on sixth street gave Guzzardi two pair, and Boxell caught the
, which was no help. Only a king on seventh would save Boxell, but the king he needed showed up in Guzzardi's hand, the
, as Boxell's own
sent him to the rail in seventh place ($4,410).
Joe Meissner was the next to fall when he lost a coin flip to Michael Guzzardi to finish sixth ($6,370). Meissner raised preflop with
, and Guzzardi called with
. Meissner called Guzzardi's flop bet on a board of
, then check-raised all in when the turn brought the
. Guzzardi called with his sixes, and sent Meissner packing when the river came down the
.
Anthony McNamara had less than two <a href=https://www.pokernews.com/pokerterms/big-blind.html>big blinds</a> left when the following round of Omaha hi/lo began, so when he raised preflop with
, both Van Marcus and Michael Guzzardi called. McNamara's last few chips went in on the
flop, and Guzzardi and Marcus called. The two live players then checked down the turn and river, which came down
. Marcus tabled
for a 6-5-3-2-A low. Guzzardi showed
for two pair, queens and threes. Guzzardi took the high half, Marcus took the low half, and McNamara took $8,330 for fifth place.
After running over much of the final table, Michael Guzzardi fell on rough times as the levels increased and found himself short-stacked in an orbit of stud hi/lo. Guzzardi exited after bringing it in with the
showing and got it all in against Jarred Solomon. Solomon made a pair of fours on seventh street, which was good enough to scoop against Guzzardi's [
]
[
]. Guzzardi picked up $10,290 for his fourth-place finish, marking his second final table of the Aussie Millions.
As Jarred Solomon and Van Marcus collected pot after pot, Kerry Stead was finally squeezed out in third place ($15,190) during the Omaha hi/lo round. He saw a three-way flop with Solomon and Marcus of
, and fired a bet. Solomon called and Marcus got out of the way. Stead fired again when the
hit the turn, and called all in when Solomon raised. Stead tabled
for a straight draw and a low draw, and Solomon showed
for a made straight and a better low draw. The
on the river filled Solomon's low and his straight held up to scoop as Stead headed to the rail.
Solomon took a big chip lead into heads-up play, but the back-and-forth contest lasted for nearly two hours before he was able to put away the wily Marcus. The deciding hand came in a big Omaha hi/lo pot, where both players limped in to see a flop of
. Marcus checked, then called Solomon's bet to see the
on the turn. Marcus led out, Solomon raised, and Marcus quickly moved all in over the top with
. Solomon instantly called with
, and had the low locked up on fourth street. Marcus was ahead for the high, but Solomon had outs to scoop. The
on the river was one of them, giving Solomon the straight for the high to go with his 6-5-4-3-2 low to send Marcus off as the runner-up ($20,580). Solomon's first-place finish netted him $30,380 in prize money to go with his gold Event #5 championship ring.