2009 Aussie Millions Event 6, $1,150 NLHE w/ Rebuys Day 2: Mark Kassis Wins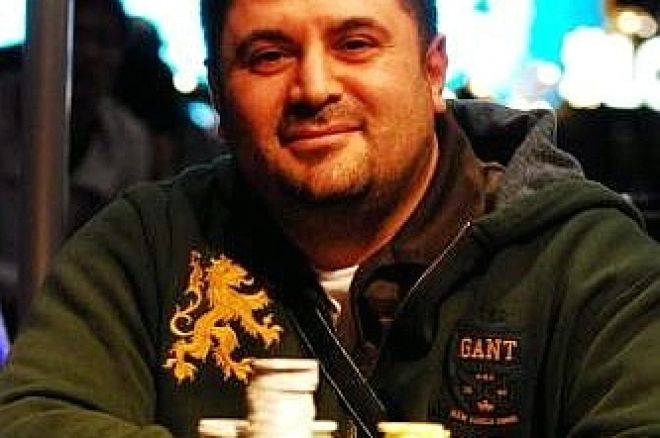 Many of the players at the final table of Aussie Millions Event #6, $1,150 No Limit Hold'em with Rebuys, were more recognizable by their online-poker screen names than their real given names. With Jonathan "xMONSTERxDONGx" Karamalikis leading the pack, the final table included "Imper1um," "chufty," "rkruok" and "Bond18." Still, all the digital expertise in the world couldn't hold off Sydney native Mark Kassis, who started the day third in chips and tenaciously hung on through a lengthy heads-up match with Karamalikis to take down the event's AUD $160,326 top prize.
The chip stacks and seating assignments looked like this as the final table began:
Seat 1: Sorel "Imper1um" Mizzi — 131,200
Seat 2: Clark Hamagami — 95,700
Seat 3: Tony "Bond18" Dunst — 120,900
Seat 4: Mark Kassis — 124,200
Seat 5: Rayan "rkruok" Nathan — 38,700
Seat 6: Larry Karambis — 79,900
Seat 7: Jonathan "xMONSTERxDONGx" Karamalikis — 153,000
Seat 8: Richard "chufty" Ashby — 83,400
Seat 9: Peter Rho — 49,400
Tony Dunst missed the first orbit of the final table while stuck in traffic on the way to the casino, and could never get anything going once he arrived. He busted in ninth place ($11,077) to Sorel Mizzi after losing a monster pot to Larry Karambis with kings to Karambis' aces. In his final hand, Dunst raised preflop with pocket nines and found two callers in Karambis and Mizzi. Mizzi led out on the
flop, and Dunst moved all in over the top. Karambis got out of the way, and Mizzi made the call with pocket fives for a lower straight draw. The
on the turn was no help to either player, but the
on the river made Mizzi's straight and sent Dunst packing.
Next, Peter Rho pot-committed himself in a steal attempt by leaving just two 500 chips behind when he made a preflop raise, but Sorel Mizzi moved all in over the top, so Rho tossed his last chips in the middle with
. Mizzi was ahead with
, but Rho picked up a bunch of outs by the turn. The board read
for the diamond flush draw. The
on the river was no help, and Rho was done in eighth place ($16,907).
Richard Ashby logged his first cash of the 2009 Aussie Millions with his seventh-place finish. Ashby found himself on the short stack, and stuck it all in from the button with
. Clark Hamagami woke up with
in the big blind and easily called. The dominated Ashby needed help to survive, and the
board brought none of it. Ashby picked up $22,737 for his seventh-place finish as Hamagami moved up the leader board. Rayan Nathan was the next to fall when his
couldn't outrun Larry Karambis'
. Nathan picked up a jack on the flop, but no more help as he finished in sixth place ($30,607).
Sorel Mizzi and Jonathan Karamalikis tangled in a confrontation of the online superstars, and it was Mizzi who came out on the short end. Mizzi three-bet from the button after Karamalikis raised preflop. Karamalikis thought for a brief moment before moving all in. Mizzi thought briefly before making the call with his
, only to see Karamalikis table
. No help came for Mizzi on a board of
, and he busted in fifth place ($37,895).
Pocket jacks performed significantly better for Clark Hamagami when he and Larry Karambis tangled. Karambis raised preflop, and Hamagami put in a heavy re-raise with
. Karambis moved all in, and Hamagami called. Karambis was drawing thin with
, and the flop made life even worse when it came down
. The
on the turn left Karambis drawing dead, and the
came on the river for a further insult. Karambis finished in fourth place for $53,927.
Three-handed play lasted a while before Clark Hamagami succumbed in third ($82,203). Hamagami raised preflop, and Jonathan Karamalikis called to see a flop of
. Karamalikis led out, and Hamagami made the quick call. Karamalikis led out again when the
hit the turn, and Hamagami again called. The
came on the river and Karamalikis moved all in. Hamagami went deep in the tank before finally calling, only to see Karamalikis tabled
for the full house. Hamagami mucked his hand and headed home in third place.
Karamalikis took nearly a 2:1 chip lead into heads-up play, but the swings were wild as he and Mark Kassis traded the chip lead for nearly an hour. Finally, with Karamalikis on a very short stack, he moved all in from the button. Kassis squeezed his cards to find
at just the right time, and called. Karamalikis tabled
, and the flop came down
, giving Karamalikis one pair. The
on the turn left Karamalikis drawing to only a deuce, and when the
hit the river, Kassis had the better two pair and Karamalikis was finished in second place ($120,098). Mark Kassis picked up $160,326 to go with his Aussie Millions Event #6 championship ring.