2009 Aussie Millions Event 7 Day 2, $1,650 NLHE Bounty Shootout: Saidal Wardak Triumphs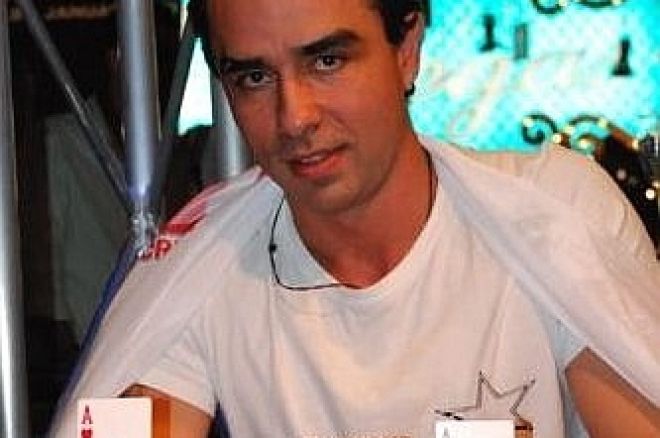 Day 2 of the 2009 Aussie Millions AUD $1,650 Bounty tourney, Event #7, was like two tournaments rolled into one. The day started with the remaining 32 players spread across four tables, playing a shootout format that would see two survivors from each table advancing to the eight-handed final table. Then the final table played out in a traditional freezeout format, albeit one where players were limited to 20 seconds per decision to act. After a grueling shootout and a final table that was more a test of endurance than a <a href=https://www.pokernews.com/>poker game</a>, Saidal Wardak emerged from the fray with the AUD $151,200 top prize and the Aussie Millions Event #7 championship ring.
The 32 returning players were seeded across the four tables based on chip counts, so as to not overload any one table with big or short stacks. There were several bounty players still in the field, and Sean Keeton collected the first of them when he sent Michael Chrisanthopoulos to the rail early on Day 2. All the money went in preflop, with Keeton showing
to Chrisanthopoulos' pocket jacks. The flop brought an ace right away as it came down
, and Chrisanthopoulos was done early. He collected $3,780 for his 27th-place finish, and Keeton collected $1,000 for busting him. Other early eliminations in the shootout round included Josh Field, John MacNaughton, Graham Woodbine and Oliver Gill.
With four shootout tables in play, there were four separate final-table bubbles to contest. Eric Assadourian became the first bubble boy when he departed in third place from his table. Assadourian shipped the last of his chips in preflop with
and found one caller in Ben Delaney, who woke up with pocket tens. No help came on the
board for Assadourian, and he was done. Matthew Lea and Sherrie Gelberg quickly followed Assadourian off into the bubble-boy sunset, but the remaining table went into slow motion once play reached three-handed. It took over an hour of three-handed play before Neil Channing eliminated Stephen Boots to set up the final table.
Once the last shootout table was finished, players took a short break and came back to a final table that looked like this:
Seat 1: Edison Nguyen — 429,600
Seat 2: Sean Keeton — 170,200
Seat 3: Neil Channing — 346,900
Seat 4: Cort Kibler-Melby — 292,800
Seat 5: Liv Boeree — 122,000
Seat 6: Saidal Wardak — 211,600
Seat 7: Ben Delaney — 285,000
Seat 8: Jai Kemp — 337,000
The eight remaining players took their final-table cue from that last protracted bubble, as it took more than two hours to bust the first player from the final table. Finally, after a seemingly endless series of "raise and take it" hands, Jai Kemp got all his chips in the middle after he raised preflop and was reraised by Neil Channing. Kemp called with
and was in a race against Channing's
. The race was over almost before it began, as Channing flopped top set on the
board. The
on the turn left Kemp drawing dead, and when the
hit the river he headed off to the cashier's cage to collect $12,600 for eighth place.
It was nines winning another race that sent Liv Boeree to the rail in seventh place ($18,900). She got all her chips in preflop with A-Q against Sean Keeton's pocket nines, and when the board ran out
, she had lost her coin flip and was headed to the rail. In addition to her chips, Keeton collected $1,000 for Boeree's bounty tag.
Boeree's bustout kicked off a flurry of eliminations, as she was followed to the rail in quick succession by several of her tablemates. Cort Kibler-Melby was the first to follow, busting in sixth ($25,200) when he ran
into Ben Delaney's
. The board changed nothing, and Kibler-Melby was done.
Neil Channing was next to the rail as he went from middle of the pack to out of the running in the span of two hands. First he lost a big portion of his stack to Ben Delaney, then moved all in preflop with
only to find himself facing Sean Keeton's
. Keeton's aces held up on a board of
, and he collected another $1,000 bounty as Channing headed home in fifth place ($31,500).
Keeton's run at the final table ended just after he sent Channing to the rail. He busted in fourth place ($47,250) when he tangled with big stack Ben Delaney in his final hand. Keeton re-raised preflop with
, and Delaney called to see the flop bring
. Keeton checked the action to Delaney, who bet out. Keeton then went for the all-in check-raise, but Delaney snap-called with
. Keeton needed an eight to stay alive, but the turn and river came down
to send him packing.
Play slowed considerably once the action became three-handed, and it took more than an hour for Delaney to bust Edison Nguyen in third place ($69,300). Nguyen raised preflop with
and Delaney called. Delaney led out on the
flop, and Nguyen called. Delaney thought for a moment when the
came on the turn before betting out again. Nguyen moved all in over the top, and Delaney called instantly with
for the made flush. Nguyen had a live full house draw, but the
on the river didn't fill him up and he was done.
Ben Delaney took a 2:1 chip lead into the heads-up match with Saidal Wardak, but it wasn't enough to hold off Wardak and his legion of supporters. After more than an hour of jousting, Wardak doubled through Delaney in a huge hand where Wardak turned a six-high straight to Delaney's five-high straight. After that, it only took a few more hands for all the chips to get in the middle for the last time. After Wardak limped from the button, Delaney moved all in over the top with
. Wardak snap-called with
, and the flop came down
. Delaney picked up a pair when the turn brought the
, but the
on the river gave Wardak a set, the pot, Delaney's $1,000 bounty, and the win. Delaney picked up $110,250 for second place as Wardak collected <a href=https://www.pokernews.com/live-reporting/2009-aussie-millions/>the Aussie Millions</a> Event #7 championship ring and the $151,200 top prize.