2009 Aussie Millions $2,200 NLHE Team Event: Team Bouyioukos Triumphs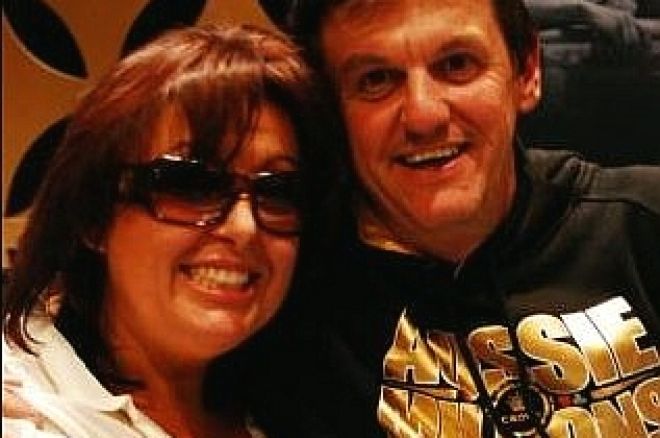 Saturday's Event #15 at the 2009 Aussie Millions Poker Championship, the $2,200 No-Limit Hold'em Teams event, drew 43 two-person teams to Melbourne's Crown Casino poker room for fun and spirited competition. Husband and wife pair Nick and Effie Bouyioukos survived the day's battle to claim the AUD $31,500 top prize.
Play began with one member from each team playing through the first level with a 5,000-chip starting stack. Each team's second player took over at the end of the level, and the second team member had the option of putting another 5,000 chips into play at any point in the second level. The unique format drew some notable players and created several interesting pairings. Aside from the obvious familial teams, some teams included top internet pros, such as Jarred "FlopNutsOnYou" Graham and Steve "StevoL" Leonard. Other teams included Bruno Portaro/Danny Mountt and Peter Aristidou/Amanda De Cesare, and there were teams of innovative nicknames, like Lee "Final Table" Nelson joining Ali "The Peppermint Hippo" Khalil.
The final table looked like this as play approached the six-team money bubble:
Seat 1: Peter Aristidou/Amanda De Cesare
Seat 2: Daniel Noja/Richard Alexander
Seat 3: Bruno Portaro/Danny Mountt
Seat 4: Nick Bouyioukos/Effie Bouyioukos
Seat 5: Roy Vandersluis/Andrew Demetriou
Seat 6: David Campbell/(unknown) Kanardis
Seat 7: (unknown) Sproule/Pam MacNaughton
Seat 8: (unknown) Karmer/Jarred Solomon
Seat 9: Ray Sukkar/Elias Srour
After Teams Sproule/MacNaughton (ninth) and Campbell/Kanardis (eighth) were eliminated, it didn't take long for Peter Aristidou to take out Team Karmer/Solomon on the bubble to bring the field to six teams and guarantee a money finish for the survivors. Jarred Solomon moved all in preflop, and Aristidou called. Alexander moved all in over the top, putting Aristidou to a decision for his tournament life. Aristidou eventually folded, and Alexander showed
, dominating Solomon's
. The board provided some slight excitement when the flop came
, but the turn and river failed to bring more help for Karmer and Solomon, and they became the bubble.
Peter Aristidou got all his chips in the middle not long after the bubble burst when he re-shoved over the top of Elias Srour's preflop all-in. All the other players folded, and Aristidou was in good shape with
to Srour's
. The board ran out
, and the team of Srour and Sukkar finished in sixth place for AU $5,000.
Danny Mountt and Bruno Portaro were the next team to fall, finishing in fifth place ($7,000) when Daniel Noja called Mountt's preflop jam. Mountt raised all in with pocket deuces, and Noja called with
. Noja pulled ahead on the
flop, and the
turn provided more incentive for Mountt to gather up his belongings. The
on the river sealed the deal as Noja locked up the chip lead and the team of Mountt and Portaro was eliminated.
After holding a massive chip lead four-handed, the team of Daniel Noja and Richard Alexander lost two huge pots to finish fourth ($9,500). In the first hand, Alexander doubled up Effie Bouyioukos, then Noja ran into husband Nick Bouyioukos to end Noja/Alexander's tournament run. The chips went in preflop with Bouyioukos'
dominating Noja's
. The board ran out
, and Team Bouyioukos held the chip lead going into three-handed play.
With the blinds high in relation to stack sizes, Roy Vandersluis shoved his chips in preflop with
to Peter Aristidou's
. Everything looked good for Vandersluis on the flop, with a board of
. The
turn changed nothing, as Vandersluis was poised for a double-up, but the
river changed everything, as Aristidou made top pair and Vandersluis/Demetriou headed to the rail in third ($13,000).
Aristidou and teammate Amanda De Cesare took a slight chip lead into heads-up play, but in the end it was Nick and Effie Bouyioukos who took over the lead and claimed victory. In the final hand, Aristidou moved all in with
on a board of
. It was the wrong time to make a play at the pot, as Effie Bouyioukos snap-called with
for trips. Aristidou needed help to stay alive, and the turn and river brought none as the board came down
. Aristidou and De Cesare picked up $20,000 for second place as Team Bouyioukos took down the title and the $31,500 top prize.