Cheers for APT Philippines Leader Yea Entering Day 2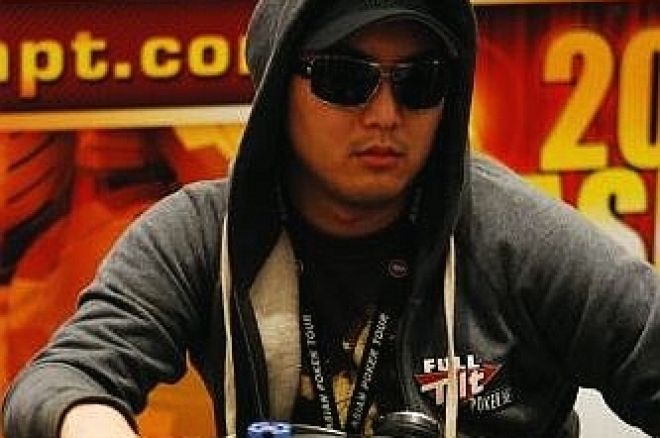 Day 1b of the <a href=https://www.pokernews.com/live-reporting/>APT Philippines Main Event</a> saw 187 poker players competing in the $2,700 buy-in tourney, more than twice the number who played Thursday. The impressive Day 1b showing brought the overall number of entrants to 262. When play completed just before midnight, South Korean Steven "joonhee" Yea had the most chips of the Day 1b participants, with his stack of over 120,000 making him the overall chip leader heading into Saturday's Day 2.
Friday saw a number of familiar faces around the tables. Among those making the trip were <a href=https://www.pokernews.com/wsop-2008/>2008 World Series of Poker</a> Main Event final tablist and recent WPT Five Diamond Poker Classic champ David "Chino" Rheem, 2009 Aussie Millions High Roller event winner David Steicke, and WSOP bracelet holder Quinn Do. Liz Lieu, Nam Le, Steve Sung, Bryan Huang, Andrew Scott, and Ron Kluber also showed up for the second Day 1. And the always talkative and entertaining David Saab, who won this same APT event last year and also made a deep run in last summer's <a href=https://www.pokernews.com/wsop/>WSOP Main Event</a>, was on hand to defend his title.
As was the case on Day 1a, players on Friday played ten one-hour levels, starting with 10,000 chips. Bryan Huang was busy gathering chips early, having pushed out past the 28,000-chip mark by Level 2. Then, at the start of Level 3, an innocuous seeming hand suddenly erupted into one in which Liz Lieu's tournament life was on the line.
After Lieu had limped under the gun, the table folded back to Richard Mari who completed from the small blind and Michael Pedley who checked his option in the big blind. The flop came
, inciting a major betting war between Lieu and Mari, with Pedley stepping aside. Finally Lieu was all in, turning over
for the flush draw plus outs to make Broadway. Mari meanwhile showed
for the lesser flush draw. He'd need to pair up to knock Lieu out. The turn was the
and the river the
, and Lieu had survived, doubling up to more than 22,000 in the process.
David "Chino" Rheem began to make a move in Level 4, and for a while assumed the chip lead with nearly 30,000. Level 4 was also when Quinn Do, winner of a WSOP bracelet back in 2005 in a limit hold'em event, was eliminated after experiencing the keen misfortune of running pocket queens into both pocket kings and pocket aces. Peter Berger was the lucky one to hold the rockets on that hand, pushing him up over 20,000 as Do hit the rail.
David Steicke soon followed Do when his A-J couldn't improve against an opponent's pocket queens. Near the end of the fourth level, Raymond Wu found himself in dire straits, doubling up once against Steve Sung but finally succumbing just as Level 5 began.
Rheem then charged ahead, thanks in part to a big hand involving Curtis Chang. After several players limped preflop, Chang led for 1,700 from middle position (about a pot-sized bet) on a flop of
, Rheem called from the cutoff, and the others folded. The turn was the
. Chang bet 1,800 this time, and Rheem thought a while before raising to 6,300. Chang took a moment himself before making the call. The river was the
, pairing the board but also making available a possible flush. Chang bet 3,000, prompting Rheem to raise to 12,000. Chang decided to let it go. That hand pushed Rheem past 58,000, comfortably into the chip lead as play approached the dinner break.
By the time players returned from dinner to begin Level 7, the starting group of 187 had shrunk down under 100. George Lim found himself enduring a roller-coaster-like level, doubling up to 41,000 with pocket kings, then dropping back to 15,000 in a hand versus Nasr El Nasr.
Near the end of the level, Steven Yea grabbed the chip lead away from Rheem following a huge hand against Dominek Leitner. In the hand, Kwang Soo Lee had raised to 1,500, another player called, then Yea raised behind to 5,500. Leitner then shoved all in for 35,000, prompting Lee and the other player to fold. Yea made the call, turning over the hand one particularly wants to have in this situation --
. Leitner was in grave trouble with
. The board came
, and Leitner was out. When Yea finally counted up his chips, he had over 86,000, enough for first position.
Level 8 saw Kwang Soo Lee back in action, this time in a hand against early chip leader Bryan Huang. Huang raised from middle position, Lee reraised, Huang raised once more, and Lee shoved all in, turning over
. Huang showed
. An eight then flopped, and Lee was done. After that one, Huang reassumed a spot near the top of the leaderboard with 77,000 chips.
As play moved into the final two levels, Nam Le began surging ahead, knocking out multiple opponents as he built his stack up over 80,000. David Saab likewise showed he was serious about defending his APT Philippines crown, picking up pots and pushing past the 50,000-chip mark as Level 10 began, then cruising up over 80,000 himself before the night was through. However, as more players were eliminated and the total number of tables in play fell to just six, Steven Yea was the one distancing himself from the pack, at one point amassing over 140,000 chips before ending the day with approximately 122,700.
At the end of the last level, just 50 players remained from Day 1b. In addition to Yea, Le, and Saab, other notables among the day's survivors included Bryan Huang, Liz Lieu, Michael Pedley, Andrew Scott, George Lim, Chino Rheem, Ron Kluber, and Steve Sung.
Sixty-nine players will return to the Dusit Thani Hotel for Day 2 action on Saturday. When play resumes, Yeah will enjoy a sizable 30,000-plus chip lead over his nearest competitors. Check in with PokerNews' ongoing live <a href=https://www.pokernews.com/>poker</a> reports as Sunday's final-table lineup is determined.