APT Philippines Final Table Set, Yea Still In Front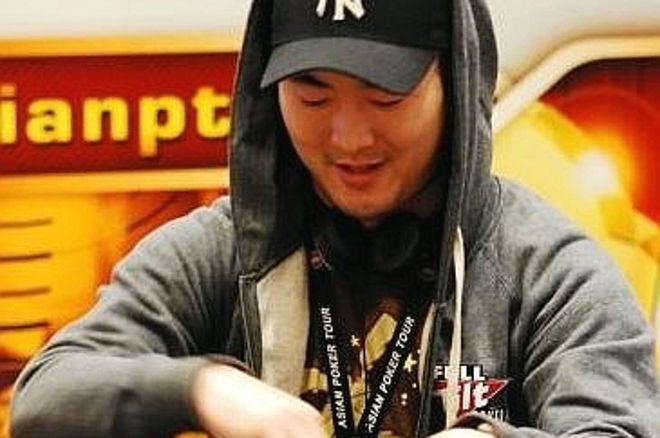 The final table has been set for Sunday's <a href=https://www.pokernews.com/>Asian Poker Tour Philippines</a> Main Event final table, with <a href=https://www.pokernews.com/full-tilt-poker/>Full Tilt</a> pro Steven "joonhee" Yea, leader at the start of play on Saturday, still enjoying a sizable chip advantage among the nine players remaining.
Of the 262 who entered the Main Event, 69 remained as Day 2 started. Play resumed just after noon local time, with 600/1,200 blinds, 200 antes, and an average stack size of a little less than 38,000. However long it took, play would last until the final nine had been determined, with the top 27 cashing. As the first hands were dealt, all were chasing Yea and his stack of 122,700 chips, with Nam Le his nearest foe at 88,000.
Three players busted within the first few minutes of play on Saturday. Then, not 15 minutes into Level 11, David "Chino" Rheem hit the rail as well. Rheem began the day with 33,000 chips, and still had around that total when he raised from late position and was called by Norihito Suzuki from the big blind. The flop came
, Suzuki checked, Rheem bet 3,000, then Suzuki check-raised to 6,100. Rheem called. The turn was the
. Suzuki again checked, Rheem bet 6,500, and Suzuki called. The river was the
, completing a possible flush draw. Again Suzuki checked. Rheem thought about it, then pushed out a bet of 14,000, essentially committing himself to the pot. Suzuki swiftly check-raised all in, and Rheem made the call. Suzuki turned over
for the nut flush, and Rheem's day was done.
Another player whose day didn't go as hoped was defending APT Philippines Main Event champ David Saab. After starting the day with 84,000 chips, Saab lost half of his stack by the middle of Day 2's first level, thanks largely to a big hand versus Kim Tae Hyung. More of Saab's chips went to Lester Edoo, and Saab was suddenly below average with just 23,000. By the middle of Level 12, Saab was edging into desperation territory, then found it necessary to ship his last 5,700 with
against Cicurel Didier's
. The flop came
, further establishing Didier's lead. A jack on the turn gave Saab a gutshot draw, but the trey on the river meant there would be no repeat for Saab.
Meanwhile, Bryan Huang, Casey Kastle, and Ron Kluber each charged up the leaderboard, all three claiming big pots early on to secure spots among the top ten. Then, on the last hand before the first break, Steve Sung, Kim Tae Hyung, and George Lim found themselves involved in a big three-way pot in which Sung held
, Hyung
, and Lim
. The board ran out ten-high, catapulting Sung to 138,000. Hyung still had roughly 100,000 after that one, while Lim was eliminated.
Meanwhile, Yea continued to maintain his advantage, knocking out Robert Carlsson near the end of Level 13 to increase his stack to 212,000. Yea was overtaken, however, by Susumu Toge by the next level, who thanks to taking a medium-sized pot off of Steve Sung had moved past the quarter million mark.
At the start of Level 15, just 32 players were left, meaning the cash bubble had arrived. Yoshie Watanabe and Nick Lackovic were among the last to go before the payouts began. Finally a severely short-stacked Adalberto Orrigo was forced to play his remaining 2,500 chips against four other players. All checked down the
board, and Orrigo's
was no good when another player showed a five. Orrigo was out in 28th, and the remaining players, all guaranteed at least $6,000, redrew for the final three tables.
Once the bubble burst, eliminations came swiftly. Soon Susumu Toge would use
to crack John Dalessandri's pocket rockets, turning a flush and sending Dalessandri out in 27th. Eight more players fell during Level 16, including Bryan Huang in 21st place. Huang had gradually lost much of that large stack he'd had earlier in the day, then finally found it necessary to shove with
and Steven Yea called with
. The flop came
, giving Yea an even greater advantage. The
on the turn meant Huang could suck out a flush with another spade or Broadway with a ten, but the river was the
, eliminating Huang and pushing Yea way up to 327,000.
Once down to 18, players arranged themselves around two tables to see which nine would be coming back on Sunday. Spots 18 through 10 would each receive $8,000 for their efforts, while the rest would return to battle for the $185,000 first prize.
Nam Le soon knocked out a short-stacked Tricia Lee in 18th, then just before the dinner break Neil Arce eliminated Vicente Pena in 17th. In the latter hand, Pena pushed all in with pocket jacks on a flop of
only to be called by Neil Arce who held pocket fours. No jack came to save Pena, and the remaining 16 went on break with Yea still the chip leader with nearly half a million.
Back from dinner, a hand came up in which Norihito Suzuki opened to 25,000, Eddie Hearns pushed all in for 70,000, and Ron Kluber repopped with another all-in shove for 144,000. Suzuki folded, and Hearns showed pocket sixes, well behind Kluber's pocket kings. No six came for Hearns, and he was eliminated in 16th place. Meanwhile, Kluber moved up to 260,000 in chips.
Next to go were Darren Judges (15th), Michael Frandsen (14th), and Steve Sung (13th). In Sung's elimination hand, Suzuki led out for 15,000 on a single-suited flop —
— and Sung thought a while before reraising all in for his last 62,000. Casey Kastle was still to act, and he pondered a bit before calling. Suzuki then folded, and Kastle's deliberations were shown to be a ploy to try to keep Suzuki in the hand. Kastle tabled
for the nut flush. Sung showed
for top pair, meaning the
on the turn left Sung drawing dead.
With play now six-handed on both tables, Nam Le and Liz Lieu were the short stacks. Le would be the first to make a move, pushing all in from late position with his last 56,000, getting called from the button by Kim Tae Hyung, then watching Yea reraise over the top from the big blind. An exasperated Hyung folded his pocket jacks face up, Le showed
, and Yea
. The board brought four baby cards, then an ace on the river, and Le was out in 12th.
Lieu had better fortune, though, when she shoved her last 65,000 with
and was up against Suzuki's
. The flop came
, and another jack on the river gave Lieu a full house and much-needed double up. Thanks to that hand, Lieu hung on to make Sunday's final table.
Unfortunately for Suzuki, that confrontation with Lieu left him with just 13,000 chips, and soon he was out in 11th place at the hands of Casey Kastle. A few minutes later — around 11 hours after play began on Saturday — a short-stacked Michael Pedley made his move with
and Neil Arce called him with
. The flop came
, and suddenly Pedley was way behind. The turn was the
, offering some hope, but the
on the river meant Pedley had bubbled the final table.
The final table was established, with Steven Yea, the chip leader entering Day 2, still out in front, with Casey Kastle in second and Neil Arce in third. The seat assignments and chikp counts for Sunday's finale:
Seat 1: Ron Kluber (USA) – 310,000
Seat 2: Cicurel Didier (Seychelles) – 182,000
Seat 3: Steven Yea (Korea) – 754,000
Seat 4: Vesa Leikos (Finland) – 94,000
Seat 5: Neil Arce (Philippines) – 377,000
Seat 6: Kim Tae Hyung (Korea) – 168,000
Seat 7: Susumu Toge (Japan) – 102,000
Seat 8: Liz Lieu (USA) – 144,000
Seat 9: Casey Kastle (Slovenia) – 503,000
Final-table coverage resumes here on <a href=https://www.pokernews.com/>PokerNews</a> starting at noon Manila time on Sunday. Be sure to follow all of the action from the Dusit Thani Hotel to see who among these nine will emerge as the 2009 Asian Poker Tour Philippines Main Event champ.
Get a free Everest Poker Sign Up Bonus from PokerNews.com