Aussie Millions Flashback: Australian Poker's Golden Years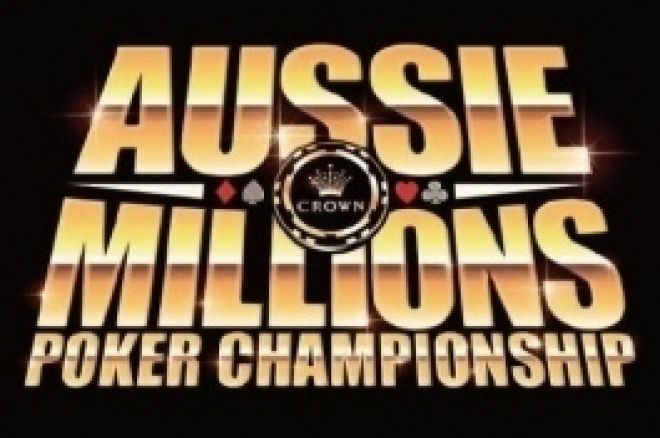 In our previous Aussie Millions flashbacks, we saw how the Crown Casino in Melbourne, Australia had grown the event from a AUD $1,000 event in 1998 to a AUD $10,000 event. By 2004, the prize pool had swelled to AUD $1.3 million.
Between 1998 and 2002, the event had drawn a mostly regional crowd and, predictably, regional winners. But once the buy-in bumped up to $10,000, it started drawing international professional players, especially from the UK. And in 2003 and 2004, two Brits, Peter Costa and Tony "The Lizard" Bloom, took the Aussie crown jewel of poker.
After Chris Moneymaker's WSOP victory in the summer of 2003, poker began to thrive. The worldwide phenomenon didn't escape Down Under. The Crown's regular poker room had shrunk to just 12 tables during poker's leanest years. But in 2004, extra tables were moved into the room to accommodate the Aussie Millions, and they never left. By the time the Aussie Millions rolled around in January 2005, the Crown was a bustling 26-table poker room.
In 2005, they would need all those tables, as the Aussie Millions starting field size grew to 263, up 97% over the previous year. The total prize pool stood at AUD $2.6 million and the winner would walk away with a cool million. After giving up the title to the British invasion for the past two years, the crowd was rooting for a winner from Down Under.
While they didn't get an Australian, they got the next best thing in New Zealander Jamie Dai. Dai had been a fixture in Australian poker since 2000, when he finished second in an Aussie Millions preliminary event. In 2001, Dai won the preliminary Pot Limit Omaha event and made the final table of the Main Event, finishing in sixth place. In 2003, Dai racked up two more final tables in preliminary events. In 2005, Dai won the big one.
It's hard to believe that Dai's million-dollar victory could be dwarfed that year, but just seven months later, Australian poker fans would enthusiastically celebrate Joe Hachem's $7.5 million WSOP Championship and "Aussie, Aussie, Aussie" became their familiar battle cry. To every extent, Hachem was Australia's Chris Moneymaker. The Crown Casino, which had been busy with 26 tables, was soon even busier with 50 tables.
In 2006, the Aussie Millions starting field grew by almost 60%, and had over AUD $4 million in its prize pool coffers. That year, well known players such as Kathy Liebert, Antonio Esfandiari, Michael Gracz, Kristy Gazes, Tony Bloom and Jamie Dai all made the money. The final table included Kenna James, Shannon Shorr, Mark Vos, and Nemad Medic, all vying for the AUD $1.2 million first place prize. But it was Lee "Final Table" Nelson, another poker hero from the region, who would edge out Robert Neary for the title.
By the time New Zealander Nelson took the "Crown's crown," he had accumulated 16 final-table appearances in Aussie Millions events. The veteran player had made the Main Event final table twice before, finishing in fourth place in 2002 and eighth place in 2001. The third time was Nelson's charm.
It's hard to believe that the Aussie Millions could continue to grow after 2006, but it did. By 2007, private jets filled with celebrity pros emptied onto red carpeted landing strips in Melbourne. Online players the world over used the event as launching point for exotic vacations and soul searching "walk abouts." Even the side games would take on million-dollar proportions.
Join us for our next installment of Aussie Millions Flashback, where we'll cover some of the wildest poker seen Down Under, or anywhere else, for that matter.