Online Poker Weekend: 'LosChief', 'bigdennys' Capture Majors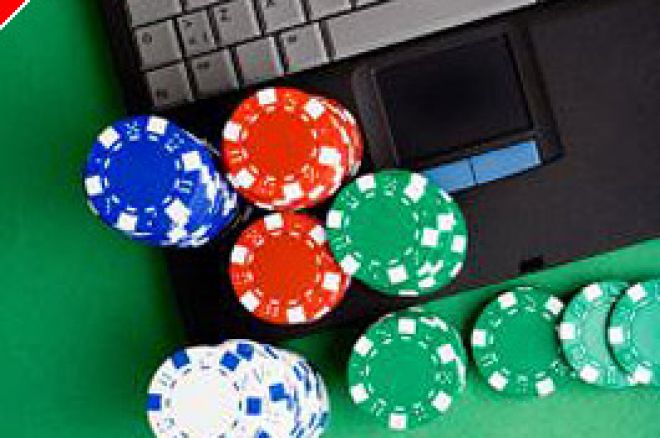 "LosChief" and "bigdennys" were the chiefs of <a href=https://www.pokernews.com/online-poker-rooms.htm>online poker</a> on Sunday, triumphing in the PokerStars Sunday Million and the special monthly Full Tilt $1 Million Guaranteed, respectively. Bigdennys scored the night's biggest payday in the Full Tilt special event, collecting $206,106.08, while LosChief won out after a two-way chop in the Sunday Million, finishing with a total of $183,134.80 for his efforts. Here's how the action unfolded:
PokerStars Sunday Million
The PokerStars Sunday Million attracted a field of 8,260 for a total prize pool of $1,652,000. Among the best finishes short of the final table were 4ofaKindBud in 13th place ($5,782), AJinOK in 17th ($4,130), Stuart "thedonator" Paterson in 24th ($3,304), Steve "MrSmokey1" Billirakis in 35th ($2,973.60), Paul "ComeOnPhish" Lieu in 59th ($2,478), Greg "DuckU" Hobson in 60th ($2,478), Scott "SCTrojans" Freeman in 61st ($2,478) and Faraz "The-Toilet 0" Jaka in 62nd ($2,478). The chips counts to start the final table were as follows:
twopairdad – 18,272,833
LosChief – 12,200,744
Oracle MCA – 11,041,821
AngeL_fH – 9,848,917
Birdstone44 – 8,614,498
play2call – 7,921,473
Aaron "dyeti" Armstrong – 5,459,890
Raccabacka – 4,982,369
Matt "swifterjet" Swift – 4,257,455
Eliminated from the final table first was Raccabacka, at the 150,000/300,000/30,000 level. From middle position, twopairdad raised to 900,000 and Raccabacka moved all in from the big blind for 4,152,870, backing
. Twopairdad held
and called, winning the pot as the board rolled out
. Raccabacka earned 11,564 for the ninth-place showing. At 200,000/400,000/40,000, AngeL_fH busted. Play2call opened with a min-raise to 800,000 and twopairdad smooth-called from the small blind. AngeL_fH then reraised to 1,985,500 out of the big blind and only twopairdad came along. The flop came
and AngeL_fH check-raised from 400,000 to 1,995,000. Twopairdad called and when the turn came the
, a flurry of bets and raises led to AngeL_fH's tournament life being at risk with
, now trailing twopairdad's
for a straight. An ace or two would have to hit the river to save AngeL_fH, but it was the
which made a flush for twopairdad. AngeL_fH took home $18,998 for eighth place. Play2call exited at the 250,000/500,000/25,000 level. From under the gun, play2call shoved for 4,116,473 with
and found action from Oracle MCA, who held
. The board ran out
and play2call was out in seventh place for $28,910.
Aaron "dyeti" Armstrong was the casualty of 300,000/600,000/60,000. He was all in for his last 1,640,670 with
and was up against the pocket jacks of LosChief. The board delivered no kings as Armstrong departed in sixth place for $41,300. Oracle MCA departed next at 400,000/800,000/80,000. After losing a key pot to Matt "swifterjet" Swift, Oracle MCA's tournament life was on the line with
against twopairdad's
. The board, however, came
, and Oracle MCA hit the rail in fifth place for $57,820. Matt "swifterjet" Swift was the next to go. After losing a good portion of his chips when his A-Q ran into Birdstone44's A-K, Swift committed his last 2,824,172 with
. Unfortunately for Swift, he ran into twopairdad's
. The board ran out
and Swift exited in fourth place for $74,340. Two hands later, Birdstone44 shoved from the small blind with a big stack and twopairdad called all in for 8,473,328 with
. Birdstone44 held
and when the board rolled out
, Birdstone44 made the nut straight to eliminate twopairdad in third place for 91,686.
The final two competitors then struck a deal that guaranteed each the following:
LosChief - $153,134.80
Birdstone44 - $151,560.40
With $30,000 on the line, LosChief held a slight edge as play resumed and went on to the win. On the final hand Birdstone444 shoved for 13,084,204 with
and LosChief called with
. The flop was a safe
for Birdstone44, but the turn was the
that put LosChief ahead. The river was the
and Birdstone44 was eliminated as the runner-up, winning $151,560.40, with LosChief collecting $183,134.80 for winning the PokerStars Sunday Million.
Final Results:
1. LosChief - $183,134.80
2. Birdstone44 - $151,560.40
3. twopairdad - $91,686
4. Matt "swifterjet" Swift - $74,340
5. Oracle MCA - $57,820
6. Aaron "dyeti" Armstrong - $41,300
7. play2call - $28,910
8. AngeL_fH - $18,998
9. Raccabacka - $11,564
<center>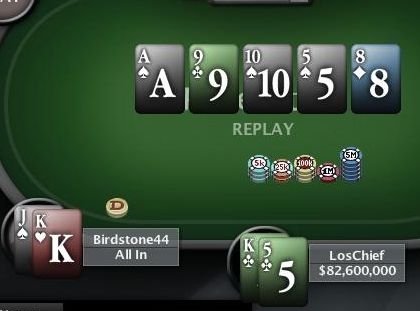 </center>
Full Tilt $1,000,000 Guaranteed
Full Tilt ran its once-a-month $500+35 $1 Million Guarantee on Sunday, which drew 2,247 entrants and offered a first prize of $206,106.08. Notables to fall shy of the final table included Jason "JCarver" Somerville in 11th place ($11,235), Anthony "D1rtyR1v3r" Nardi in 14th ($8,426.25), Christian "charder30" Harder in 23rd ($4,381.65), Amanda "Mandy B" Baker in 39th ($2,696.40), Yevgeniy "bballer88" Timoshenko in 53rd ($2,247), Luke "IWEARGOGGLES" Staudenmaier in 54th ($2,247), Allen Cunningham in 66th ($1,797.60), and Terry "Asiandude7" Eichens in 76th ($1,797.60). The chip counts to start the final table were as follows:
bigdennys – 2,042,804
Steve "gboro780" Gross – 1,924,990
4kappa – 1,355,707
callcallfold – 1,202,096
luckbox – 1,063,478
pokerfiend48 – 989,813
shhhookem – 978,579
icefisherman5 – 858,544
jkerr31 – 818,989
Jkerr31 hit the rail first at the 20,000/40,000/5,000 level. From early position, shhhookem raised to 100,000 and jkerr31 called from the big blind. The flop came
and jkerr31 went all in for 533,889, holding
. A quick call from shhhookem revealed
. The turn and river were blanks for jkerr31 who earned $15,729 for ninth place. Next to bust was callcallfold at 30,000/60,000/7,500. An open raise to 420,000 by callcallfold brought a reraise from icefisherman5. Callcallfold called all in and showed
, but trailed icefisherman5's
. The board ran out
and callcallfold departed eighth place for $20,672.40.
Shhhookem went out at 40,000/80,000/10,000. After pokerfiend48 raised to 190,000 from middle position, shhhookem went all in for 583,464 from the cutoff with
. Pokerfiend48 called with
and was able to win the pot when the board rolled out
. The seventh-place finish paid shhhookem $26,420.25. Icefisherman5 fell at 50,000/100,000/10,000 after making a stand for 531,284 with
. 4kappa provided action with
and won the hand on the river when the board came
. The sixth-place finish paid icefisherman5 $35,952. Later in the level, luckbox... wasn't, when Bigdennys won a race with
against luckbox's
. The board ran out
and luckbox was out the door in fifth for $49,995.75. 4kappa soon followed. Under the gun, 4kappa shoved for 824,919 with
and found action from Steve "gboro780" Gross in the big blind with
. The board brought no ace, running out
, and 4kappa took home $66,061.80 for fourth place.
Pokerfiend49 made the final three before succumbing. At 60,000/120,000/15,000 Steve Gross raised all in from the small blind with over five million in chips, holding
. From the big blind, pokerfiend48 called all in for 1,298,702 and tabled
. The cards came out
as Gross made a pair to send pokerfiend48 to the rail in third place for $82,801.95. The chip counts to begin heads-up play were as follows:
Steve "gboro780" Gross – 6,702,727
bigdennys – 4,532,273
The players were nearly even in chips when the key hand occurred. Gross raised to 315,000 and bigdennys called, leading to a
flop. Bigdennys check-raised Gross' bet, from 360,000 to 960,000. Gross pushed all in and bigdennys snap-called with
for two pair. Gross held
for the flush draw and needed to catch up, but the turn and river blanked. The match ended in the next hand, when bigdenny's
defeated Gross'
as the board came
. This gave Steve "gboro780" Gross second-place money of $126,506.10, while bigdennys collected $206,106.08 for taking down the monthly Full Tilt $1 Million Guarantee.
Final Results:
1. bigdennys - $206,106.08
2. Steve "gboro780" Gross - $126,506.10
3. pokerfiend48 - $82,801.95
4. 4kappa - $66,061.80
5. luckbox - $49,995.75
6. icefisherman5 - $35,952
7. shhhookem - $26,402.25
8. callcallfold - $20,672.40
9. jkerr31 - $15,729
<center>{img:6373}</center>
Other Sunday Results
Full Tilt Sunday Brawl
1. CGMAN09 - $86,026.11
2. MrWrenniW - $55,667.70
3. chicagocards1 - $41,336.40
4. Raisin Daisy - $31,213.20
5. Jonas "Klausen" Klausen - $21,933.60
6. AlexKolt - $14,341.20
7. mrw8419 - $9,701.40
8. CrazyEdi - $6,748.80
9. puuusling - $5,061.60
Buy-in: $240+16
Prize Pool: $421,800
Entrants: 2,109
Other Notables: Hixx (24th, $1,265.40), Alex "AJKHoosier1" Kamberis (44th, $970.14), Svetlana Gromenkova (47th, $843.60), LivesWithMommy (69th, $695.97), Tim "Tmay420" West (82nd, $611.61), Andy "BKice" Seth (87th, $611.61)
Full Tilt Sunday Mulligan
1. cwizzlefoshizzl - $55,792
2. Aditya "Intervention" Agarwal - $35,504
3. Dan "Wretchy" Martin - $26,120.80
4. Luke "IWEARGOGGLES" Staudenmaier - $20,605
5. dw2k6 - $15,850
6. Clayton_27 - $11,412
7. kabutze - $7,608
8. The Chosen Wun - $5,706
9. Cancun Master - $4,057.60
Buy-in: $200+16
Prize Pool: $253,600
Entrants: 1,268
Other Notables: Frank "gator93" Hernandez (14th, $1,673.16), Brent "Bhanks11" Hanks (29th, $811.52), Kory "s00tedj0kers89" Kilpatrick (37th, $710.08), eisenhower1 (40th, $710.08), Mark "The Omaholic" Roland (42nd, $710.08)
PokerStars Sunday Warmup ($750,000 guaranteed)
1. SpaceyFCB - $107,844
2. IM CRU - $75,240
3. sanuk7 - $50,160
4. Sibirn - $41,800
5. cjf123 - $33,440
6. wtfsvi - $25,080
7. Gripen76 - $16,720
8. Montilja - $10,450
9. wieselsen - $6,771.60
Buy-in: $200+15
Prize Pool: $836,000
Entrants: 4,180
Other Notables: Pokerccini (20th, $1,755.60), Frank "gator93" Hernandez (25th, $1,755.60)
PokerStars Sunday 500 ($500,000 guaranteed)
1. cwp394 - $95,249.20
2. Pappe_Ruk - $69,234
3. kaisersus - $52,540
4. dropkick84 - $39,337.50
5. Metsfan512 - $27,536.25
6. kleath - $22,291.25
7. Peter "Apathy123" Jetten - $17,046.25
8. Lex "RaSzi" Veldhuis - $11,801.25
9. MiltyJ55 - $7,343
Buy-in: $500+30
Prize Pool: $524,500
Entrants: 1,049
Other Notables: hafizzle (11th,$4,982.75), Matt "All_in_at420" Stout (13th, $3,933.75), Brian "SNo0oWMAN" Hawkins (15th, $3,933.75), BrynKenney (16th, $2,884.75), Travis "TravestyFund" Rice (26th, $2,098)
Bodog $100,000 Guaranteed
1. 1ManCrew - $23,600
2. cyoung - $13,600
3. skinznbonez - $9,100
4. Disgrace0 - $7,000
5. Sir Sands - $5,700
6. mike home - $4,500
7. veronica88 - $3,300
8. 1_Newbie - $2,200
9. kingpinjls - $1,300
Buy-in: $100+9
Prize Pool: $100,000 (included $35,800 overlay)
Entrants: 642