Poker Room Review: Joker's Wild, Henderson, NV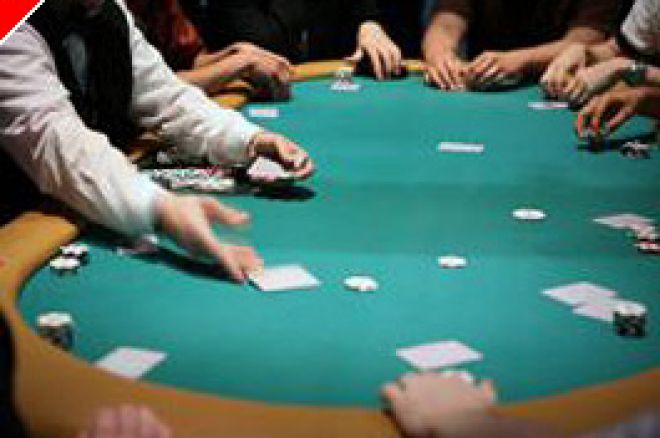 How can you not love this place?! Sure, it's out of the way, down in Henderson on Boulder Highway. True, it's housed in a relatively dark and unappealing casino with little else to recommend it. And no, they don't have any games higher than low limits. And yes, if pushed I'd be forced to admit that the room itself is not nearly as well lighted, or fresh, or new as many of the other rooms in this city of <a href=https://www.pokernews.com/online-poker-rooms.htm>poker rooms</a>.
But readers, I'm telling you that if you can look a little below the surface, and get beyond those superficialities that don't matter to serious players like you and me, you will find a great local room with what is perhaps the greatest frequent <a href=https://www.pokernews.com/us-poker-rooms/>player promotion in the United States</a> today.
Here's the headline: Play 130 hours a month and get $599 in cash! These aren't points that you must redeem in casino swag. This isn't tournament money. That's real cash money that you can put back into your game or spend on a nice suit of clothes if you want. Factor in that players earn double hours during three hours every day, and you have real earnings of over $6 an hour. That's a great deal if you live nearby or are in town long enough to qualify.
I played for about three hours on a Thursday afternoon. Their 2:00 PM tournament was nearly over, and one table of $2/4 spread-limit had just started up with those tournament players who had busted out. The game started to fill up by 4:00 PM, about thirty minutes after I arrived. It was a very tight and passive game of regulars who were there to have a good time. Players who called pre-flop tended to stay and check until the river. There was little raising and never any re-raising; patience was the key to success in that game. I hit a few hands, folded nearly all of the rest, and finished up about $35. I can see that any fairly good and serious player could make a profit playing this game while grinding out the requisite 130 hours to earn the $599 a month.
The regular cash game is $2/4 spread limit – the game I played when I visited. Later that evening they started a $2/6 game, so there was one of each when I left. The poker room manager, Kay Strong, told me that they occasionally get a $1/2 no-limit game with no maximum buy-in, which runs a few times a month.
The house takes a rake of 10% up to a maximum of $4. That's a little less than the rakes at the fancier Strip properties. They also fund a high-hand bonus with $1.00 from the pot, taken out incrementally with 50 cents at $10 and another 50 cents at $20.
Joker's Wild runs two daily tournaments. They are $28 to enter, with the house raking off $5. These run at 2:00 PM and 6:30 PM every day. On the late tournaments Friday and Saturday they allow unlimited rebuys during the first hour; otherwise, they're freezeouts. The house has a nice promotion connected to these tournaments: players who play 25 hours a month or more earn a <a href=https://www.pokernews.com/online-poker-tournaments/>free tournament</a> buy-in.
The four-table room is non-smoking. The tables, chairs, chips, and cards are standard and serviceable, nothing fancy by any means. There is a decent deli nearby with $5-7 sandwiches and cheap breakfasts that won't run you more than $4. There is a nearby sports bar with 99-cent beer on tap. How can you beat that?
Perhaps the greatest asset of the room, aside from the great cash bonus for frequent players, is the extraordinarily friendly staff. I met two dealers and the poker room manager, who sat in my cash game to start it while the tournament was still going strong. They all went out of their way to be helpful and friendly. And they had a great sense of humor, along with a seemingly limitless number of local stories and anecdotes with which to amuse me.
The game was populated by classic Las Vegas characters as well.
The guy to my left had a large tattoo of three queens on his right arm. When I asked him where he got it he said, with a smile, "On my right arm – can't you see it?" There were no serious poker players that I encountered while I was there. These were local gamblers, many of whom left the poker game from time to time to play other games in the casino. I enjoyed their company – and their loose calls.
All in all this is a great, small, low-limit room with lots of what I'd call "character". If I were a Las Vegas or Henderson local I'd play for the promotions. As a tourist, I'd play for the experience and the stories to bring back home.
Joker's Wild Casino
920 North Boulder Highway
Henderson, Nevada
702-564-8100