The PokerNews Profile: J.C. Alvarado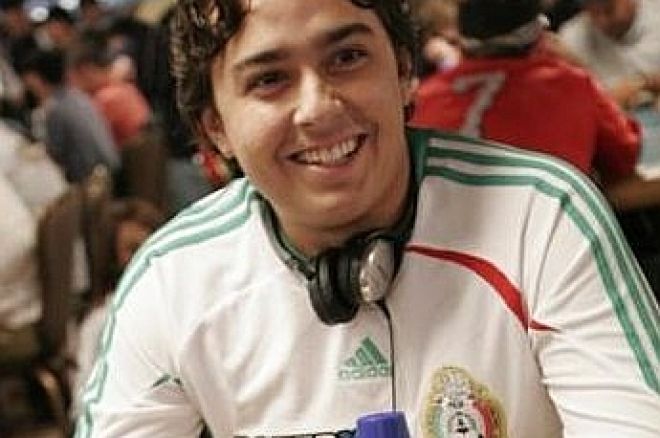 Juan Carlos Alvarado first appeared on our radar back at the 2007 L.A. Poker Classic Main Event. Jovial, talkative, and perpetually decked out in colorful soccer jerseys, Alvarado ground his way through one of the thickest fields on the World Poker Tour to emerge with a 15th-place finish, all the while supported by an enthusiastic crowd of railbirds. Alvarado had notched a $108,000 score in a preliminary no-limit hold'em event the week before and, armed with a growing bankroll, decided to take a shot at his first WPT event. Though the then-21-year-old Alvarado was pretty new to the live scene, he'd been succeeding at the <a href=https://www.pokernews.com/online-poker-rooms.htm>online game</a> for years already, after a rocky start where he lost nearly his entire bankroll and had to take on an unlikely backer — his mother.
J.C. Alvarado was born in Mexico City on May 6, 1985. He lived there until he was five before he and his mother immigrated to the United States and settled in McAllen, Texas. As a child, J.C. returned to Mexico each summer, where his cousins often took his allowance off of him in various games, including pool. Though Alvarado harbored dreams of playing professional soccer, he ultimately was accepted to college in Los Angeles and took a "real job" working retail at the local mall. When Alvarado was 19, Greg Raymer won the 2004 WSOP Main Event, inspiring Alvarado to take up the game. He'd played in small-stakes home games with his friends, earning a few hundred dollars in the process, and he decided to deposit a portion of that money online. After quickly losing that initial deposit, Alvarado started studying strategy books and videos more seriously, and his results began to turn around. After grinding it out at limit hold'em ring games for several months, he finally notched a decent score when he won a tournament on PokerStars for $6,000.
That online win was enough to convince Alvarado that he could make it as a professional poker player. He dropped out of college but quickly burned through his entire bankroll, necessitating his return to Texas to explain himself to his mother. Surprisingly, she was quite understanding, even loaning her son several thousand dollars so he could keep playing. Boosted by his mom's support, Alvarado went on a tear online, winning three tournaments on PokerStars within only a few weeks. Mama Alvarado was repaid in short order and J.C.'s poker career was off and running.
Upon turning 21, Alvarado headed to Las Vegas for the 2006 WSOP and made his first final table at the series, a sixth-place finish in a $1,500 No-Limit Hold'em event that earned him $28,665. He followed that up with two money finishes at the Bellagio Cup II. Then it was on to Los Angeles, where he earned over $180,000 for his two aforementioned deep finishes at the Commerce Casino's 2007 L.A. Poker Classic. At the very next stop on the World Poker Tour, the World Poker Challenge in Reno, NV, Alvarado made his first WPT final table, finishing runner-up to another J.C.—J.C. Tran—making his largest score to date, a $366,798 take. He followed that up with a ninth- place finish at the $2,500 No-Limit Hold'em event at the Bellagio Five-Star Classic and an eight-place finish at the WPT Mandalay Bay Poker Challenge.
Alvarado moved to Las Vegas permanently in the summer of 2007 and made another two cashes at the '07 WSOP. He also continued to grind it out online, multi-tabling sometime for eight to ten hours a day. Alvarado has made deep finishes in the PokerStars Sunday Million, the WCOOP Main Event, and the Full Tilt $1K Monday. Most recently, he made twin 28th-place finishes in the $5,000 Mixed Hold'em event at the 2008 WSOP and the $5,000 WSOP-Circuit stop at Caesar's Palace. He also served as the captain of Team Mexico in the finals of PokerStars' World Cup of Poker, which was played out live in the Bahamas at the recently completed PokerStars Carribean Adventure. Always an entertaining player to watch at the tables, Alvarado can usually be found regaling his opponents with stories and cracking jokes, all while employing his unpredictable, loose-aggressive style.
Away from the green felt, Alvarado is a huge soccer fan and an unapologetic video game addict (his favorite, unsurprisingly being the soccer-themed FIFA). When he's not traveling the world for <a href=https://www.pokernews.com/live-reporting/>poker events</a>, he lives in Las Vegas.