Women's Poker Spotlight: 'Poker Alice'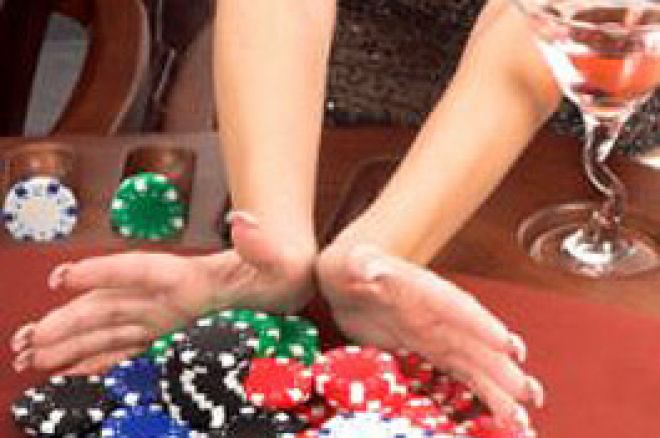 When we think of the pioneers of women's poker, names like Barbara Enright, Susie Isaacs and Linda Johnson come to mind as ladies who paved our way to becoming not only the fastest growing demographic of poker but also a more acceptable presence on the winning side of the felt. In reality, our beginnings in poker go back much further than that. Over a century before Barbara Enright fought her way to the final table of the World Series of Poker in 1995, a woman named Alice Ivers, who would later be known as "Poker Alice," was born to an affluent family in Devonshire, England.
Alice learned poker from her first husband, Frank Duffield, a mining engineer. In the beginning Alice watched him play and little by little she learned the ins and outs of poker, until she would play in his absence. When Duffield died in a mining accident, Alice took to the tables, where she earned the name "Poker Alice." Between dealing poker and playing she was very successful and eventually was able to afford a break from the game. She took a trip from her home in the west to New York City to shop for the latest and trendiest fashions.
Like most of today's professional poker players, Alice spent much of this time on the road, traveling from one town to the next. However, she rode a stagecoach instead of traveling by plane. Any town with a game parlor became a temporary home until a new opportunity to play or to deal come up. She was reported as saying, "I would rather play poker with five or six experts than to eat."
In most photos Alice is portrayed as a rather "manly" looking woman, dressing in a man's shirt, old skirt and always smoking a cigar. In her earlier years, though, and even into her fifties, Alice's fair hair and skin and blue eyes as well as her smart sense of fashion won her many suitors. But poker adversary and house painter, Warren G. Tubbs, won her heart when she shot a man with her always-ready .38 while protecting Tubbs from a knife-wielding miner.
Alice married Tubbs and, using her dealing and playing, was able to support and raise a family of four boys and three girls in style. Her winnings could total as much as $6,000 on a good night. Alice enjoyed a challenge and often would gloat and offer all comers a chance to beat her luck. Her shrewdness for the odds and the mathematical side of poker, along with her fresh beauty, gave her advantages over the men who thought they could best a woman with a ease. And, those who sought to become more than competitors with Alice were not so much as given a second look.
When Tubbs became ill with tuberculosis, they moved their family out of town and away from the card rooms. During this time Alice became Tubbs' caretaker and left the gambling lifestyle behind until he died in her arms in 1910 during a blizzard. She drove his body in a horse-drawn sled 48 miles to be buried. She pawned her wedding ring to pay for the funeral but won enough money at the poker tables to buy it back that night.
Later, while Alice was away from home, playing and winning at the tables, she hired George Huckert to tend to the sheep. Eventually she was unable to resist his proposals and married for the third time. Huckert died in 1913, leaving Alice a three-time widow.
During this time Alice bought a house that presented opportunities for gambling and girls. She got a loan, fixed up the house and was open for business. In one famous story, it is said that there were a bunch of soldiers in the house getting a little rowdy; Alice fired off a shot in hopes it would quiet them down. The bullet, reportedly, passed through two of the soldiers, killing one of them. The police closed down the house and took Alice and all six of her girls to jail. At her trial, the shooting was ruled unintentional and she was exonerated, but the shooting left the authorities at Fort Meade uneasy. They continually arrested Alice into her 60s. She paid her fines but continued business as usual until she was sentenced, at age 75, to a state penitentiary for repeated convictions for being a madam. She was immediately pardoned by the governor.
Two years later, in 1930 Poker Alice died after a gall bladder operation, at age 77. Her house of "ill repute" was moved to Junction Avenue in Sturgis, South Dakota and is now a bed and breakfast.
Poker Alice owned a brothel, bootlegged during prohibition, killed a man, was a convicted felon and carried a gun. She is probably not someone we'd want to meet at our local casino. But she competed in a "man's world" long before it was fashionable to do so. So in that sense, she pioneered and paved the way for today's female players to have their rightful place at the tables.