Neil Arce Takes 2009 APT Philippines Main Event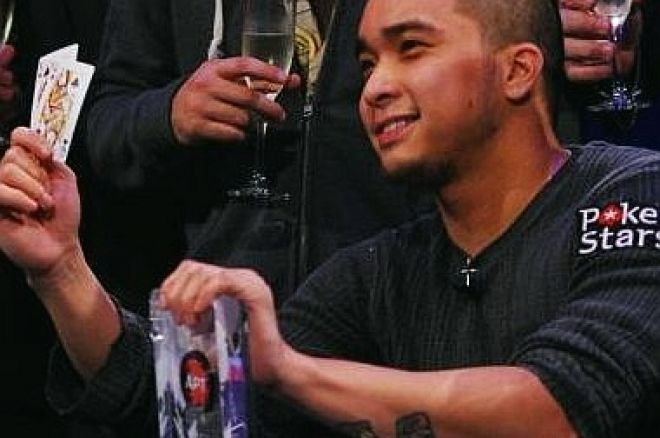 It took local favorite Neil Arce a little less than three hours to claim all of the chips at Sunday's Asian Poker Tour Philippines Main Event final table, and take home the $185,000 first prize. After two long days of play to whittle the 262-player field down to nine, Arce, who finished 35th in this same event in 2008, deftly negotiated his way through an action-packed final table to capture the title for his native Philippines.
Play began just after noon local time with the resumption of Level 19 (blinds 4,000/8,000, antes 1,000). Here were the seating assignments and chip counts when the first hand was dealt on Sunday:
Seat 1: Ron Kluber (USA) – 310,000
Seat 2: Cicurel Didier (Switzerland) – 182,000
Seat 3: Steven Yea (South Korea) – 754,000
Seat 4: Vesa Leikos (Finland) – 94,000
Seat 5: Neil Arce (Philippines) – 377,000
Seat 6: Kim Tae Hyung (South Korea) – 168,000
Seat 7: Susumu Toge (Japan) – 102,000
Seat 8: Liz Lieu (USA) – 144,000
Seat 9: Casey Kastle (Slovenia) – 503,000
On the day's first hand, Cicurel Didier set the tone for the day by promptly raising to 17,000 from under the gun. Arce called from middle position, then Kim Tae Hyung shoved all in for 167,000 behind him. All folded (including Didier), and after some deliberation Arce made the call, turning over
. Didier showed
, and the race was on. The board came
, ultimately giving Arce a flush. Didier was out in ninth, earning $12,000 for his efforts. Meanwhile Arce had ticked up close to 600,000, quickly nearing Steven Yea's lead.
On the very next hand, the table's short stack, Vesa Leikos, open-shoved all in for 92,000, and it folded around to Casey Kastle who called from the small blind. Lieu folded her big blind, and once again there was a pocket-nines-versus-overcards situation, with Kastle holding
and Leikos
. The flop brought an ace, but also a nine —
— meaning the
turn left Leikos drawing dead. Two hands, two eliminations. Leikos received $16,000 for finishing eighth.
Chip leader Yea had no intentions, however, of sitting back while the others passed chips back and forth. Yea quickly got involved in multiple pots, pushing Lieu off of one, then Arce off of another. Next for Yea came a hand versus Kastle. Kastle open-raised to 26,000 from under the gun and only Yea called from the cutoff seat. The flop came all babies —
— and Kastle checked. Yea's bet of 30,000 was enough to push yet another opponent out of a hand, moving him up past the 850,000-chip mark.
As play neared the end of Level 19, Yea raised to 21,000 from early position, then Liz Lieu reraised all in with her last 100,000. Yea called, showing pocket queens, well ahead of Lieu's
. The board brought no deuce to save Lieu, who earned $22,000 for her seventh-place finish.
As Level 20 proceeded (blinds 5,000/10,000, antes 1,000), Arce and Yea continued to pressure the table with their monstrous stacks, with Yea's quickly approaching 1,000,000. Ron Kluber, who began the day in third but had mostly kept out of harm's way for most of the first hour, found a hand worth playing and raised to 35,000. Yea called from the small blind, and the flop came
. Yea checked, Kluber went all in with his last 120,000, and Yea called. Yea showed
for the nut flush draw, while Kluber had
. Kluber was hoping to see a non-diamond eight or nine fall, but the
on the turn meant he had no outs left. For finishing sixth, Kluber took home $30,000.
Susumu Toge was next to go, again at the expense of Yea. With about 100,000 to start the hand and a quarter of that already committed to the pot, Toge pushed all in on a flop of
holding
, and Yea called him with
. The
on the turn and
on the river meant Yea's ace carried the day, knocking Toge out in fifth, for which he claimed $36,000.
Five minutes later, another would fall and three players would remain. Cicurel Didier pushed all in for 125,000 with
, coming over the top of a preflop raise from Arce, and Arce called with
. An ace flopped, and another came on the river as well, eliminating Didier with fourth place money of $46,000.
After a quick break to color up the chips, play resumed with Yea still in the lead with 1.44 million, Arce next with 677,000, and Kastle in third with 529,000. Play had reached Level 21, with blinds 6,000/12,000 and antes 2,000.
Kastle picked up a couple of pots early in three-handed play and it looked as though he might make a move, but his fortunes were doomed to change.
First Kastle lost a medium-sized pot to Arce when both made trip jacks but Arce held the better kicker. Then a failed bluff by Kastle sent more of his chips into Arce's stack. Soon Kastle was down to just 133,000 chips, and after Arce raised preflop to 50,000, Kastle shipped those into the middle. Arce called, showing
, and Kastle turned over
. The flop came
, giving Arce his needed six. The turn was the
and the river the
, and Kastle was out in third, earning $70,000 for doing so.
When heads-up play began, Yea held 1.57 million to Arce's 1.05 million. It was only fitting these two would make it to the end, as Arce had been the chip leader following Day 1a, and Yea the leader at the end of Day 1b and Day 2.
Arce quickly evened the match after pushing all in on a board of
and forcing Yea to fold. Yea then claimed a couple of small pots, before a hand where Yea raised to 30,000 from the small blind/button and Arce called. The flop came
and both players checked. The turn was the
. Arce checked, Yea bet 32,000, Arce check-raised to 100,000, and Yea called. The river was the
. Arce bet 80,000, then Yea took a while before raising to 280,000. Arce quickly called, showing
for the straight, and Yea mucked. That hand moved Arce up to 1.7 million, more than twice Yea's 800,000.
Then came the final hand. Arce raised to 100,000, Yea reraised to 300,000, Arce pushed all in, and Yea called. Both held especially good hands for heads-up, with Arce showing
and Yea
. The flop of
left Yea ahead, but the
on the turn put Arce just one card from victory. The river was the
, and Yea was the runner-up, earning $100,000, while Arce took the championship and the $185,000 first prize.
This was Steven Yea's second APT Main Event runner-up showing, having come in second to Yevgeniy Timoshenko at the 2008 Macau event last summer. Meanwhile, for the Philippines-native Arce, this victory marks his biggest payday as a professional, his best previous major tourney cash having been his 222nd-place finish in the 2007 WSOP Main Event for which he earned $51,398.
Here was Arce talking about the final moments of the event:
<center>
</center>