'durrrr' Challenge Update: Tom Dwan Books Boffo Session with $207,000 Win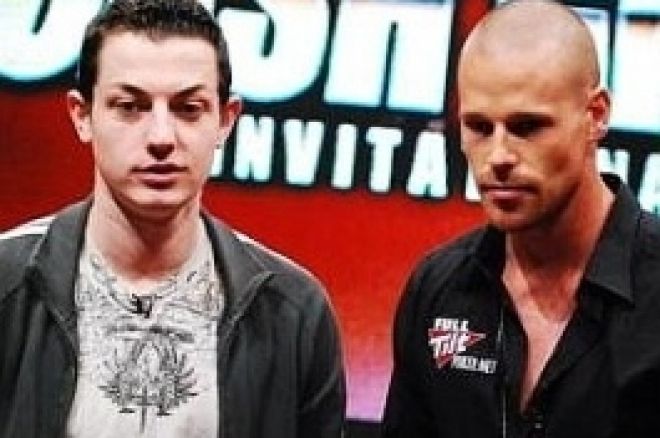 Tom "durrrr" Dwan's 50,000-hand challenge match against Patrik Antonius continued Monday afternoon with a three-hour, 1,027-hand match over four tables of $200-$400 pot-limit Omaha. Though Antonius left on top after their last meeting, where he won $191,000, "durrrr" dominated the Finn this time around, booking a $206,757 win.
The session kicked off at 3:11 p.m. EST on Monday afternoon and within ten minutes, Dwan had already claimed a six-figure pot. After Dwan opened for the standard $1,200, Antonius reraised to $3,600 and Dwan called. The flop came down
and Antonius led at it for $5,200. Dwan called. The turn brought the
, putting a potential flush on the board. As the seconds ticked down on Antonius' time bank, he finally settled on a bet of $12,400, which Dwan quickly called. The
landed on the river and Antonius fired a third time, for $30,800, and Dwan called. The showdown revealed quite the cooler — Dwan's
for a king-high flush just edging out Antonius' queen-high flush with
.
Heavy preflop action and a flop that hit both players' hands hard provided the impetus for the session's largest pot. Dwan, holding
, opened for $1,200, Antonius reraised to $3,600 with
and Dwan re-potted to $10,800. Antonius flat-called and they saw a flop of
, Antonius flopping bottom set and Dwan hitting the nut flush draw. Antonius led out for $14,800, Dwan raised to $66,000, Antonius moved all in for $100,874 and Dwan called the additional $6,490. The
on the turn made Dwan the nut flush and Antonius couldn't pair the board when the
hit the river. The $166,581 pot was Dwan's and Antonius' hole grew deeper — at this point in the session, Dwan was up by over $283,000.
Fittingly enough, the most interesting hand of the match unfolded near its end. With both players sitting about 200 big blinds deep, Dwan opened for $1,200 and Antonius called. The flop was
and Antonius put out a pot-sized bet of $2,400. Dwan raised to $6,600 and after a bit of a think, Antonius three-bet it to $19,200. Dwan called and the
landed on the turn, putting a club flush draw and a potential straight on the board. Antonius decided to lead again, putting over half his remaining stack in with a $31,200 wager. Dwan flat-called. The river was another scary card, the
, filling a possible flush. With over $100,000 in the pot and $30,791 behind, Antonius moved in and Dwan insta-called, revealing
for the straight. Antonius, attempting to represent the made straight or flush, turned out to be bluffing with
, for only a pair of sevens.
With Dwan declaring a desire to hit the gym after his big win, the two agreed to play for another half hour before calling it a night at 6:20 p.m. EST.
durrrr: ok, i gtg soon
durrrr: goin to gym in like 30min or so
durrrr: mayb less
Patrik Antonius: lets play 20min ok?
durrrr: 30min or so is fine
The two planned to restart the match the next day, but since multiple tables of $500-$1,000 HA were running all day Tuesday, they postponed their session in favor of getting in on the high-stakes action. (Though, for Dwan, maybe it wasn't such a good idea — he dropped over $1.1 million playing heads-up PLO with Phil Ivey Tuesday afternoon).
"durrrr" Challenge (Tom Dwan vs. Patrik Antonius) current stats:
Hands played: 3,952
Hands remaining: 46,048
Sessions played: 3
Total money won/lost to date:
Tom Dwan +$149,798
Patrik Antonius -$150,805.50
"durrrr" Challenge railbird quotes of the day:
timmay28 (Observer): WHY HAVENT THE BLINDS GONE UP?
PAC10Pride (Observer): durrrr, if you were a fruit, which would you be and why?
Editor's Note: Nicole Gordon's continuing reports on the "durrrr Challenge" highlight PokerNews.com's coverage of the latest in online poker. To railbird the "durrrr Challenge yourself, open up an account at Full Tilt poker today.