Eastgate Wins Big at Scandinavian Poker Awards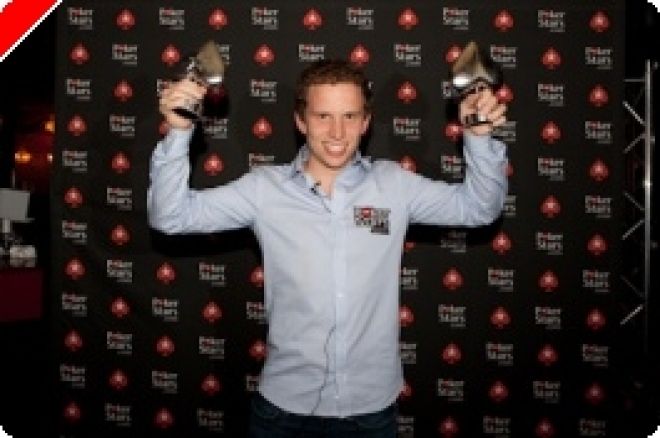 In conjunction with the fifth season of EPT Copenhagen, the Scandinavian Poker Awards were held at the luxurious Luux nightclub. Prizes were awarded to Scandinavia's best poker players in five different categories: Best Performance, Best Online Player, Best Live Player, Best Female Player and Rookie of the Year. Among the nominees were Patrik Antonius, Ilari "Ziigmund" Sahamies, WSOP Main Event winner Peter Eastgate, one of Full Tilt's latest additions, Michael Tureniec, and last year's double award winner, Annette Oberstad.
Peter Eastgate was the presumptive favorite for winning at least two of the three categories where he was nominated — Best Performance, Best Live Player, and Rookie of the Year. Eastgate took home the Best Performance and Rookie of the Year awards. Patrik Antonius picked up the Best Performance title, topping a tough field of nominees including Michael Tureniec, Johnny Lodden, Eastgate and Jesper Hougaard. Sweden's Magdalena In de Betou took home the prize as Best Female Player, topping Annette Oberstad and Finland's Minna Ritakorpi.
The fifth and final award, Best Online Player, went to popular high-stakes player and railbird fave Ilari "Ziigmund" Sahamies The emerging Finnish star topped countrymen Patrik Antonius and Sami "Larsluzak" Kelopuro as well as Gus "The Great Dane" Hansen and Sweden´s Joel "Odonkor" Nordkvist. This year's Scandinavian Poker Awards thus saw Finland and Denmark win two awards each, Sweden capture one, and Noway shut out this time around.
2009 Scandinavian Poker Awards:
Best Live Player — Patrik Antonius (Finland)
Best Online Player — Ilari "Ziigmund" Sahamies (Finland)
Rookie of the Year — Peter Eastgate (Denmark)
Best Female Player — Magdalena In de Betou (Sweden)
Best Performance — Peter Eastgate (Denmark)