FTOPS XI Event #11, $200+16 HA: 'ketse's Second Time the Charm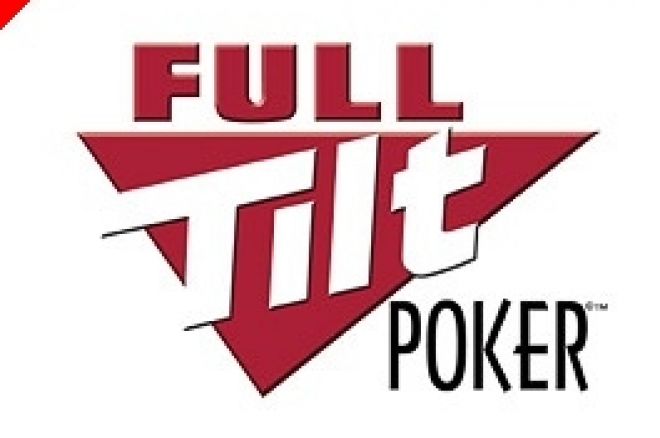 It was elevens up at Full Tilt on Monday, as Event #11 of the eleventh Full Tilt Online Poker Series (FTOPS XI) brought a $200+16 "HA" tourney (half PLHE, half PLO) guaranteeing $150,000, with a runner-up in an earlier FTOPS XI event, ketse, completing the task here. A field 1,136 gathered to create a total prize pool of $227,200. Notable finishes included Jaroslaw "YanniYankievich" Jaskiewicz in 13th ($1,499.52), Josh "doctorhowser" Norris in 19th ($829.28) and Tim "timkrank" Miles in 36th ($727.04). Back at the final table was Ketse, runner-up in Event #6. The chip counts at the start of the final table were these:
Ketse – 1,571,197
BRO20 – 1,005,672
zoyberg777 – 815,512
Ozenc "the aviator1" Demir – 646,834
s00t donkey – 583,038
whitehorse5 – 393,316
junkie4free – 228,945
barcs69 – 226,404
angry tilt – 209,082
On the very first hand of PLO, with blinds at 10,000/20,000, junkie4free raised to 70,000 and was called by whitehorse5 on the button and Ketse in the big blind. The flop came
and Ketse led out 220,000. Junkie4free called all in for 158,945 and whitehorse5 folded. Ketse showed
for an open-ended straight draw and underpair, trailing junkie4free's
held by. The turn was the
and changed nothing, but the river was the 3h and made a winning straight for Ketse. The ninth-place finish paid junkie4free $3,635.20. Whitehorse5 exited in the next hand. From the cutoff, whitehorse5 made it 70,000 to play and Ketse re-raised to 230,000 from the small blind. Action folded back to whitehorse5, who went all in with
, and Ketse called with
. The board ran out
and whitehorse5 trotted off in eight for $5,112.
Ozenc "the aviator1" Demir flew off at 12,000/24,000, in PLHE. From early position, s00t donkey raised to 60,606 and Demir re-raised to 168,000 in the small blind. After two more raises, s00t donkey was all in with
against Demir's
. The board ran out
and Ozenc "the aviator1" Demir was left with just one big blind. He was eliminated the next hand in seventh place for $6,816.
Zoyberg777 exited during 15,000/30,000 PLO. Ketse min-raised to 60,000 from middle position and zoyberg777 went all in from the small blind for 138,026 with
. Ketse called with
. The board ran out
as Ketse faded a massive draw to felt zoyberg777 in sixth place for $10,224. BRO20 lost a lot of chips earlier in the level to Ketse before bowing out in fifth place. BRO20's last 70,672 went into the middle with
against Ketse's
. The board rolled out
and BRO20 was sent home in fifth place for $14,200. Ketse's onslaught at this level was not over yet. From the small blind barcs69 opened to 90,000 and Ketse called out of the big blind. The
flop and
turn were checked by both players. The
landed on the river and barcs69 shoved for 112,808. Ketse snap-called with
and defeated barcs69's
. The fourth-place finish earned barcs69 $18,744.
Starting the table as the short stack, angry tilt battled valiantly before falling in third place. In 20,000/40,000 PLHE, Ketse min-raised to 80,000 and angry tilt re-raised to 280,000. Ketse raised again and angry tilt called all in for 140,901 with
. Ketse led with
and won the hand when the board ran out
. For the third-place showing, angry tilt collected $23,969.60. The chip counts at the start of heads-up play were as follows:
Ketse – 3,816,146
s00t donkey – 1,863,854
Early in the heads-up battle, s00t donkey doubled up and captured the lead, but Ketse recovered en route to winning the tournament. On the final hand, in 25,000/50,000 PLO Ketse min-raised to 100,000. S00t donkey re-raised to 300,000 and Ketse called. The flop came
and s00t donkey bet 400,000. Ketse popped it up to 1,800,000 and s00t donkey called all in for 755,972 with
for the over pair, nut flush draw and wheel draw. Ketse tabled
for top pair and an open-ended straight draw. The turn was the
and gave Ketse the lead, leaving only diamonds for s00t donkey to catch. The river was the
instead and s00t donkey was out in second place for $32,376. Just two days after finishing as the runner-up in Event #6, Ketse made it back to an FTOPS final table and this time notched the victory for $51,120.
Final Results:
1. Ketse - $51,120
2. s00t donkey - $32,376
3. angry tilt - $23,969.60
4. barcs69 - $18,744
5. BRO20 - $14,200
6. zoyberg777 - $10,224
7. Ozenc "the aviator1" Demir - $6,816
8. whitehorse5 - $5,112
9. junkie4free - $3,635.20
<center>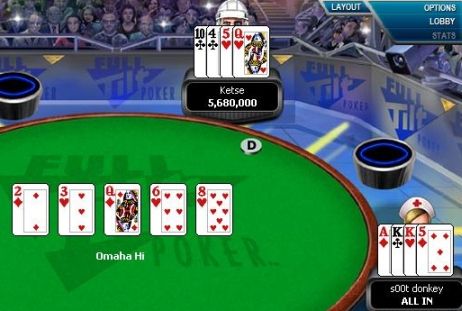 </center>