FTOPS XI Event #16: $200+16 Omaha/8: 'jaxx23' Triumphs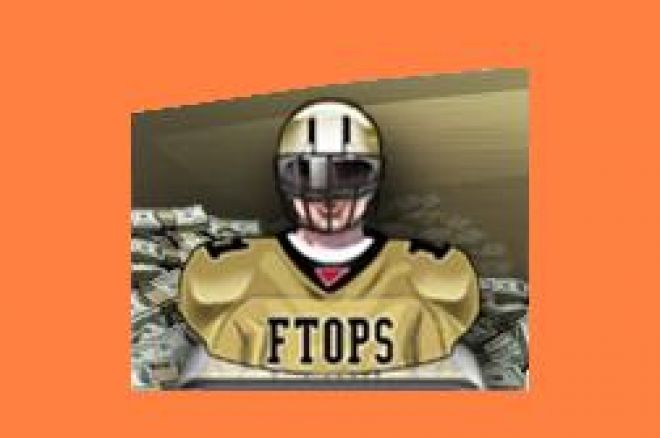 Event #16 of the eleventh Full Tilt Online Poker Series (FTOPS XI) was a $200+16 Omaha-8 (hi/lo) affair guaranteeing $150,000. A field of 818 created a total prize pool of $163,600. Notable finishers outside the final included Mihail "audifan" Stoykov in 14th place ($1,145.20), Rodney "BIGFLOPPER01" Burt in 18th ($818), sticky seat in 20th ($638.04) and Casey "bigdogpckt5s" Jarzabek in 25th ($638.04). The chip counts at the start of the final table were as follows:
bizaaar - 593,819
FELIPE_MOJAVE - 546,742
DrMcBoy - 447,013
Pigeon777 - 395,506
BigWilli76 - 390,994
jaxx23 - 255,144
JandT - 253,259
spankenstein - 206,842
BombinPocketABU - 182,681
Pigeon777 was the first to be eliminated, at the 25,000/50,000 level. FELIPE_MOJAVE opened with a raise from middle position and Pigeon777 three-bet from the small blind. FELIPE_MOJAVE four-bet and Pigeon777 called, bringing out a flop of
. It went four bets again with Pigeon777 calling all in holding
, but trailing FELIPE_MOJAVE's
. Pigeon777 needed an ace, queen or a heart, but the turn and river came
as Pigeon777 collected $2,781.20 for ninth place. Spankenstein went out next in a three-way pot with bizaaar and JandT. When the cards came out JandT won the high, bizaaar won the low and spankenstein was the loser in eighth place for $3,828.24.
BigWilli76 was eliminated in a similar situation at 30,000/60,000. It went three bets preflop between BigWilli76, DrMcBoy and BombinPocketABU. The flop came
and three bets later DrMcBoy and BigWilli76 were both at risk. The turn and river came
and DrMcBoy survived by making a low with
. BombinPocketABU took the high with
and BigWilli76 got none of it with
, hitting the rail in seventh place for $4,908. DrMcBoy went out next at at 40,000/80,000 to bizaaar; the board brought
and DrMcBoy's
came up empty against bizaaar's
and flopped straight. DrMcBoy was short-stacked and busted one hand later to finish in sixth for $7,362.
FELIPE_MOJAVE went out at 50,000/100,000. Jaxx23 and FELIPE_MOJAVE went three bets before seeing a
flop. Three bets later FELIPE_MOJAVE was all in with
against jaxx23's
. The
on the turn clinched the high for jaxx23 and when the river landed the
, the low was clinched as well. FELIPE_MOJAVE took fifth for $10,225. JandT exited a few hands later. After going four bets preflop with jaxx23, JandT was all in with
and jaxx23 held
. The board rolled out
as JandT hit the road in fourth for $13,497. BombinPocketABU went out in third. Short-stacked, BombinPocketABU looked to triple up in a hand against both remaining players. When the board read
, bizaaar isolated the action and won the hand with
for the nut straight and solid low. BombinPocketABU earned $17,587 for third place.
The chip counts to start heads-up play:
bizaaar - 2,014,160
jaxx23 - 1,257,840
When the chips evened out, each player agreed to a private chop. Jaxx23 came back and went on to win the tournament. On the final hand, they went four bets preflop and the rest of bizaaar's chips went into the middle after the
flop. The hands were
for bizaaar and
for jaxx23. The turn and river came
as jaxx23's nut flush and 6-5-4-3-A low scooped the pot. For finishing in second place, bizaaar officially earned $23,722, while jaxx23 officially pocketed $37,628 for winning FTOPS XI Event #16.
Final Results:
1. jaxx23 - $37,628
2. bizaaar - $23,722
3. BombinPocketABU - $17,587
4. JandT - $13,497
5. FELIPE_MOJAVE - $10,225
6. DrMcBoy - $7,362
7. BigWilli76 - $4,908
8. spankenstein - $3,828.24
9. Pigeon777 - $2,781.20
<center>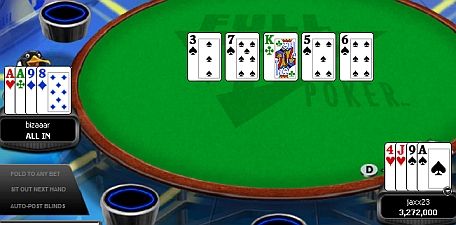 </center>