FTOPS XI Event #24, $120+9 NLHE Knockout: 'girlyhurly' Last One Standing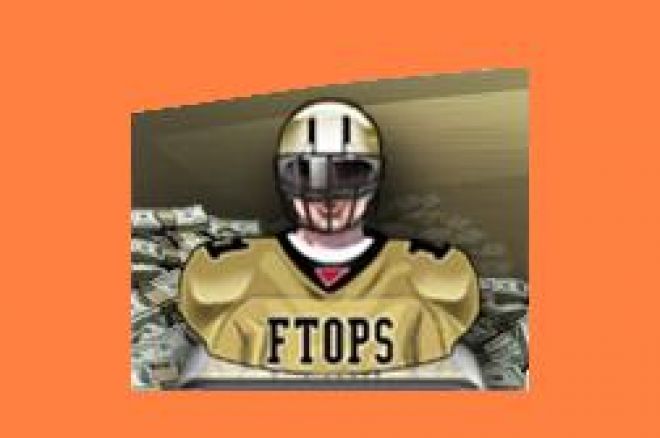 Event #24 of the eleventh Full Tilt Online Poker Series (FTOPS XI) was a $120+9 NL Hold'em Knockout tourney guaranteeing $750,000. A whopping field of 9,061 registered to create a total prize pool of $906,100 and a winner's payday of $144,885.39. Among the best finishes were those of Jamie "pokerjamers" Armstrong in 14th ($5,436.60), Mike "SowersUNCC" Sowers in 15th ($5,436.60), Lee "acumen53" Childs in 20th ($2,718.30) and Michael Tureniec in 38th ($1,812.20).
After pongu06 (9th place for $9,967.10) and MantaRays (8th place for $13,591.50) busted, only seven remained with hopes of capturing the title. Their chips counts were as follows:
Doglamina - 19,648,616
hro1707 - 7,412,777
Malte "Akaperion" Strothmann - 5,016,323
massicci - 4,811,265
AAs to QQs - 3,403,346
girlyhurly - 3,333,681
John "Y2JohnK6" Kurtenbach - 1,678,992
At the 60,000/120,000/15,000 level, John "Y2JohnK6" Kurtenbach went to the rail. AAs to QQs raised to 275,325 from middle position, and Kurtenbach shoved from the small blind for 1,528,992 with
. AAs to QQs called with
and delivered the bad beat as the board rolled out
. John "Y2JohnK6" Kurtenbach was out in seventh for $18,122. Massicci departed at 80,000/160,000/20,000, when his
ultimately fell to Doglamina's full house. The sixth-place showing paid massicci $24,464.70.
The next to bust was hro1707, at 100,000/200,000/25,000. Under the gun, hro1707 opened to 525,000, and girlyhurly re-raised to 1,400,000 in the small blind. Hro1707 shoved all in for 3,916,667 and girlyhurly called with
, which led hro1707's
. The board came
and hro1707 exited in fifth place for $31,713.50. Malte "Akaperion" Strothmann fell later in the level. Doglamina made it 600,000 to play from the small blind and Strothmann re-raised to 1,600,000 from the big blind. Doglamina pondered before shoving with the bigger stack and Strothmann called all in with
. Doglamina tabled
and took down the pot as the board ran out
. Malte "Akaperion" Strothmann took home $40,774.50 for fourth place.
Doglamina went to the rail in third place at 140,000/280,000/35,000. With the button, Doglamina raised to 1,085,000 and girlyhurly popped it to 2,520,000 in the big blind. Doglamina shoved with the bigger stack and girlyhurly called all in for 11,598,964 with
. Doglamina tabled
and took the lead as the flop came
. However, the
hit the turn and gave girlyhurly a flush. The river card was the
and Doglamina became the short stack, soon falling in third place for $54,336.
The heads-up duel began with girlyhurly holding about a 7:4 chip lead and ended just a few hands later. AAs to QQs opened to 777,777 and girlyhurly called, bringing out a
flop. AAs to QQs bet 999,999 and gurlyhurly check-raised to 3,080,000. AAs to QQs re-raised to 8,680,000 and would soon be all in with
against girlyhurly's
. The
landed on the turn to put girlyhurly ahead with two pair, and the river was the
, ending the tournament. AAs to QQs finished in second place for $90,610, with girlyhurly collecting $144,885.39 for winning FTOPS XI Event #24.
Final Results:
1. girlyhurly - $144,885.39
2. AAs to QQs - $90,610
3. Doglamina - $54,336
4. Malte "Akaperion" Strothmann - $40,774.50
5. hro1707 - $31,713.50
6. massicci - $24,464.70
7. John "Y2JohnK6" Kurtenbach - $18,122
8. MantaRays - $13,591.50
9. pongu06 - $9,967.10
<center>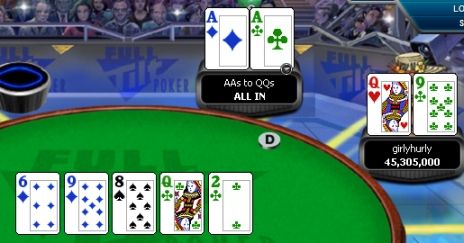 </center>