Opinion: The WSOP and the 'Big Four-Oh' Tourney -- A One-Time Affair?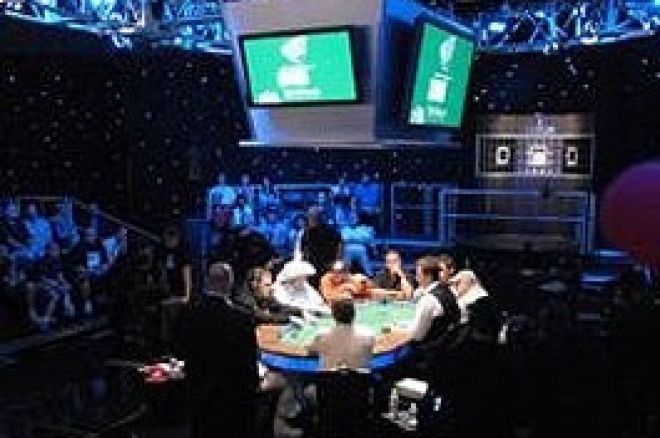 This year's World Series of Poker will be as big as ever, with the surprise announcement of a special $40,000 no-limit hold'em event to commemorate 40 years of the WSOP. This high-stakes bracelet event will be Event #2 of the WSOP (behind the casino employees event, which returns to its leadoff spot) and will define the early play, as it will be a big-bet version of the $50,000 H.O.R.S.E event – one which all the pros will want to win, won't include many recreational players, and most likely will produce a TV final table to die for.
The event has been created as a one-off special to celebrate four decades of the World Series, and surely it's going to be very popular. The pros are going to love it because it is going to be a "best of the best" event, the railbirds will love it because it's going to offer a star-studded final table, ESPN will love it because it's bound to be a massive success in the TV ratings and whichever online poker room sponsors the winner will surely be over the moon.
So although it's billed as a one-off event, I believe that even before the first hand is dealt and the event gets the publicity it deserves, a no-limit hold'em high rollers event at the WSOP is here to stay.
"High roller" events are fast becoming a staple part of the major international festival circuit. There was a time that a $10,000 main event was deemed a high-stakes tournament, but in the last two years we have seen many side events where the buy-in has eclipsed that of the main event. Recently the Pokerstars Caribbean Adventure held a $25,000 high rollers event, EPT London held a £20,000 ($28,148) event, APT Macau boasted a HKD$150,000 ($19,332) tournament and the Aussie Millions hosts a staggering AUD$100,000 ($66,379) no-limit hold'em tournament. There are others as well.
It may seem like the World Series of Poker is the last to catch on to this concept, but they were actually the first, with the $50,000 HORSE event, which celebrates its fourth edition this year. This event commands plenty of air time, is the bracelet the big pros want, contains next to no recreational players and guarantees a big payout to the winner. There is also the World Series of Poker Europe main event, which is still part of the WSOP schedule and with a £10,000 ($14,000) event is the biggest no-limit hold'em event with a bracelet at the end of it — though if the pound continues to decline, that may not be the case. Last year also brought $10,000 "World Championship" events for each of the most popular disciplines of poker in the WSOP schedule – a concept continued this year — which further cements the fact that WSOP buy-ins are on the rise.
So why do we have these high-roller events? Well, to begin with, $10,000 just isn't that much money, in poker terms, since the online and TV poker boom. Millions of people play poker these days, online cash games are now bigger than their live counterparts, and every weekend one can play for a million-dollar prize pool online. Every other week, one can play in a live event somewhere in the world with an even bigger guarantee. There is more money in advertising, sponsorship and poker TV programming now than prior to 2003, and the poker economy is booming, at least compared to the world's "real" economy.
Another reason is elitism; every EPT/WPT/WSOP event these days is saturated with unknowns, recreational players and online qualifiers. The pros often complain about this, because although this greatly boosts the prize pools when they do get to these final tables, it significantly decreases their chances of getting there as often as they were once used to. High-roller events have few or no satellites as a means of entry and ensure that only the biggest players can buy in. The $40,000 event at this year's WSOP will almost definitely see an established name player will take down the bracelet, which is becoming rarer, last year's "Year of the Pro" aside. A lot of the pros have been lobbying for this sort of event for a few years now and, just like the $50,000 H.O.R.S.E., the winner of this event could at some point get referred to as the "real world champion" by some fans and peers.
The railbirds are also going to love this event and ESPN will reap the benefits when it airs. Back when the poker boom was just starting, players such as Negreanu, Ivey, Lindgren, Hellmuth, Hansen, Laak and Esfandiari were becoming stars in their own right, and it wasn't uncommon for us to see several of them regularly at the same televised final table every other week. But in recent years final tables of main events could often be just televising someone's home game for all we know, as the recognizable names were few and far between. The final table in this event, as with the H.O.R.S.E., is surely going to contain a Negreanu, a Brunson, a Greenstein, a Juanda, a Hellmuth, an Antonius or a durrrr (Tom Dwan), and it will become something that the casual poker fans will choose not to turn off when it's aired. It's also still true that though the TV poker audience is getting much more sophisticated, no-limit hold'em is a much easier game for most viewers to follow than H.O.R.S.E. and remains a ratings magnet.
Finally, betting on the outcome of poker tournaments on sports books – at least in Europe — is increasing in popularity, and this could really be a shot in the arm for those particular betting markets. Putting one's money on Phil Ivey in a 7,000-person event seemed too much of a longshot even for the likes of a Phil Ivey, but with an attendance that will most likely be less than 400 it means one can suddenly start backing a few horses one thinks have a realistic shot at taking the gold, while still having reasonable odds because of the variance in big-bet poker. (The over/under on the actual attendance will be pretty interesting, too, and also worth a flutter).
It would be a shame if the $10,000 Main Event were to change its buy-in any time soon, because $10,000 is still a lot to the average man — especially in the current economic climate — and the everyman appeal of the game, plus its sheer number of participants, makes the Main Event what it is. But the pros, the railbirds, and ESPN will all love this $40,000 event, so much so that I think Harrah's will have a very hard time removing a high-rollers no-limit event from the 2010 WSOP schedule.
Editor's Note: The opinions of the author do not necessarily represent those of PokerNews.