The PokerNews Profile: Liz Lieu
Nicole Gordon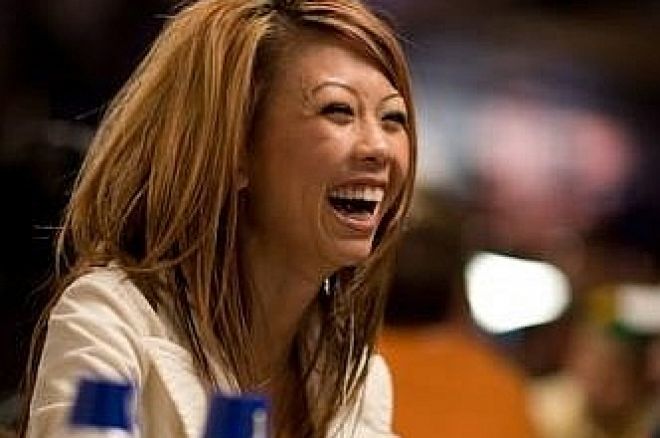 They call her the "Poker Diva" — a tongue-in-cheek moniker that stemmed from Lieu's fondness for Roberto Cavalli clothing and Chanel purses. Though Lieu's wardrobe rivals that of any Hollywood starlet, her priorities these days have more to do with supporting her family and making frequent trips to her native Vietnam where she does extensive charity work — visiting the elderly, granting the dying wishes of sick children, and delivering food to poor, remote villages that don't even have electricity-- not exactly activities one would do in their Jimmy Choos. All of Lieu's work in Vietnam is made possible by her successes at the <a href=https://www.pokernews.com/>poker</a> tables, where she is a feared cash-game player and a threat in any tournament she plays.
Liz Lieu was born on August 2, 1974 in Ho Chi Minh City, Vietnam. When she was only a baby, her family moved to the United States and settled in Colorado. Lieu's love affair with cards began when she was 13 years old and some friends taught her how to play Chinese poker, but it would be another five years before she learned hold'em. When Lieu was 18, she began running a private game featuring pai gow tiles and several tables of $20-$40 hold'em. Lieu put in long, intense hours running the game, but it turned out to be quite a profitable venture. When Lieu's father suffered a heart attack, she was making enough money running the game that she told her parents to retire and allow her to support them. The game ran for about two and a half years before it "got hot" and Lieu decided to shut it down.
By then, Lieu knew that poker was her calling in life and when she turned 21, she decided to get a job dealing in a casino to gain more experience. In the two years she dealt, she saw a huge number of hands unfold and often found herself putting players on the correct hands once they turned over their cards. At 23 years of age she turned pro and moved up in limits quickly, making her home in the $80-$160 limit <a href=https://www.pokernews.com/poker-rules/texas-holdem.htm>hold'em games</a> at L.A.'s Commerce Casino and the Bellagio in Las Vegas. With keen instincts and a fearlessly aggressive style, Lieu's bankroll climbed and soon she was playing as high as $400-$800, with the occasional forays up to $600-$1,200 when the action was really juicy.
After bubbling several events at the L.A. Poker Classic, a frustrated Lieu turned to her best friend, John Phan, for advice on improving her tournament game. Phan gave her some coaching and suggested that she try out a few events at the upcoming <a href=https://www.pokernews.com/wsop/>World Series of Poker</a> to implement some of these techniques. Lieu agreed, and made the trip to Las Vegas intending on playing only two events, the first of which was a $1,500 no-limit hold'em event. Lieu ended up raising and re-raising her way through a field of 2,305 players to make the final table. Squaring off with Allen Cunningham, Scott Fischman, C.K. Hua, David "Devilfish" Ulliott and An Tran, Lieu ended up finishing fifth for a $168,590 payday. Though she'd made it a point to stick to the cash games in the past, Lieu was hooked on tournaments. That summer, she cashed two more times at the WSOP, in the $3,000 NLHE event as well as the $5,000 NLHE event, where she finished 12th.
That fall, Lieu cashed three times in preliminary NLHE events at the Bellagio's Festa al Lago IV, making one final table. The circuit next took her to Foxwoods, where she final-tabled the $5,000 NLHE event at the World Poker Finals, and to Tunica, where she finished 5th in the $2,000 NLHE event at the Gold Strike Poker Open and made her first WPT cash in the $10,000 main event. It was at home in Los Angeles, though, where Lieu would notch her first major tournament victory. She won the $1,000 Limit Hold'em event at the 2006 L.A. Poker Classic for $40,453 and then, one year later, won the $1,000 NLHE event, also at the LAPC, for over $148,000.
In the summer of 2007, Lieu packed up and moved across the pond, making her home in London, England so she could pursue business opportunities in Europe. She signed on as the face of <a href=https://www.pokernews.com/chilipoker/ target=_blank>Chili Poker</a> and began traveling the world representing the brand at major poker events. That year she appeared on the televised Party Poker Premier League (where she finished fourth), cashed two more times at the WSOP, and made two final tables in the same week at the Asian Pacific Poker Tour's inaugural event in Macau. Lieu ultimately finished seventh in the $2,500 buy-in main event and eighth in the $15,000 buy-in "high roller" event. Only a few weeks ago, she made another huge splash on the APPT, making the final table at APPT Manila, where she finished seventh. As she has done since her first big score in '05, Lieu continues to donate 20% of all her tournament winnings to charity.
When she's not traveling or spending time in Vietnam, Lieu splits her time between London, Los Angeles, and Las Vegas.