The PokerNews Profile: Shannon Shorr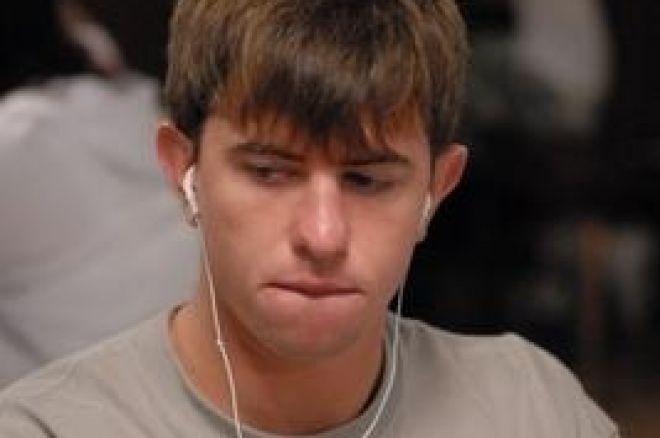 On Day 4 of the 2007 World Series of Poker, Shannon Shorr arrived at the Rio in a wheelchair, his back in a brace after sustaining a twelve-foot fall from a ledge in his living room onto a partially deflated air mattress while (drunkenly?) horsing around with his roommates. Shorr spent the majority of that summer hobbling around Las Vegas on crutches as he tried to chase down his first WSOP bracelet, but ultimately fell short of his goal. Despite having earned over a million dollars on the tournament circuit at that point, by the end of 2007 Shorr was questioning whether he wanted to even continue playing professionally. He'd endured a losing year, was sick of the grind, and began to seriously think about resuming the college career he'd left behind after his breakout year in 2006. A quiet, thoughtful young man who never fell into the "balla lifestyle" that lures in so many young pros, Shorr eventually did decide to put poker on hold and return to school at age 23. Surprisingly enough, it didn't slow down his results at the tables one bit.
Shannon Shorr was born on June 7, 1985 in Birmingham, Alabama. Shorr played baseball in high school and was good enough to get an offer to play as a walk-on for the University of Alabama. Though he did decide to attend UA when it was time, he decided against continuing his athletic career. While at school, Shorr was first exposed to Texas hold'em in a friend's $5 buy-in home game shortly after ESPN aired Chris Moneymaker's victory in the 2003 WSOP Main Event. Shorr stuck to those casual low-stakes games until April 2005, when he made his first deposit on PartyPoker. He started off playing small-stakes limit hold'em and $10 sit-'n'-goes and lost consistently at first. He kept re-depositing until he hit his stride at sit-n-goes and began winning at limits all the way up to the $2,000 "Step 4s" on Party. Shorr used one of those "Step 4" tickets to play a "Step 5" tournament that awarded a seat in the 2006 Aussie Millions main event to the winner. Shorr emerged victorious and stamped his ticket to Melbourne. Shorr ended up finishing fourth in the '06 Aussie Millions for a $200,000 payday, giving him the financial resources to play more tournaments and move up in limits. He was only 20 years old at the time and still too young to play in brick-and-mortar US casinos.
Shorr attempted to balance college with his burgeoning poker career, but after earning more than $1.5 million in his first eight months of live play, he decided, along with his parents' support, to drop out of school and take advantage of the burgeoning poker economy while he could. After cashing in events in Barcelona and Vienna, Shorr played a pair of $1,000 NLHE WSOP-Circuit events in Lake Tahoe in the week following his 21st birthday and finished one tournament in second place and the other in third. He hit up the World Series of Poker for the first time that summer and cashed three times, but found even greater success down the street at the Bellagio Cup. Shorr won the $1,000 NLHE event at the Bellagio Cup for $126,585 and then won the $10,000 main event for over $960,000.
2007 proved to be a more difficult year for the now full-time pro. Shorr relocated from Tuscaloosa, AL to Las Vegas and the daily grind of life as a poker player began to wear on him. Though he was still racking up results, including a fifth-place finish in the 2007 WSOP World Championship Heads-Up No-Limit Hold'em event and a third-place finish in the $5,000 No-Limit Hold'em event at the Bellagio Five Diamond Classic, his earnings were nowhere near what they were the year before. Shorr grew frustrated, and confessed on his blog that he was thinking more and more about getting out of poker and returning to school.
In 2008, though, things turned around big time for Shorr. He made three final tables in preliminary events at the Bellagio Five-Star Classic and came within a whisper of his first WSOP bracelet, finishing runner-up to Matt Keikoan in the $2,000 No-Limit Hold'em event. The Bellagio Cup also proved successful and profitable for him once again, as he took down the $3,000 No-Limit Hold'em event for nearly a quarter of a million dollars. In the fall of 2008, though, Shorr moved back to Alabama and re-enrolled at UA, hoping to complete his last four semesters of college. While working toward his degree, he still continued to play online and made two of his best online tournament scores ever, with back-to-back wins in the Full Tilt Poker Sunday Mulligan, and a victory in the $1K Monday tournament only 24 hours later for a combined score of $150,000. Notably, Shorr also earned a 3.7 GPA during his first semester back in school.
Shorr continues to pursue a degree in business at the University of Alabama while playing a more limited schedule. He plans to return to Las Vegas for the 2009 WSOP, but intends to return to school in the fall and finish out his last year.