The PokerNews Top 10: The Top 10 Breakout Performances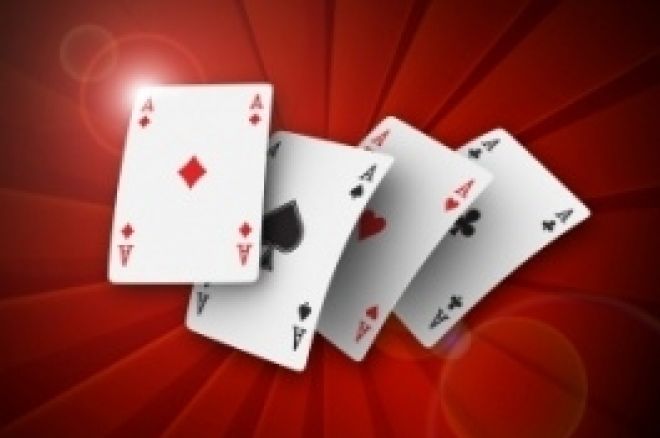 It's hard to believe, but since Chris Moneymaker won the 2003 WSOP Main Event and spawned the worldwide poker boom, the WSOP has awarded over 200 bracelets and the WPT has crowned over 100 champions. While many of these champions end up being no more than a flash in the pan, for an elite few, these "breakout" moments have served as launching pads for successful, lengthy, and even legendary poker careers. Let's take a look at poker's top ten breakout performances.
10. Mike "Timex" McDonald Wins EPT Dortmund
Only 18 years old and still in braces, Canadian online pro Mike "Timex" McDonald became the European Poker Tour's youngest-ever champion when he took down the 2008 German Open in Dortmund, winning nearly $1.4 million. McDonald had only been of age to play live for a few months when he earned his first major title, though he had already made millions online. In the two months leading up to his Dortmund victory, McDonald made two final tables and won a preliminary NLHE event at the 2008 Aussie Millions and finished 14th at the EPT Prague.
9. Michael DeMichele Finishes Second in 2008 WSOP $50,000 H.O.R.S.E.
Though most will remember Scotty Nguyen's beer-fueled antics when they think of 2008's $50,000 H.O.R.S.E. event, a lot of credit should go to the man who clawed his way through one of the most stacked fields in poker history to finish second. 23-year old Michael De Michele was, until then, primarily a high-stakes, mixed-game cash player, but he emerged from the 2008 WSOP with final-table finishes in arguably the two most difficult events on the schedule—the $50,000 H.O.R.S.E. and the $10,000 World Championship Mixed Event where he finished fourth. Not only did De Michele display incredible poker ability that summer, but he carried himself with grace and maturity beyond his years at the tables.
8. Jason Mercier Wins Two EPT Events in Six Months
Hardly anyone had heard of Jason Mercier, a 21-year-old college student-turned online pro when he showed up in San Remo, Italy in April 2008 and took down the city's inaugural EPT event, winning nearly $1.4 million. Mercier could have proven to be a one-hit wonder like so many young champions, but he went ahead and did it again only six months later, winning the elite £20,000 buy-in high rollers event at the EPT London. Mercier pocketed another $945,000 and etched himself a place in poker history.
7. Anna Wroblewski turns $400 into $700,000
Over the course of 11 weeks in the spring of 2007, Anna Wroblewski went from working a $10/hour job to winning over $700,000 in tournament poker. With a $400 stake from her boss, Anna ran up enough money in a $15-30 limit hold'em game to enter a satellite to a $3,000 Bellagio tournament the next day. Wroblewski won the seat… and then the tournament for over $330,000. In the next three months she went on to cash the $25,000 WPT World Championships, won the Ladies Event at the WSOP-Circuit stop at Caesar's Palace, finished runner-up to Erica Schoenberg in a $2,500 NLHE event at the Mandalay Bay Poker Championships and made her first WSOP final table, finishing fourth in the $2,000 NLHE event for a $192,000 score.
6. The Grinder Wins the L.A. Poker Classic
Michael Mizrachi got his nickname by diligently grinding out a living at the tables. He'd been on the tournament scene for a few years, making final tables in smaller events, but finally stepped onto the main stage of poker when he won the 2005 L.A. Poker Classic and $1.85 million—life-changing money that assured him he'd never have to "grind" it out again. Mizrachi became a bona fide poker superstar after his victory at the Commerce and went on to have a phenomenal 2005, making seven WSOP cashes, winning events at the Mirage, Bellagio, and at the Ultimate Poker Challenge, and earning his second WPT title less than a year later at the WPT Borgata.
5. Jeff Madsen Wins Back-to-back Bracelets
UC-Santa Barbara film student Jeff Madsen had to take a loan out from his parents to play in the 2006 WSOP, but it turned out to be the best investment they ever made. Madsen came out of complete obscurity to win two bracelets that summer, winning his first in the $2,000 NLHE event and his second a week later, defeating Erick Lindgren heads-up to win the $5,000 six-handed NLHE event. Madsen took home over $1.4 million in earnings, earned WSOP Player of the Year honors, and became — until Steve Billirakis broke the record the following year — the youngest player to ever win a WSOP bracelet.
4. Ivan Demidov Makes Two WSOP Main Event Final Tables in the Same Year
Inspired by the success of his countryman Alex Kravchenko, Ivan Demidov traveled from Moscow to Las Vegas in the summer of 2008 and made the final table of the WSOP Main Event, where he would go on to finish second for over $5.8 million. However, before that final table would even play out, this member of the "November Nine" played in the WSOP-Europe Main Event and made the final table of that tourney as well, ultimately finishing third for over $600,000. He became the first player in WSOP history to make the final table of both the Las Vegas and European Main Events in the same year — a record that will be extraordinarily difficult to break.
3. Phil Ivey Wins Three Bracelets in One Year
Though he had notched some victories in smaller tournaments, had a reputation as a strong cash-game player, and had picked up a WSOP bracelet in 2000, Phil Ivey was still toiling in relative obscurity back in 2002. That is, until he went and won three WSOP bracelets in the same year. At the 2002 WSOP, Ivey won three events: $1,500 Seven-Card Stud event, $2,500 Seven-Card Stud Hi-Lo, and $2,000 S.H.O.E., capturing three bracelets in only three weeks. Ivey never had to look back, and his accomplishments since then? Well, there's the $10 million in tournament winnings, all earned while playing an extremely limited schedule, the high-stakes cash-game domination, the high-stakes online domination, the uber-rich deal with Full Tilt, the cars, the houses, the sports bets, the golf bets… what's more to say?
2. Gus Hansen Wins the First-ever World Poker Tour Event
Gus Hansen's victory at the 2002 WPT Bellagio Five Diamond World Poker Classic was the first taste many of us had of televised poker with hole-card cameras. This was the first-ever WPT event filmed for broadcast and Hansen (whom Mike Sexton nicknamed "the Great Dane" that night) came out of nowhere to defeat the likes of Freddy Deeb, John Juanda, Scotty Nguyen, and Johnny "World" Hennigan. With this performance, Hansen became arguably poker's first-ever breakout TV star with his good looks, sense of humor, and wildly aggressive playing style.
1. Annette Obrestad Wins the WSOP-Europe Main Event
Grown men had tears in their eyes when Annette Obrestad turned over a set of sevens to beat John Tabatabai's two pair and made poker history, winning the first-ever WSOP-Europe Main Event on September 17, 2007, only two days shy of her 19th birthday. Obrestad broke a slew of records that night, including becoming the WSOP's youngest-ever bracelet winner, the first-ever female champion of a WSOP Main Event, and the top female money earner in WSOP history. Prior to her victory in London, Obrestad was primarily known as one of poker's top online tournament players. She emerged from the WSOP-E, however, with a sponsorship deal from Betfair, worldwide recognition, and the opportunity to terrorize the high-stakes tournament circuit for years to come with her aggressive, unpredictable style.