The PokerNews Top 10: Poker's One-hit Wonders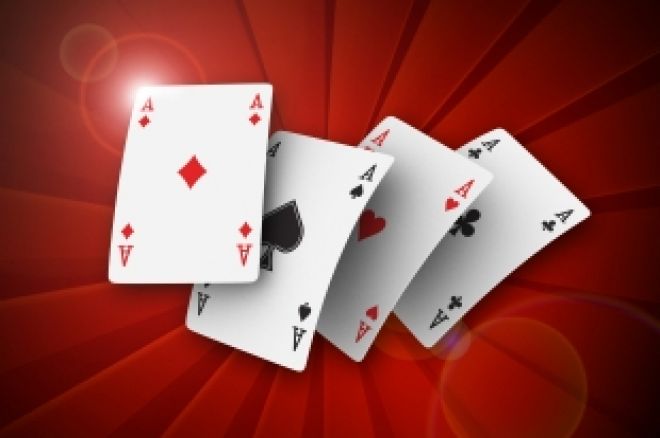 Taking a look through a list of WSOP and WPT winners since the poker boom, names like Gus Hansen, Erik Seidel, Daniel Negreanu, and Erick Lindgren will pop up over and over again. But what of those champions who took home a million dollars and a gold bracelet, never to be heard from again in the poker world? There are more of them out there than you might think. In this edition of the PokerNews Top 10, we'll take a closer look at ten of poker's one-hit wonders… including two recent WSOP Main Event champions who unfortunately made the cut.
10. Saro Getzoyan – WSOP Bracelet Winner, 2007 $5,000 World Championship Limit Hold'em
In the moments after Saro Getzoyan won his WSOP bracelet in 2007, he was far more concerned with booking himself a new flight back to Massachusetts and returning to his job as a software engineer. Getzoyan, clearly not expecting to win the event, hadn't taken that day or the next off of work and he was worried about losing his job once his employer found out what he'd done. Educated at NYU and MIT, Getzoyan was primarily an online player up until his win and had only one previous recorded tournament cash, a 38th-place finish in the 2006 Party Poker Million. Since he took home his bracelet and the $333,000 he won along with it, though, the poker world has yet to hear from him — and that's probably just the way this media-shy, low-key guy wants it.
9. Jiang Chen – WSOP Bracelet Winner, 2005 $1,000 No-Limit Hold'em with Rebuys
Jiang Chen had enjoyed some success in small European tournaments before he won $611,000 and a WSOP bracelet in the 2005 $1,000 No-Limit Hold'em with Rebuys event where he bested a final table that included Freddy Deeb and Barry Greenstein. Though his performance sent him all the way up to #2 on China's all-time money list, Chen has recorded only one other cash since his bracelet-winning performance, earning €405 for eighth place in a €100 buy-in tournament at Paris' Aviation Club in October 2007.
8. Michael Graves – WSOP Bracelet Winner, 2007 $1,000 No-Limit Hold'em with Rebuys
In the summer of 2007, Michael Graves came out to Las Vegas to play in a few WSOP events and maybe bank a little extra cash to pay his medical school tuition at the University of Texas – Southwestern. Graves stayed in a house with the "Ship it Holla Ballas," a crew of young online players known as much for their lavish lifestyle as their fearless style of play. It was Graves, though, who emerged from his summer vacation with a WSOP bracelet on his wrist, earned, along with $742,000 in the $1,000 No-Limit Hold'em with Rebuys event where he came out on top at a final table that included Theo Tran, Chad Batista, and Isaac Haxton. Graves returned to medical school after his win and must be more focused on medicine than poker these days, as this young talent has yet to cash another event.
7. Bryan Sumner – WPT Champion, 2007 Gold Strike World Poker Open
In January of 2007, Bryan Sumner was all that stood between Daniel Negreanu and a third World Poker Tour title. It was the quiet Tennessean, though, who ended up taking it down, along with the $913,000 first-place prize. The 32-year-old accountant played the part of the unknown, in via a $1,000 satellite, at a table of poker giants including JC Tran, Thang Pham and Negreanu, and furthered the case that yes, anyone can win when it comes to tournament poker. Rather than hitting the circuit with his winnings, Sumner bought a house and hasn't been heard from since.
6. Alex Kahaner – WPT Champion, 2005 Legends of Poker
World Poker Tour fans will no doubt remember that crucial, final hand at the 2005 Legends of Poker when Alex Kahaner made a mind-boggling call of Kenna James' preflop all-in with only J-10 offsuit. James was utterly stunned and jumped straight out of his chair to table his A-4. When James questioned why Kahaner would call off his entire stack with such a marginal hand, Kahaner remarked that he was "tired" and "just wanted to go home." As James paced across the floor, his hands on his head, his jaw on the floor, Kahaner caught an open-ended straight draw on the flop and filled it on the turn, capturing the title and over $1.1 million in prize money. A construction company owner from Van Nuys, CA, Kahaner had never played a major tournament until that night and though he did play the Legends of Poker Main Event again the next year, he was eliminated on Day 2, missing the money. Kahaner prefers to stick to cash games now, and hasn't recorded another tournament cash since his million-dollar win three and a half years ago.
5. Soren Turkewitsch – WPT Champion, 2006 North American Poker Championships
In a true poker Cinderella story, Canadian auto plant worker Soren Turkewitsch was humping three jobs to make ends meet when he decided to take a shot at a $90 satellite into the WPT North American Poker Championships at Niagara Falls' Fallsview Casino. Turkewitsch parlayed that $90 into a seat into a larger satellite, and then won the second satellite, earning a $10,000 seat into the main event. Out of a field of 497, he landed at the final table alongside John Juanda, James "KrazyKanuck" Worth and Marc Karam and emerged victorious, earning a $1.2 million first-place prize. That is the last the poker world has heard from Turkewitsch, who quit his job after his win, but has not recorded another tournament cash.
4. John Stolzmann – WPT Champion, 2005 Jack Binion World Poker Open
Hailing from Phil Hellmuth's hometown of Madison, Wisconsin, former philosophy student John Stoltzmann had enjoyed some success online and had made one live final table, at the 2004 Caribbean Poker Classic when his father staked him $1,000 to enter a satellite to the $10,000 buy-in WPT Jack Binion World Poker Open in January of 2005. Stoltzmann won the satellite and then the whole tournament, besting a truly stacked final table consisting of runner-up Chau Giang, Daniel Negreanu, Scotty Nguyen, Michael "The Grinder" Mizrachi and Raja Kattamuri. Stolzmann earned nearly $1.5 million for his win and played the circuit for the next couple of years, but thus far hasn't come close to his past success. His last recorded cashes were a final table at Bellagio in April 2005, and a super satellite win to the Gold Strike Open in January 2006.
3. Jamie Gold – WSOP Bracelet Winner, 2006 Main Event
Jamie Gold is the #1 all-time money winner in tournament poker. He's the all-time money winner at the WSOP. And still, the poor guy is on this list because since winning the 2006 WSOP Main Event, he hasn't had too many results of significance despite remaining a presence in the industry and playing a part-time tournament schedule. Gold did log two cashes at the 2007 WSOP and squeaked into the money at the WSOP-Europe Main Event that year, but has yet to make another final-table appearance. After winning $12 million in 2006, Gold banked $68,000 for his 2007 tournament play, and added a donut hole for 2008. Now signed with Aced Poker as their spokesperson, Gold will be playing an even fuller tournament schedule in 2009. This author is rooting for a comeback.
2. Jerry Yang – WSOP Bracelet Winner, 2007 Main Event
Jerry Yang may be the #2 choice for poker's top one-hit wonder, but he'd also score high on our list of smartest poker players. Why? Realizing his own limitations and with a keen sense of the bigger picture, Yang instead elected to let himself and his wife retire early, used his winnings to ensure a better future for his children, and donated a significant portion of his $8.25 million score to charity. These days, Yang is more likely to be found playing $2-5 NLHE at his California home casino, Pechanga, or playing a few lower buy-in events around the west coast.
1. Hal Fowler – WSOP Bracelet Winner, 1979 Main Event
In what is considered by many to be the greatest upset in the history of the WSOP, California businessman Hal Fowler cracked Bobby Hoff's pocket aces with 7-6 offsuit to win the 1979 Main Event and $270,000. Fowler almost immediately lost the totality of his winnings in the pit and disappeared from the poker scene. Fowler suffered from diabetes, debilitating his vision and mobility and died in a nursing home in 2000. Fowler won only one more tournament in his career, in 1984, but will forever be remembered as the Main Event's first amateur champion.
Editor's Note: Nicole Gordon's "PokerNews Top 10" is a weekly look at some of poker's most memorable achievements in a wide range of categories. The column appears each Wednesday at PokerNews.com. Check into our news archives for more fun "Top 10" lists!