Deaf Poker Australia Launched, Championship Set for Summer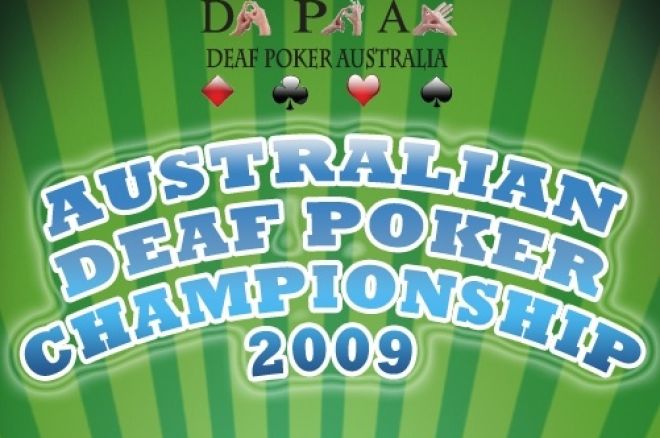 Deaf Poker Australia, a non-profit organization, has been founded in order to help form a community of poker players among the deaf and hearing impaired in Australia. The group hopes to organize an inaugural Australian Deaf Poker Championship in August 2009.
The proposed event is currently being organized in conjuction with the Australian Poker League. According to Sokong Kim, founder of Deaf Poker Australia, the hope is to raise enough sponsorship dollars to make the event a free event for interested players. Thus all revenue raised for the event will go directly into the prize pool minus tourney costs.
Both the United States and United Kingdom currently have national poker tours. In fact, the U.S. National Deaf Poker Tour has an event scheduled this weekend in Atlantic City, N.J. at the Trump Taj Mahal. The U.S. NDPT has at least two other events scheduled this year, one in Las Vegas and another in Atlantic City.
For those who are wondering, poker events specifically designed for deaf and/or hearing impaired players are generally not modified or designed differently from mainstream poker. The only significant difference is allowing players to use sign language as the "official" language at the table. Players also have to provide legal assurance of their hearing loss. For example, the U.S. National Deaf Poker Tour requires participating players to sign a legal document testifying that their hearing loss is at least 55 dB.
Regarding the new Australian tour, "Our long term goal is to help support and develop deaf and hearing impaired poker players to play in major mainstream tournaments in much the same way as Full Tilt supports their players," explains Kim. A website containing further information about Deaf Poker Australia is available at www.deafpoker.com.au.