Karl Hevroy Takes LAPT Punta del Este Title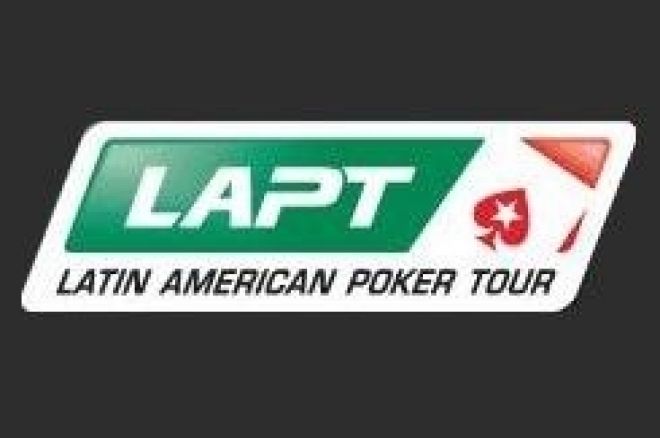 Karl Hevroy of Norway began the final table of the PokerStars.com Latin American Poker Tour Main Event at Punta del Este, Uruguay with a commanding chip lead, and when all was said and done all of the chips were his. Hevroy led the entire way at Friday's final table, besting Alejandro De Arruabarrena of Argentina heads up to claim the title and $283,500 first prize.
Brazilian Andre Ventura began the day as the final table's short stack. Things were looking up for Ventura early after he doubled up through Angel Guillén of Mexico. Then came a hand in which Ventura open-raised, Canadian Oliver Rowe reraised, Ventura pushed all in for 153,000 total, and Rowe called. Ventura turned over pocket jacks, but Rowe had a pair of queens. No jack came to save Ventura, and he was out in ninth.
Hevroy continued to exercise control over the table with his big stack, pushing out even further past 1.2 million, more than twice the stack of Guillén in second place. Meanwhile, Magno Aragao of Brazil was heading in the opposite direction, and was down to just 30,000 when he finally picked up
. Aragao pushed and both Rowe and Hevroy called. After a flop of
, Hevroy bet into the dry side pot, Rowe folded, and Hevroy showed
for top pair. The
meant Aragao was still in front, but the
on the river gave Hevroy the straight and sent Aragao home in eighth.
Bolivar Palacios of Panama was the next to exit after losing with pocket queens to De Arruabarrena's A-K when a king landed on the river. It was Palacios' second seventh-place finish of the week, as he had also taken seventh at the delayed LAPT Mexico final table on Tuesday. Shortly after that, a short-stacked Waldemar Cogo of Brazil open limped from the small blind, Rowe pushed all in from the big blind, and Cogo called with
, well behind Rowe's
. A king flopped, but no trey came for Cogo and he was out in sixth.
After that hand, Rowe was in relatively good shape with more than 600,000 chips, though he still continued to chase Hevroy. Those two would soon be involved in one of the biggest pots of the night to that point. With the board showing
, Rowe bet 50,000 from the small blind, and Hevroy called. The turn was the
, prompting Rowe to bet 115,000. Hevroy raised all in, and Rowe called. Rowe held pocket treys for bottom set, while Hevroy held K-Q for top pair and an inside straight draw. Unfortunately for Rowe, the
came on the river, giving Hevroy the straight and eliminating Rowe in fifth.
About 15 minutes later, Hevroy claimed another victim in American Ron Wasiel. Wasiel was all in with J-9 on a 10-10-9 flop, but Hevroy called him with J-J. An eight came on the turn, giving Wasiel some straight outs for a tie, but the river was a trey and Wasiel hit the rail in fourth. Ten minutes after that, Hevroy was calling Mexican Angel Guillen's preflop all in, and Guillen appeared to be in good shape with A-J versus Hevroy's A-10. However, a ten flopped, Guillen couldn't catch up, and he was out in third.
When heads-up play began, Hevroy had nearly three million chips to De Arruabarrena's 543,000. After the pair took a dinner break, all was decided in short order, with Hevroy dispatching his foe in a single hand. De Arruabarrena completed from the small blind/button, and Hevroy checked. The flop was
. Hevroy checked, De Arruabarrena bet 70,000, and Hevroy called. The turn was the
. Hevroy checked again, De Arruabarrena bet 100,000, Hevroy check-raised all in, and De Arruabarrena made the call. Hevroy showed
for the flopped full house, meaning De Arruabarrena was drawing dead with
. After the meaningless river four was dealt, Hevroy was the champion.
Here are the final-table payouts for Season 2 of LAPT Punta del Este, the first tournament in LAPT history to have exceeded a $1 million prize pool:
1. Karl Hevroy — $283,500
2. Alejandro De Arruabarrena — $155,420
3. Angel Guillén — $99,120
4. Ron Wasiel — $82,160
5. Oliver Rowe — $59,960
6. Waldemar Cogo — $48,840
7. Bolivar Palacios Vasquez — $37,740
8. Magno Aragao — $26,640
9. Andre Ventura — $21,000
Get Your PokerStars Marketing Code on PokerNews.com - Be sure to enter the PokerStars marketing code when registering a new account on PokerStars.com