Poker Room Review: Bally's Casino, Las Vegas, NV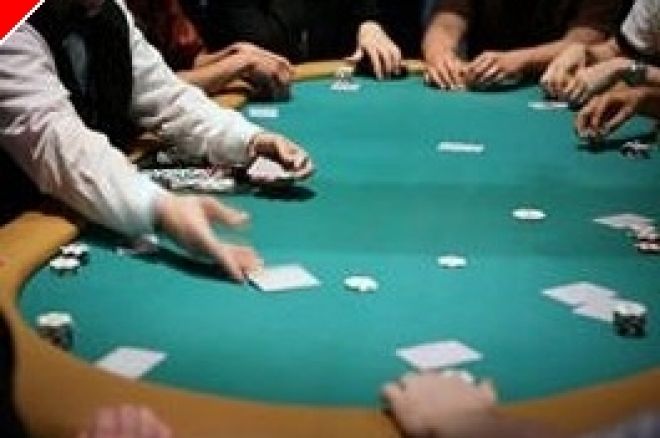 Bally's is a full-service, brightly lit, nicely appointed casino, right in the middle of the famous Las Vegas Strip. They have a ten-table poker "room" (actually an area with no dividing walls to set it apart) on the floor next to table games. It's nothing particularly fancy or special, but certainly serviceable, well maintained, and comfortable. Tables are nicely cushioned on the sides, including built-in cup holders. The chairs are not particularly comfortable, being standard banquet-room issue. The dealers are skilled, if not particularly warm and friendly. I suspect they are toeing the company line about running an efficient, business-like poker room.
The high ceilings make the area appear spacious, though the constant loud gaming noise and raucous music could bother the more sensitive players. If you're looking for a quiet retreat for your poker then this is not the place for you.
The room runs daily tournaments – twice daily on Monday through Thursday. The morning tournament goes off at 11:00 AM seven days a week. The latter tournament is identical in structure and starts at 6:00 PM. There was a time when you could count on the poker rooms on the Las Vegas Strip to offer aggressively structured tournaments – designed to bring in players and then spit them out toward the cash game where the house made their money. This has quickly changed, as most have embraced the deeper structures that skilled players prefer. Bally's offers a $65 buy-in tournament, with $15 going to the house. There are no rebuys or add-ons. Players start with 3,000 in chips (up from 2,000); blinds start at 25/50 and progress every 20 minutes (increased from 15). The tournaments last about three hours most of the time, as players tend to chop when it gets short-handed.
There are cash games as well, of course. The room advertises itself as having hold'em and stud, but as is the case with nearly every casino in the United States today, there is no stud. "Lack of player interest" is the official explanation – and I don't doubt it. But if you showed up with a group of folks who wanted to play stud, I was told that the room would happily oblige you.
The regular games, spread all the time in this 24/7 poker room, are $1/2 no-limit hold'em and $3/6 limit hold'em. On the weekends, players can expect a $2/5 no limit game and a $4/8 limit game – sometimes played with a half kill.
The room has the high (and fairly standard) rake for Strip properties. It's 10% up to a maximum of $5, with an additional $1 coming out of the pot for the high hand bonus. Quads always pay $100, and straight flushes have progressive jackpots based on when they were last hit. When I was there a heart royal paid $3,300, for example.
The room runs other promotions from time to time. They have just discontinued a "Faces Cracked" bonus, which paid $100 for aces cracked, and lesser amounts for kings, queens and jacks cracked. As of March 1, 2009 they will start an "Aces Cracked" bonus – where aces cracked earns the lucky "crackee" $200. Poker players also earn $1 an hour in casino comps with a players' card, which can be picked up for free just by giving the floor your driver's license.
Drinks are comped, and you can eat at the table, but you must bring in your food. Waitresses deliver drinks only – and quite speedily I found. Many of the players I competed against were taking advantage of this swift beverage service, much to my advantage.
This is almost exclusively a tourists' room. I did not meet one regular in either of my three-hour sessions. I played limit with three guys who were in town for a union convention. One of them knew what he was doing; the others had never played in a casino before. The table was filled in with 20-something women who were completely clueless and seemed to be waiting to go elsewhere, happy to donate their money while they waited. When I returned at 3:00 AM, there was a $1/2 no-limit game populated by five or six guys in their 20s, all of whom seemed completely inebriated. They were donating their money at a fast pace as well, though they seemed more morose than their female counterparts earlier.
By way of contrast, I found this room to be much livelier than the Paris Casino – which is attached (a 5-10 minute interior walk from one room to the other). I'd also say that there is a much lower caliber of player here than at Planet Hollywood, a much larger and more nicely appointed room nearby that also spreads low-stakes no-limit and limit hold'em.
All in all, if you want to play no-limit or limit on the Strip, and don't want the fancier and higher stakes atmosphere of the Venetian, Wynn, Bellagio, and are willing to put up with the slow pace of beginners and drinkers, this is a good place to come. On a busy night you may have to wait for a seat.
Bally's Casino
3645 Las Vegas Blvd South
Las Vegas, NV
(702) 967-4111