Poker Room Review: Edgewater Hotel and Casino, Laughlin, NV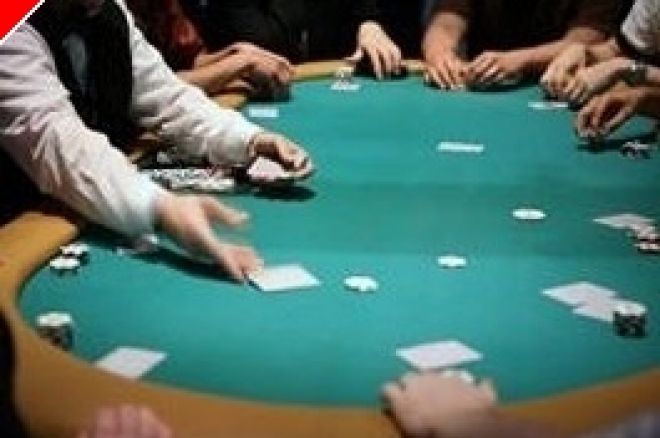 There's nothing particularly special about the Edgewater Casino's poker room. It's just a nice little room in an extremely inexpensive, clean, and relaxing hotel-casino, in the mini-Vegas known as Laughlin.
I visited there for a few days and was impressed by how hard the poker room manager tried to make the room appealing to anyone who might be interested in playing poker. Within the obvious constraints of location and size, the result is most admirable.
There are four tables in this room, one or two of which are going most of the time the room is open for business. The gaming day officially starts at 8:30 AM, though the action often doesn't get underway until the no-limit hold'em tournament begins at 9:30 AM. It's a $25 event ($20 into the prize pool and $5 to the house), with players starting at 1,500 in chips. It's usually over by 11:00 AM or so, feeding the $2/4/6-limit ($6 on the river only) hold'em game. The tournament is limited to two tables.
The room closes when the last game dies. Though it's hard to predict when this will be, when I checked out the room at 10:00 PM on a Wednesday it was closed, though it was running with two tables the following night at 11:00 PM and I couldn't get a seat. On the weekends, it's said to run until 3:00 or 4:00 AM. I suggest that you call first if it's after 8:00 PM.
The small hold'em game is just about the only live action you'll find at Edgewater, though a $1/2 blinds, $50-100 buy-in no-limit game occasionally goes at night or on the weekend. The rake is very reasonable: ten percent up to a maximum of $3. The player-funded promotions are extensive. They pay high-hand bonuses for quads. There's a bad beat jackpot. And they have a new promotion that rewards recipients of straights and higher with tickets used in an hourly $50 drawing. The jackpot drop is $1 at $10 and then a second dollar if the pot reaches $30.
The room is eager to keep the customers it has. Players earn $1.25 in comps, which can be used for food, rooms, etc. And there is a weekly Saturday freeroll for the top ten qualifiers based on hours of play, with players needing at least 12 hours a week to qualify.
If low-limit hold'em is your thing, this place is a very sweet deal, with rooms as low as $19 during the week. I stayed for a couple of nights at that rate and couldn't believe how nice the room was. It even came with complimentary internet access, use of their pool, and access to the small but useful fitness center. I probably wouldn't go out of my way to come to Laughlin to stay here, but if I was already going to be in town, this place has the best value that I found.
Edgewater Hotel and Casino
2020 S. Casino Drive
Laughlin, NV
1-866-352-3553
702-298-2453 ext. 3770