PokerNews Cup Event #3, €100 NLHE w/ Bounties: Jeroen Kersjes Takes It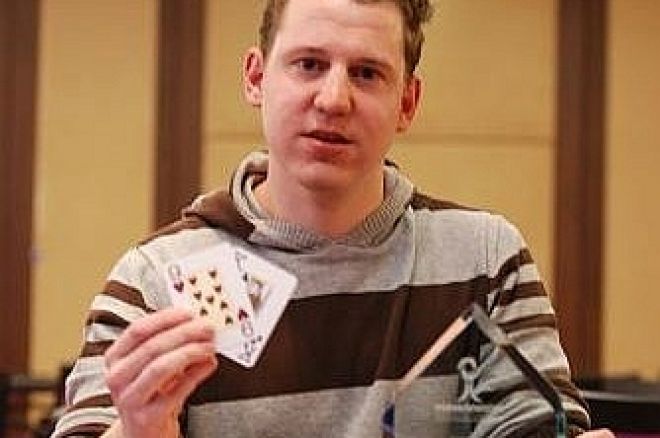 Event #3 of PokerNews Cup Alpine kicked off with a dramatic increase in players over Event #2. 112 runners ponied up the €110 entry fee to take their shot at the PokerNews Cup title, not to mention the €250 bounties on the heads of specific players. By the end of the evening in Saalbach-Hinterglemm, it was Jeroen Kersjes standing alone atop the slopes of the event, gripping his €3,264 prize. Kersjes outlasted a brutal final table that included two of the three bounty players, including Event #2 champ Mark Vos.
The bounties were on the heads of Vos, PokerNews' own Tony G, and Erich Kollmann. Their scalps were worth €250 each, a nice return on a €110 tournament entry. Among the notables trying for the bounties and the title were John Duthie, Luke O'Kelley and Liv Boeree. Kollmann's bounty went first, when he busted early in the event to Thomas Hammerj. All the chips went in on the flop, with Kollmann holding pocket nines on a board of
. Hammerj was ahead with
for two pair, and he faded Kollmann's straight outs as the turn and river came down
. Hammerj didn't end up cashing in the event, but the €250 bounty on Kollmann's head made for a profitable day anyway. Other notable eliminations included John Duthie and Luke O'Kelly, who busted just short of the money.
After a brief bubble period, Ralf Steiner busted in tenth place to just miss the final table and the money. His
couldn't hold up against the
of Kristian Svensson when Svensson made a flush. With Steiner's elimination, the nine remaining players took a brief dinner break before coming back to play to the end.
The final-table seating assignments and chip stacks looked like this when the nine survivors came back from dinner:
Seat 1: Bessi Bessy — 40,000
Seat 2: Tony G — 45,000
Seat 3: Mark Vos — 52,000
Seat 4: Kristian Svensson — 75,000
Seat 5: Richard Pols — 90,000
Seat 6: Jeroen Kersjes — 36,000
Seat 7: Liv Boeree — 33,000
Seat 8: Salvatore Cundari — 15,000
Seat 9: Simon Kullenberg — 60,000
Salvatore Cundari came back to the shortest stack, and he quickly put it in the middle after a preflop raise from Liv Boeree. Boeree called with
, and Cundari tabled a dominated
. Nothing out of the ordinary happened, and the favorite took it down as the board ran out
. Cundari picked up €440 for ninth place as Boeree padded her stack.
Tony G moved all in over the top of Bessi Bessy's raise, and found action not only from Bessy, but from Mark Vos as well. Bessy shipped the last of his stack in on the
flop, and Vos made the call with
. Bessy had flopped top pair with
, and things were looking grim for Tony G's
. The
on the turn was no help for anyone, and when the river brought the
, Bessy made a straight to take out Tony G in eighth place (€540) and collect his bounty.
Simon Kullenberg was next to fall when he called Liv Boeree's preflop raise with
. Boeree was slightly behind with
, and the flop of
gave Kullenberg hope for a much-needed double up. Boeree's hand improved on the
turn, and the
river was brutal card for Kullenberg, as Boeree went runner-runner to bust him in seventh place (€660).
Mark Vos, winner of Event #2, found himself short-stacked at his second final table in as many days, and moved all in with
. Kristian Svensson made the call and showed
, just barely good enough to be ahead. But ahead he was, and he moved more firmly so after the
flop. Vos needed a lot of help after the flop, but when the
hit the turn, he was drawing dead. The
on the river meant that Vos was done in sixth place (€760) and that Svensson picked up an extra €250 in bounty cash.
Next, Jeroen Kersjes called Richard Pols' shove, but had a moment of pause when Bessi Bessy also called all in. Kersjes was ahead with
, as Bessy tabled
and Pols brought up the rear with
, and when the board ran out
, Kersjes' jacks held up as Bessy claimed fifth place (€860) and Pols went down in fourth (€1,080). Just a couple of hands later, Kersjes dispatched Liv Boeree as well. Boeree collected €1,360 for her third-place finish.
With those three eliminations, Jeroen Kersjes single-handedly took the field from five-handed to heads up, as he squared off with Kristian Svensson for the championship. Heads up poker play started slow, as the two competitors took time to gain the measure of each other. Finally, Kersjes did enough damage to put Svensson in danger, and they tangled for the last time. After a lucky double-up, Svensson tried to capitalize on his momentum and shoved from the button on the next hand with
. Kersjes made the call with
, and flopped trips on the board of
. As the last card ran out, the competitors shook hands as Kristian Svensson picked up €1,960 for his runner-up performance. For outlasting a tough field and a packed final table, Jeroen Kersjes earned a very respectable €3,264 payday.
Join PokerNews on Tuesday afternoon for Events #4 and #5 as a day full of Omaha action decorates the slopes at the PokerNews Cup Alpine.
Get in on the action with a Poker Stars marketing code - In addition to being the source for all things poker, PokerNews delivers the best bonus codes and marketing codes available on the internet.